This Mediterranean cucumber salad is filled with delicious and fresh flavors! Crunchy cucumber mixed with zesty tomatoes, red onion, kalamata olives, salty feta and fragrant fresh mint and basil dressed with a super tasty vinaigrette. Absolutely delightful!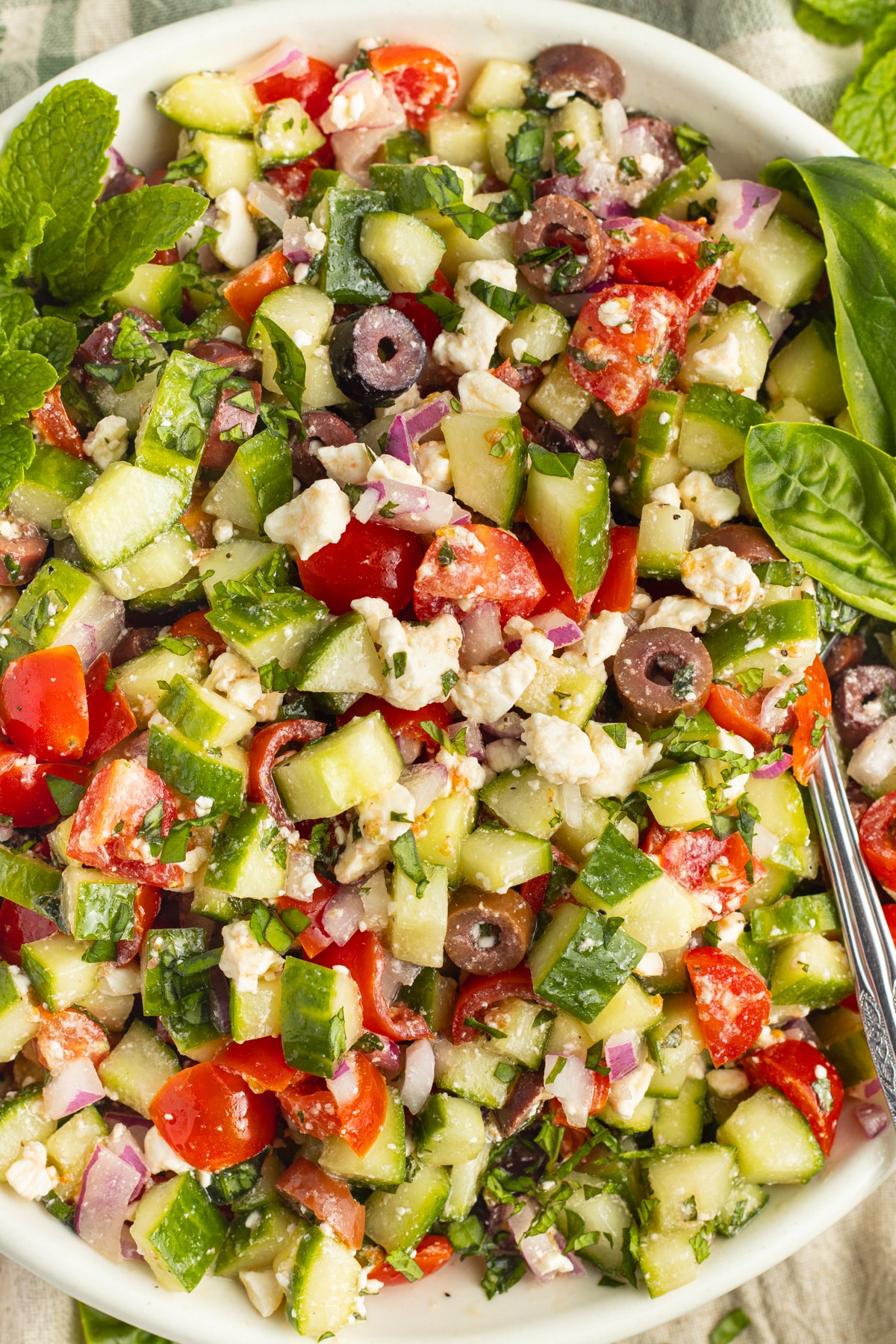 This post contains affiliate links. As an Amazon Associate, I earn from qualifying purchases at no extra cost to you. Please read my privacy policy for more details.
Why This Recipe Works
This Mediterranean cucumber salad is simply delicious. It's crunchy, zesty, full of flavor and texture. Cucumbers and tomatoes are a match made in heaven, and adding red onion, kalamata olives, feta and fresh herbs really takes it to the next level. The salad dressing is made with red wine vinegar which is often used in Greek and Mediterranean dressings.
It's a great dish to make for your next barbecue or bring to a potluck. Serve it as an appetizer or side dish, it goes really well with grilled meat, or even served as a dip with pita chips.
This salad is nutritious as its filled with fresh ingredients: colorful and vibrant veggies and fresh herbs. Olives are packed with nutrients and is a healthy fat, and feta is a lower calorie and lower fat cheese high in calcium. You can also customize this vegetarian salad by adding more protein such as garbanzo beans for example.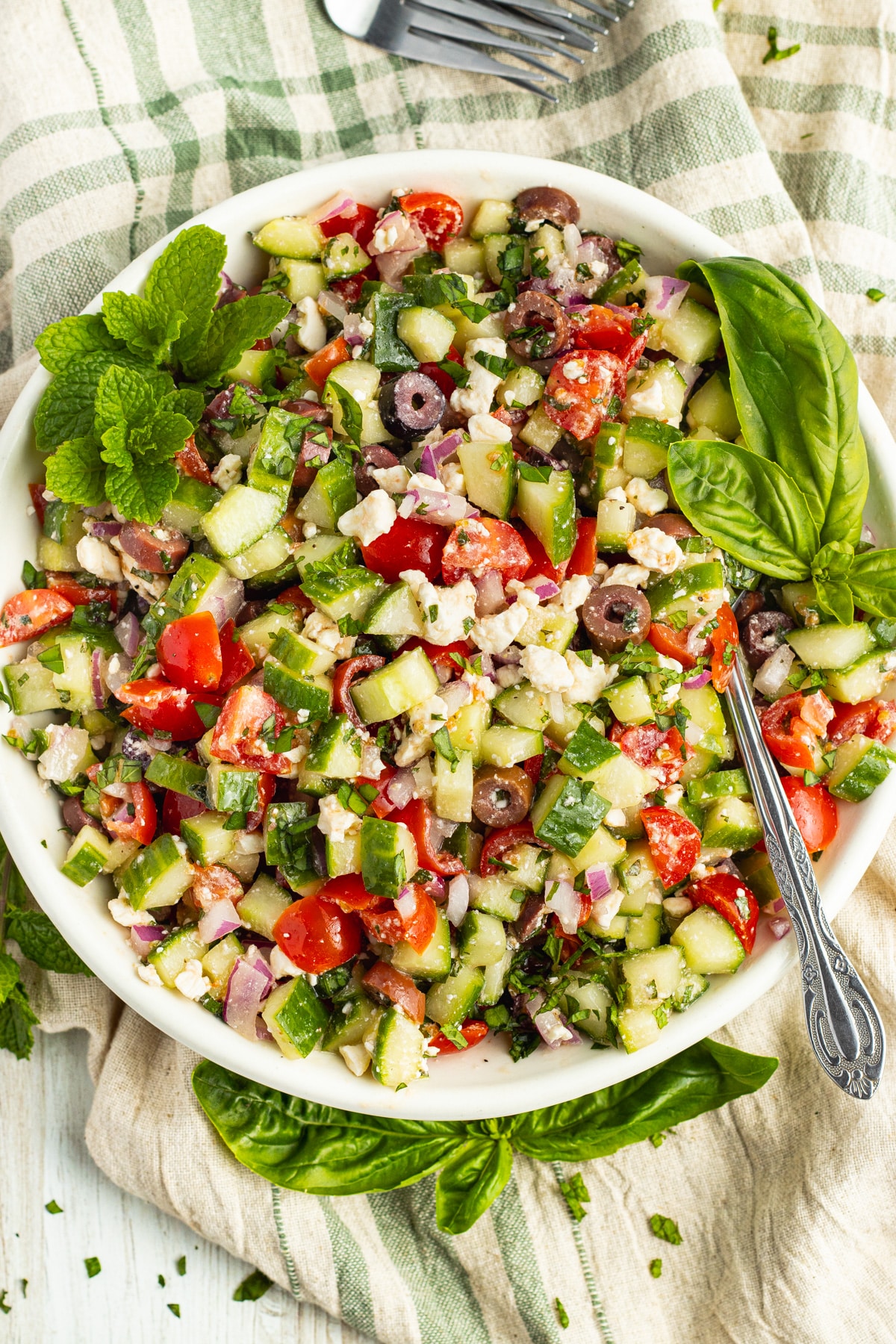 Key Ingredients
English Cucumber: also called hot house cucumber, I highly recommend this variety because the skin is thinner and they're a little less watery. Persian cucumbers are also great for this recipe, they're mini cucumbers and taste pretty much the same as the English ones. If you use a regular cucumber, make sure to not skip removing the seeds and maybe peel or half peel the cucumber as the skin is thicker.
Cherry or Grape Tomatoes: I love these varieties of tomatoes for this salad because they're nice and sweet. But you can really use any kind of tomatoes that you like; if they're super juicy, just remove some of the seeds.
Red Onion: this is my favorite type of onion for this recipe as red onions are sweeter and kind of peppery which makes them complement this dish really well.
Kalamata Olives: I used sliced kalamata olives in water, but you can totally use some marinated in oil, they'll have more flavor but keep in mind they'll also have a bit more calories in case you're watching your macros. Make sure they're pitted and either sliced or chopped.
Feta: such a delicious cheese, it's salty but lower in fat and calories than a lot of other cheeses. It right away adds an amazing Greek and Mediterranean flavor. I like full-fat feta the best, but reduced-fat or even fat-free would also work.
Fresh Herbs: my favorite combination for this cucumber salad is fresh mint and basil, but you can use fresh parsley too.
Red Wine Vinegar: it's the classic vinegar of choice in Greek salad dressing, it's deliciously punchy and flavorful and works beautifully in this recipe. You can substitute for white wine or champagne vinegar. Apple cider vinegar isn't as strong, so you might need another tablespoon of it if you decide to use it.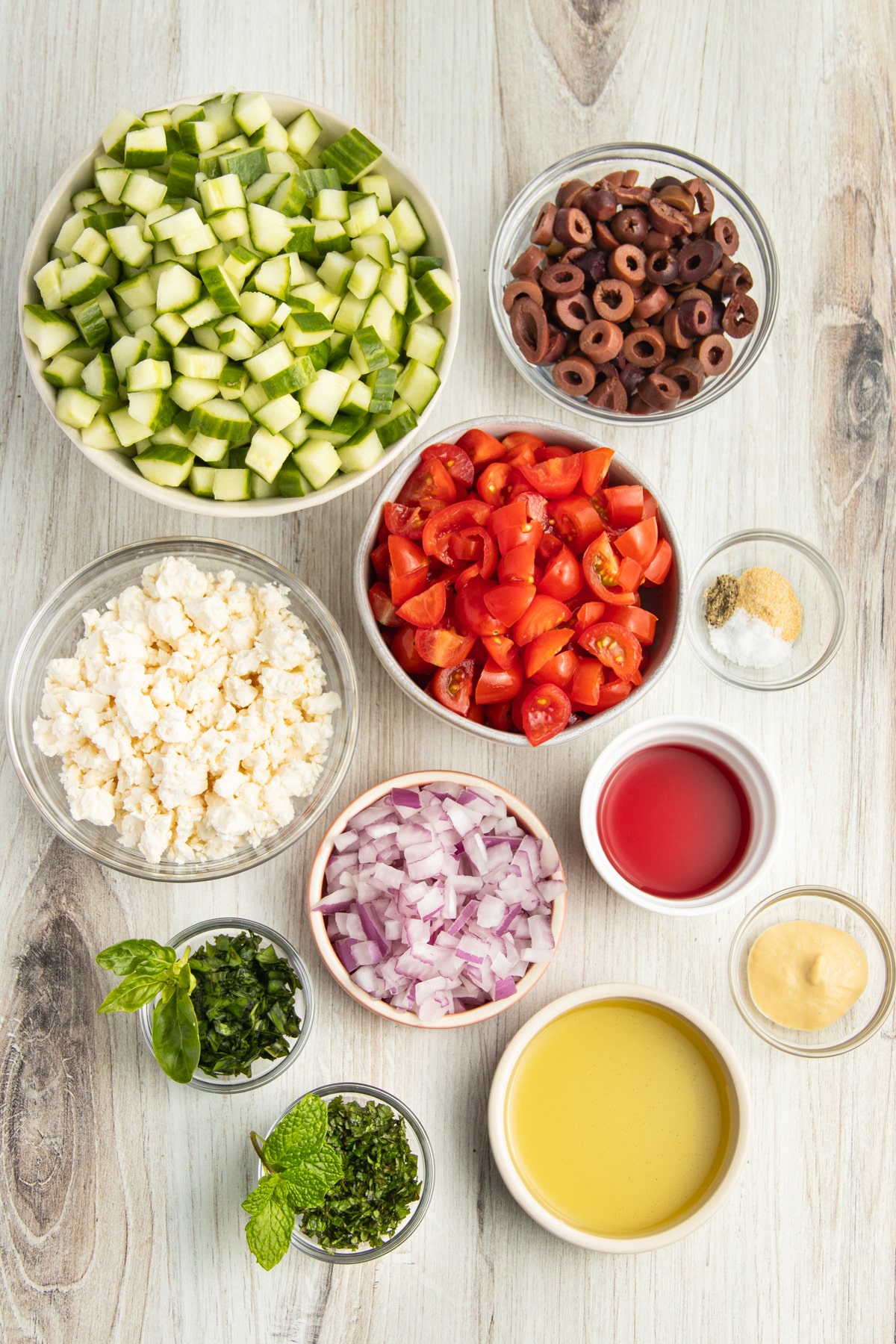 How To Make Mediterranean Cucumber Salad
This fresh salad doesn't require any cooking but you'll be doing some chopping and dicing, and I promise you it's so worth it! If you want a little shortcut, you can totally use a very convenient veggie chopper.
Start by cutting the ends of the cucumbers, then slice them in half and then in half lengthwise. With a spoon, scoop out all the seeds in the middle and discard them. A regular spoon will work just fine, but I love to use a grapefruit spoon, which has little teeth, to scoop out seeds of cucumbers or zucchini. Makes it so easy!
Then dice the tomatoes. Depending on their size, they might only need to be quartered or diced a bit smaller.
Dice a ½ red onion finely. A great way to do this is cut the onion in half vertically after peeling it while keeping the root on. It'll give support. Lay the flat part on your cutting board then make horizontal cut across the onion, then vertical cuts. Then start dicing the whole onion trying your best to keep it in place, and you'll get small pieces.
Finely chop the fresh mint and basil.
Whisk together your salad dressing made of avocado oil, red wine vinegar, Dijon mustard, garlic powder, salt and black pepper.
Assemble all the veggies together, top with crumble feta, herbs and dressing. Stir well, adjust salt and pepper and serve!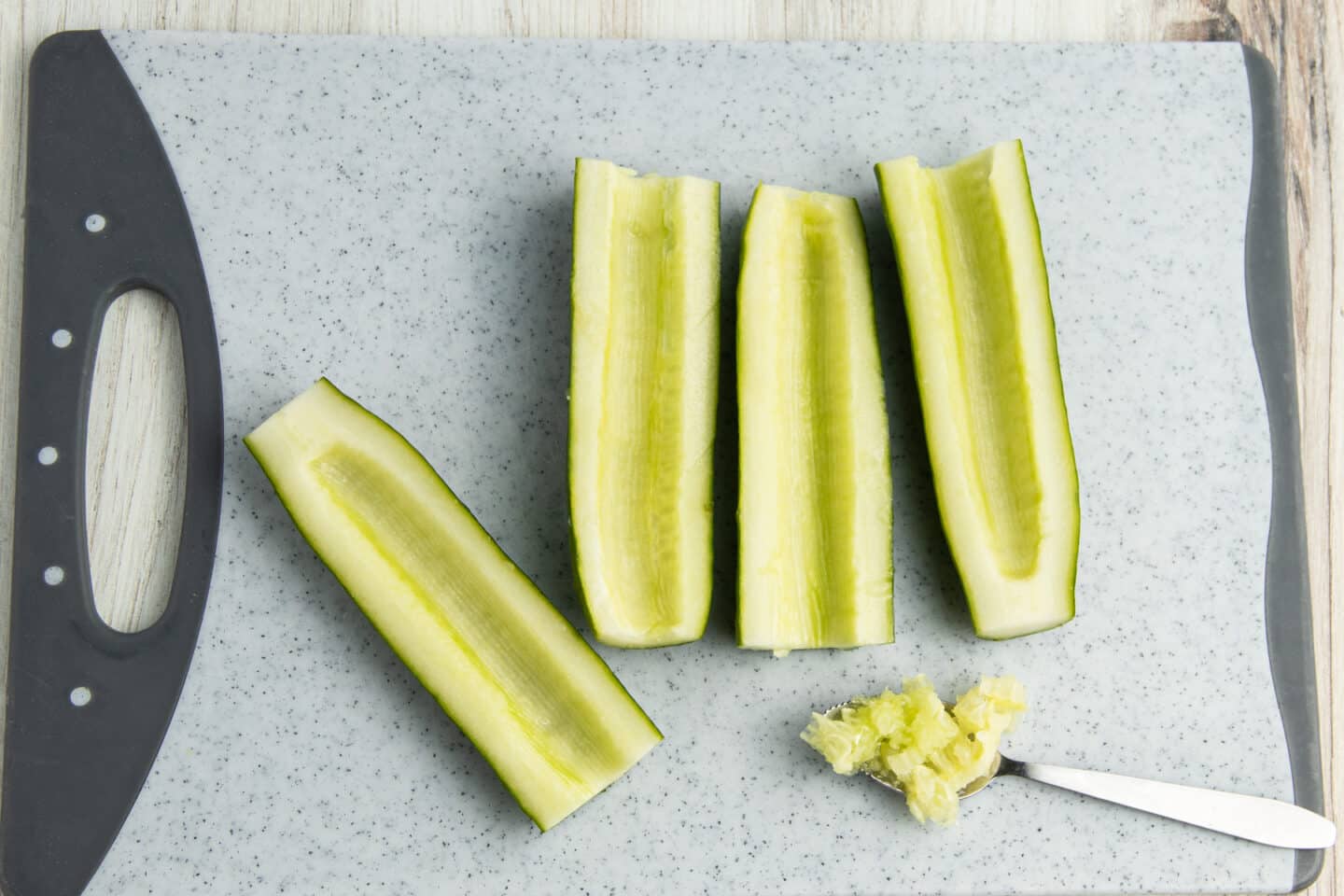 Scoop out cucumber seeds with a spoon.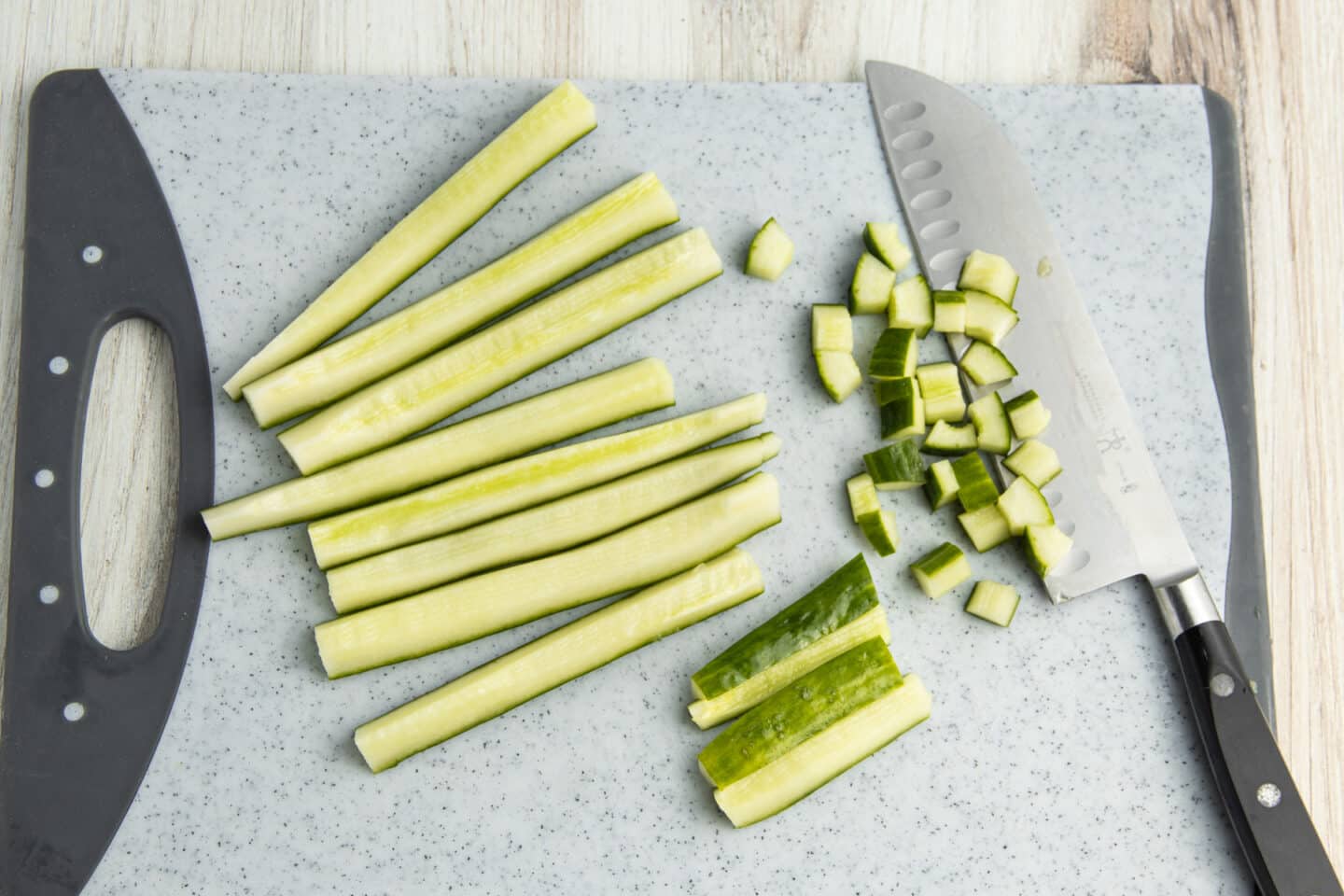 Then dice the cucumbers.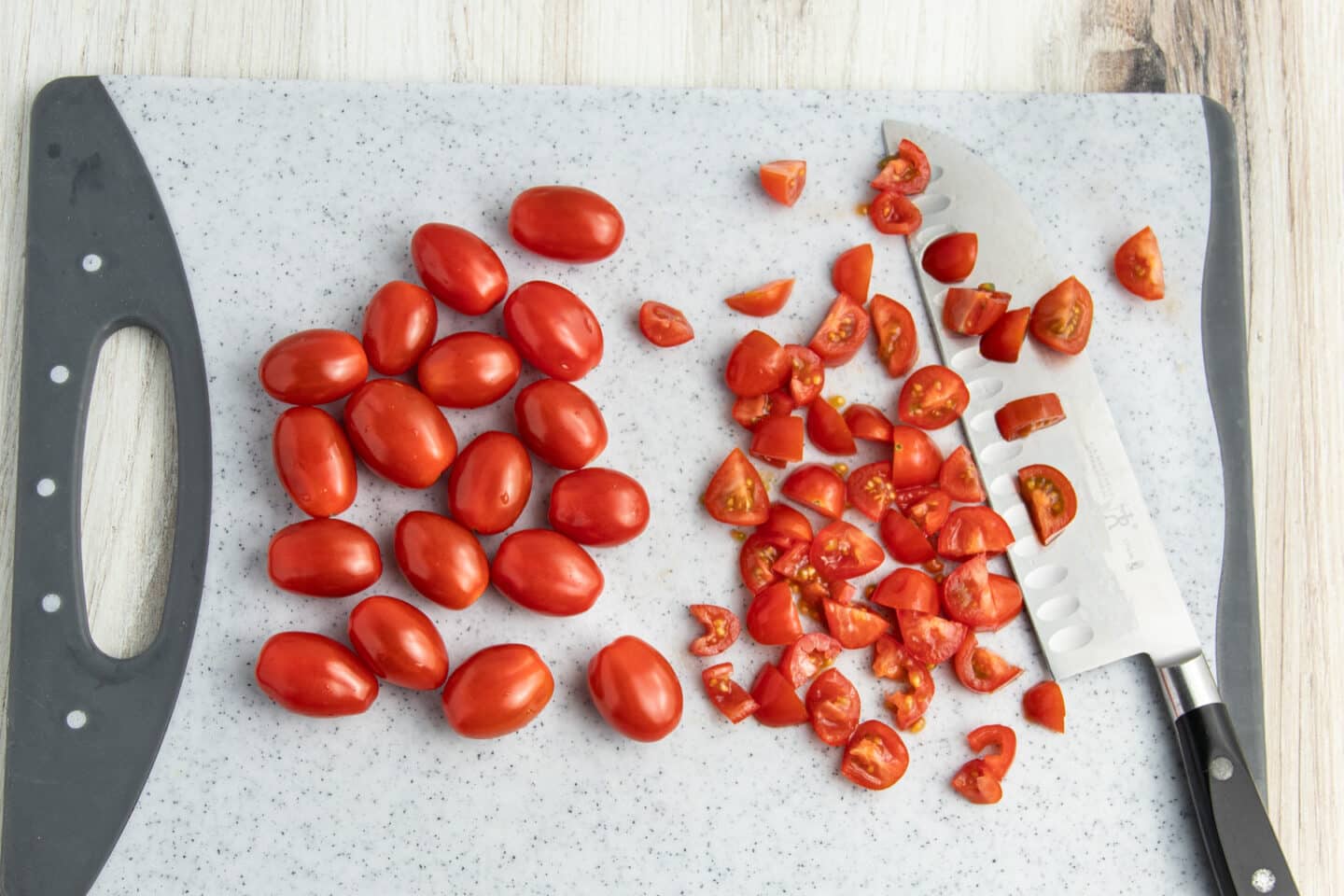 Dice the tomatoes.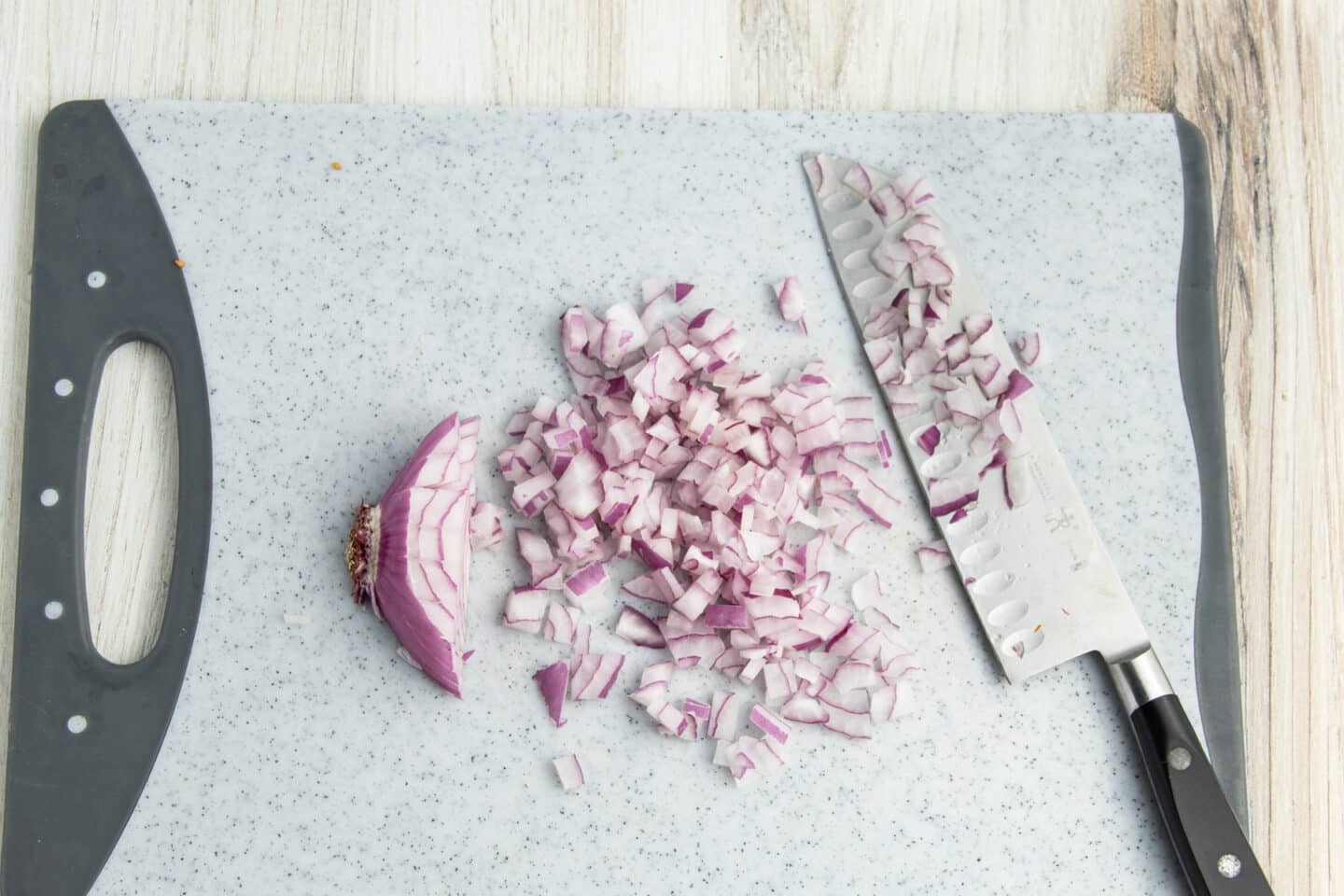 Dice the red onion.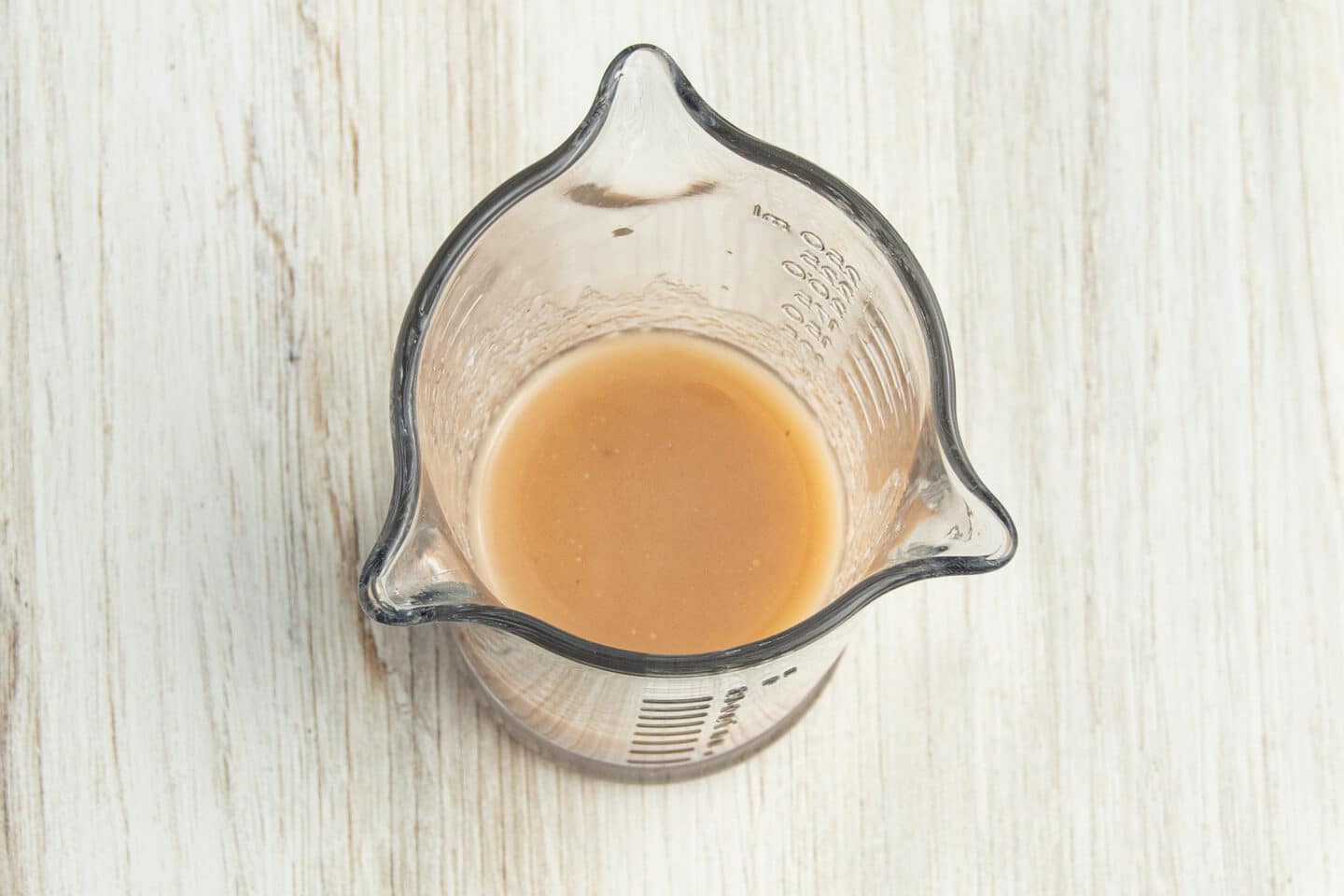 Whisk together vinaigrette.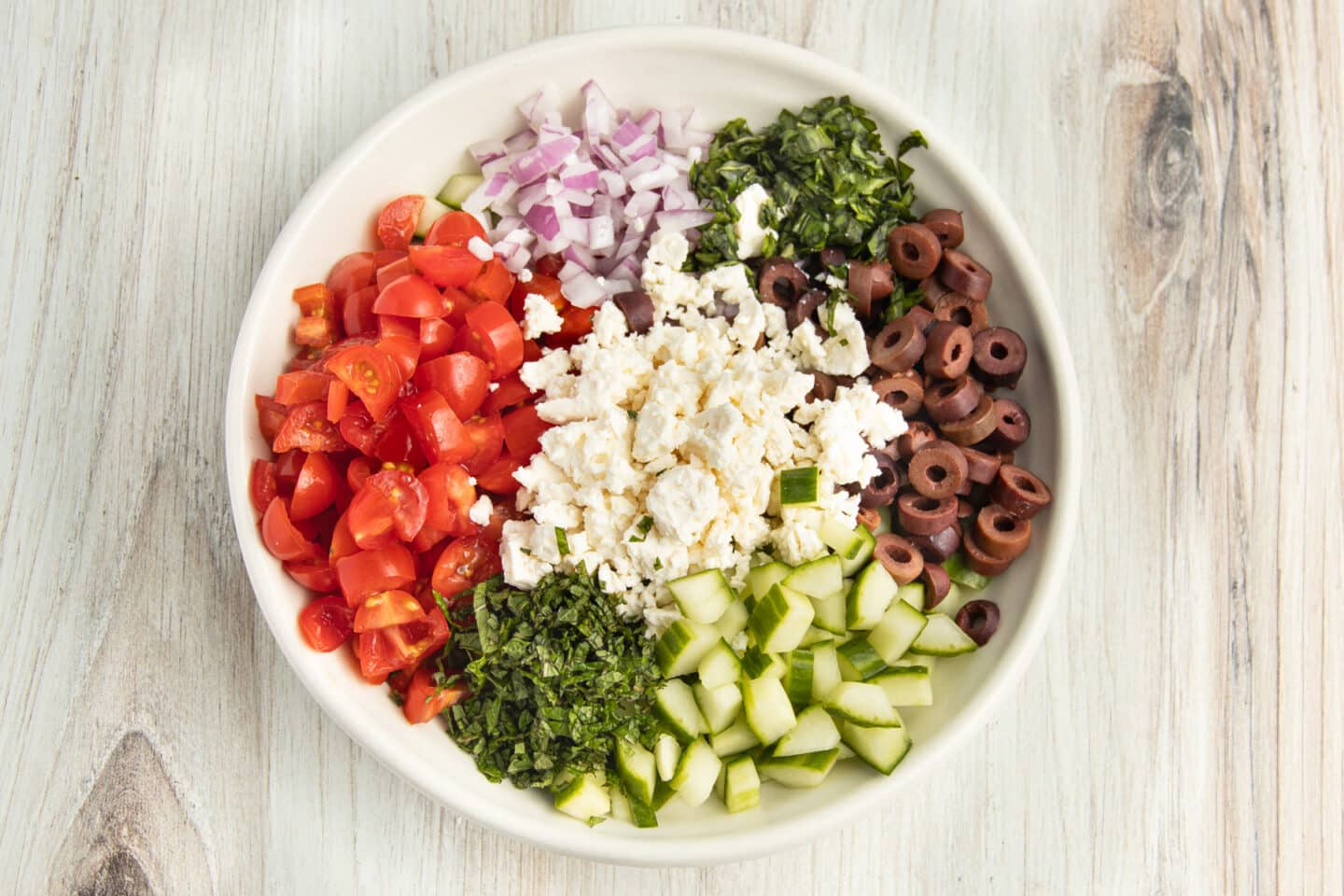 Combine ingredients together.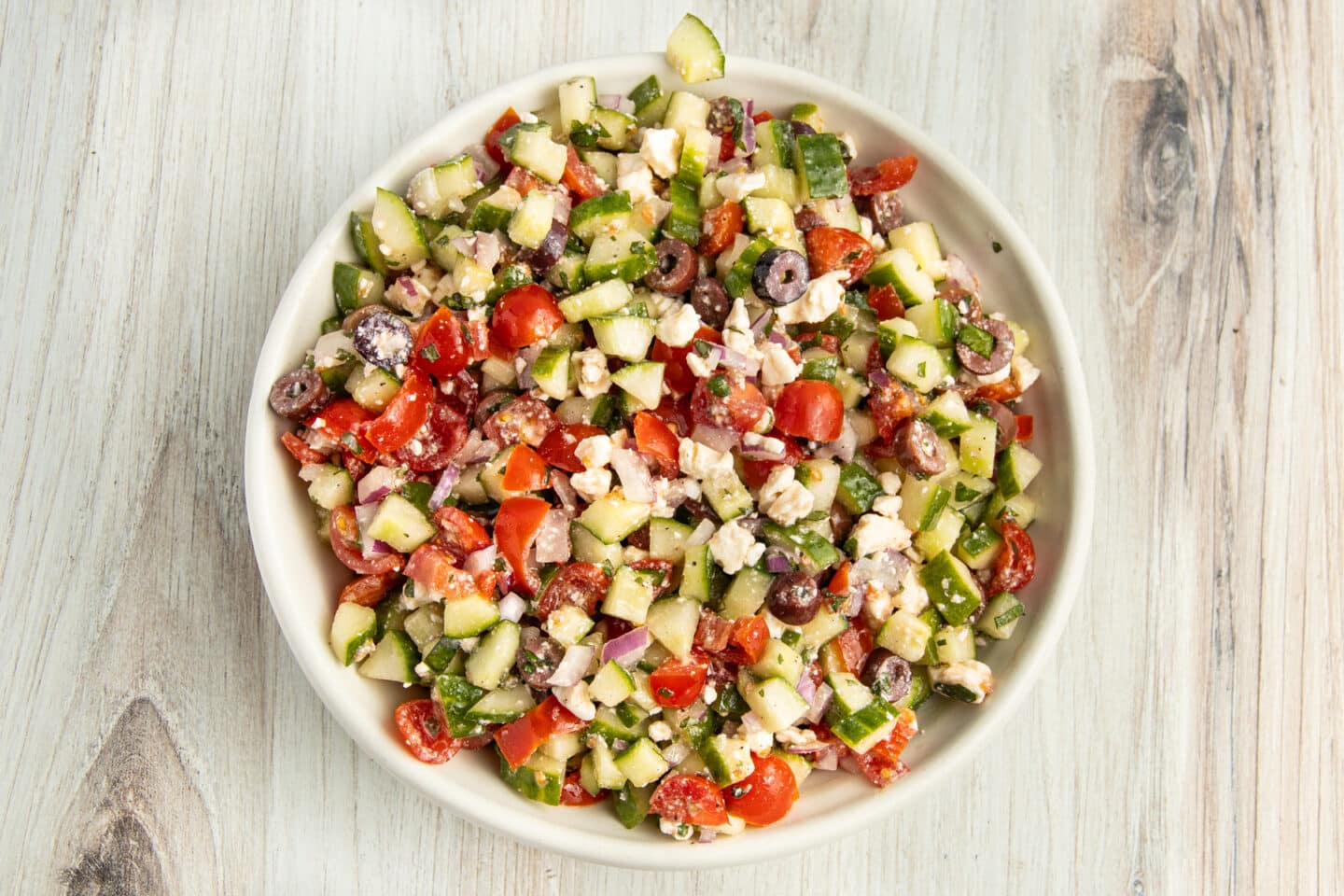 Toss salad with vinaigrette.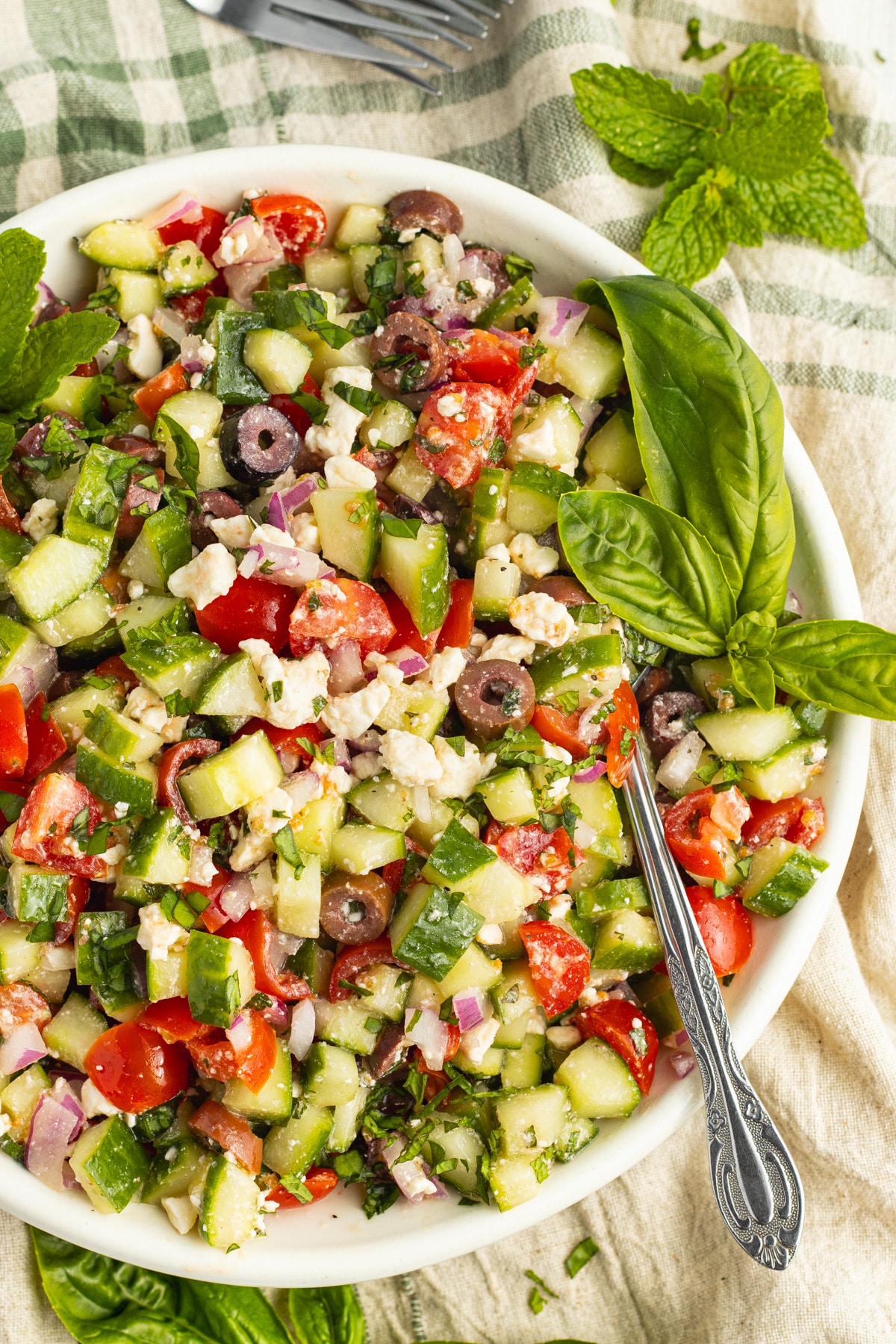 More Delicious And Fresh Salads
Tips And Frequently Asked Questions
Don't skip removing the cucumber seeds! Cucumbers are watery and removing the seeds will help with not making your salad overly watery, and keep it fresh longer.
Leftovers can be stored in an airtight container refrigerated for up to 3 days.
If you're like and enjoy cold salads, you can refrigerate the ingredients prior to dicing them, or refrigerate the salad after making it for 20 minutes to 1 hour before serving.
You can add some spice by sprinkling a few red pepper flakes to your Mediterranean cucumber salad.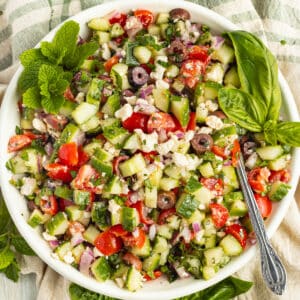 Mediterranean Cucumber Salad
This Mediterranean cucumber salad is filled with delicious and fresh flavors! Crunchy cucumber mixed with zesty tomatoes, red onion, kalamata olives, salty feta and fragrant fresh mint and basil dressed with a super tasty vinaigrette. Absolutely delightful!
Equipment
sharp knife

small spoon

small bowl or measuring cup
Ingredients
3

cups

diced English cucumber

about 2 large English cucumbers

2

cups

diced cherry or grape tomatoes

about 10 ounces

1

cup

diced red onion

about ½ a medium onion

⅔

cup

sliced kalamata olives

drained

1

cup

feta cheese

crumbled

1 ½

tablespoons

finely chopped fresh mint

1 ½

tablespoons

finely chopped fresh basil
For The Salad Dressing
3

tablespoons

extra-virgin olive oil

or avocado oil

2

tablespoons

red wine vinegar

1

teaspoon

Dijon mustard

¼

teaspoon

garlic powder

¼

teaspoon

salt

¼

teaspoon

black pepper
Instructions
Cut ends of cucumber then cut in half, then in half again lengthwise and scoop out all seeds with spoon.

Then cut each half in half again, and again each in half making four strips total, then dice cucumbers with sharp knife.

Then finely dice the red onion.

In small bowl or measuring cup, whisk together oil, vinegar, Dijon, garlic powder, salt and pepper to make vinaigrette.

Assemble all veggies, feta and herbs together in large bowl.

Finally drizzle vinaigrette over cucumber salad, sprinkle salt and black pepper to taste, stir until everything is well coated and enjoy!
Notes
Feta: you can use full-fat, reduced-fat or fat-free feta per your preference. 
*The nutritional values shown in this recipe are approximate for one suggested serving size using the ingredients listed but not including any optional items and may vary per actual preferred portion sizes.
Nutrition
Serving:
1
serving
|
Calories:
243
kcal
|
Carbohydrates:
13
g
|
Protein:
10.4
g
|
Fat:
13
g
|
Saturated Fat:
3.4
g
|
Polyunsaturated Fat:
1.8
g
|
Monounsaturated Fat:
8
g
|
Cholesterol:
20.1
mg
|
Sodium:
557.6
mg
|
Potassium:
366.5
mg
|
Fiber:
3
g
|
Sugar:
4
g
|
Vitamin A:
656.2
IU
|
Vitamin C:
22.9
mg
|
Calcium:
49.5
mg
|
Iron:
1.1
mg
Share on Facebook
Share by Email