These air fryer peaches are about to become your favorite summer dessert! Very simple and easy, the fresh peaches are caramelized with honey and cinnamon and air fried for less than 15 minutes. Add your favorite toppings for a such a fun and delicious sweet treat!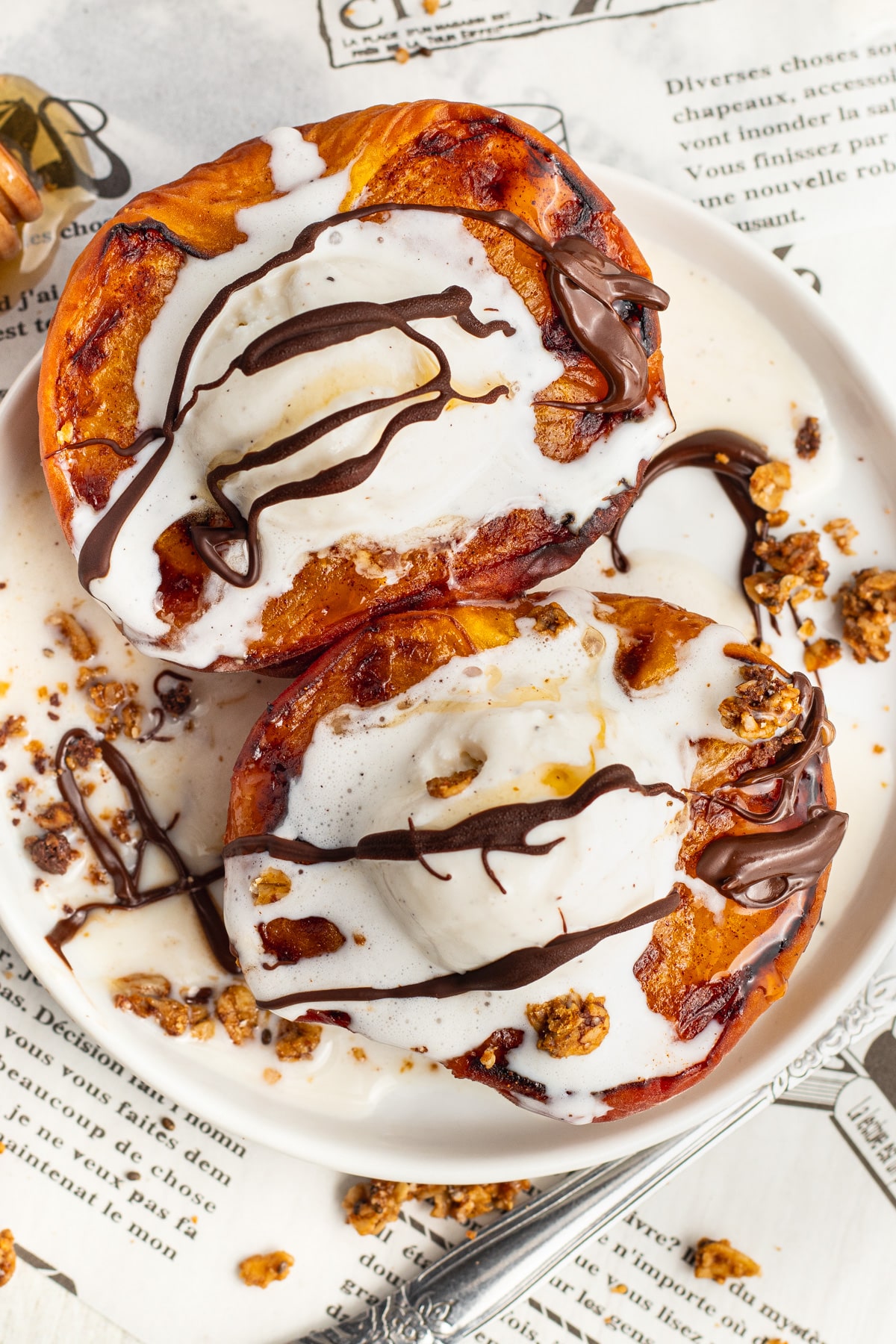 This post contains affiliate links. As an Amazon Associate, I earn from qualifying purchases at no extra cost to you. Please read my privacy policy for more details.
Why This Recipe Works
Air fryer peaches are simple yet incredibly delicious! All you need are fresh peaches, honey, cinnamon and a little spray cooking oil to cook them. The peaches are beautifully caramelized, very flavorful, and just incredible warm. They're also a nice alternative to grilled peaches.
They're not overly sugary. We're only using a little honey and not adding any extra sugar or butter to the peaches themselves to leave room for calories for toppings of choice. A little ice-cream or whipped cream and a drizzle of melted chocolate is plenty of extra sweetness to keep this treat deliciously guilt-free.
This recipe is so easy to make and fun! It's a great summer dessert, kids-approved, and perfect for entertaining. Double or triple the recipe as needed.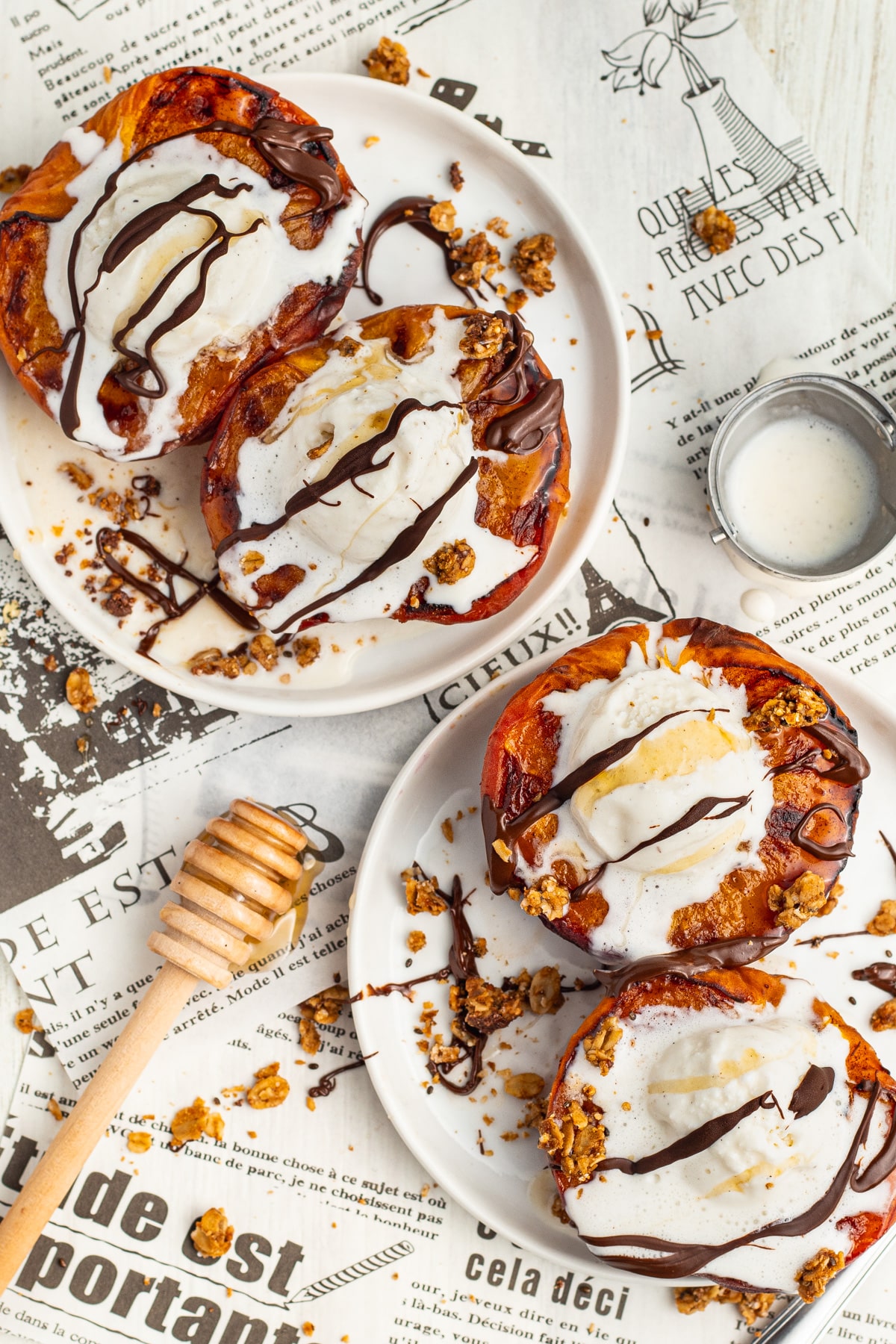 Key Ingredients
Peaches: you want to use just ripe peaches or slightly underripe peaches for this recipe. If they're overly ripe, they could turn to mush and lose their shape. But if they're a little overripe, only air fry them for half the time recommended in the recipe below. To check the ripeness of a peach, gently squeeze it with your hand, and it should be slightly soft and have a little give.
Honey: adding a drizzle of honey to the peaches before cooking them will help them caramelize beautifully.
Cinnamon: it goes so well with the flavor of the peach. Add as little or as much as you like or if you're not a fan skip it all together.
Spray cooking oil: a little spray of oil will help the peaches from burning in the air fryer. I use avocado oil because it's pretty much flavorless but you can use olive oil or any oil of choice you have on hand too.
How To Make This Recipe
Start by preheating your air fryer to 375° Fahrenheit.
Wash and completely dry your peaches. Cut them in half all around lengthwise, then twist the peach around the pit to separate each half and remove the pit.
Drizzle some honey over the peaches flesh, then sprinkle some cinnamon.
Once the air fryer is hot, add a layer of parchment paper (or parchment paper liner) then add the peaches halves on top, skin down, so flesh up.
Spray the peaches with spray cooking oil, and cook for 8 to 14 minutes. The cooking time will vary greatly per the size and ripeness of the peaches, and your air fryer model. At the 8 minute mark, check the doneness by poking a peach with the tines of a fork or a knife. If it slides in easily, it's ready. If it gives you a little resistance, cook for a couple more minutes then check again.
Once cooked, remove the peaches carefully with tongs, they will be hot. Place them on a plate and let them cool down for a couple of minutes before serving them with your favorite toppings of choice.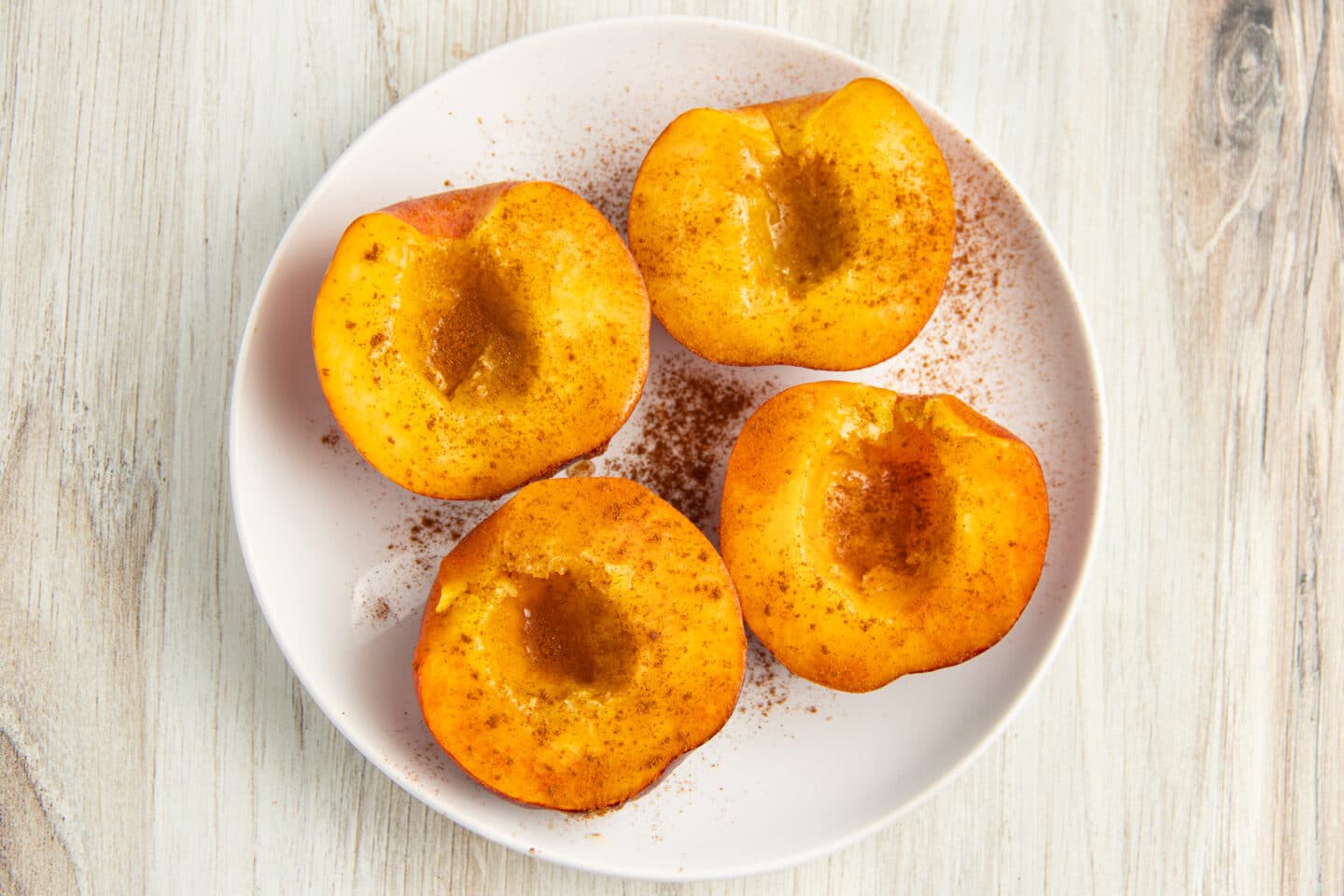 Season the peaches with honey and cinnamon.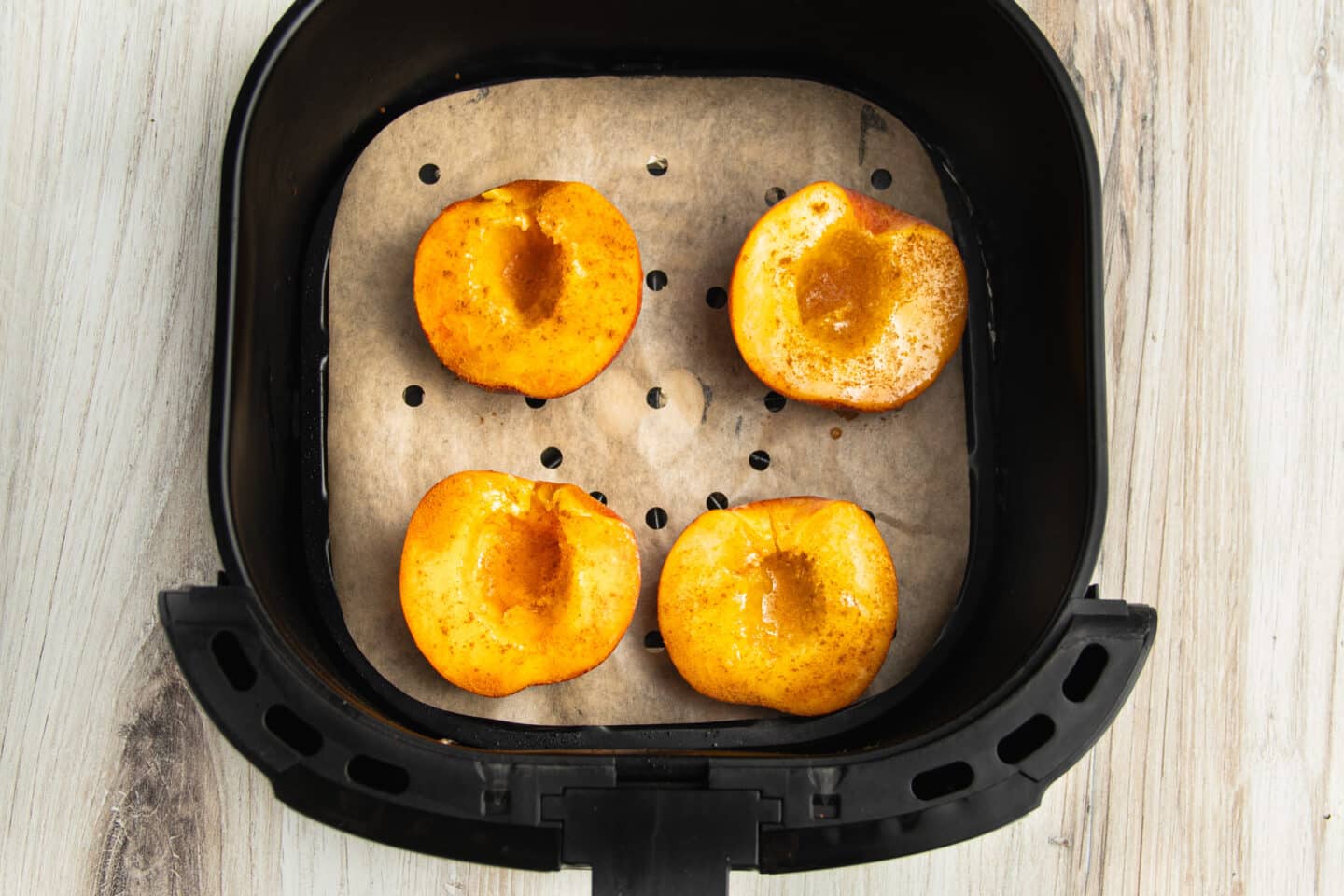 Spray with oil and cook at 375° for 10 to 15 minutes.
What To Serve With Air Fryer Peaches
Ice cream: vanilla or any flavor of choice go heavenly with these air fryer peaches.
Melted chocolate: this is a personal favorite, chocolate and peaches go amazingly well together.
Yogurt: Greek yogurt or regular, plain or vanilla flavored per taste.
A drizzle of honey and extra cinnamon.
Whipped cream would taste delicious with the warm peaches.
Granola will add some crunch.
Chopped nuts of choice.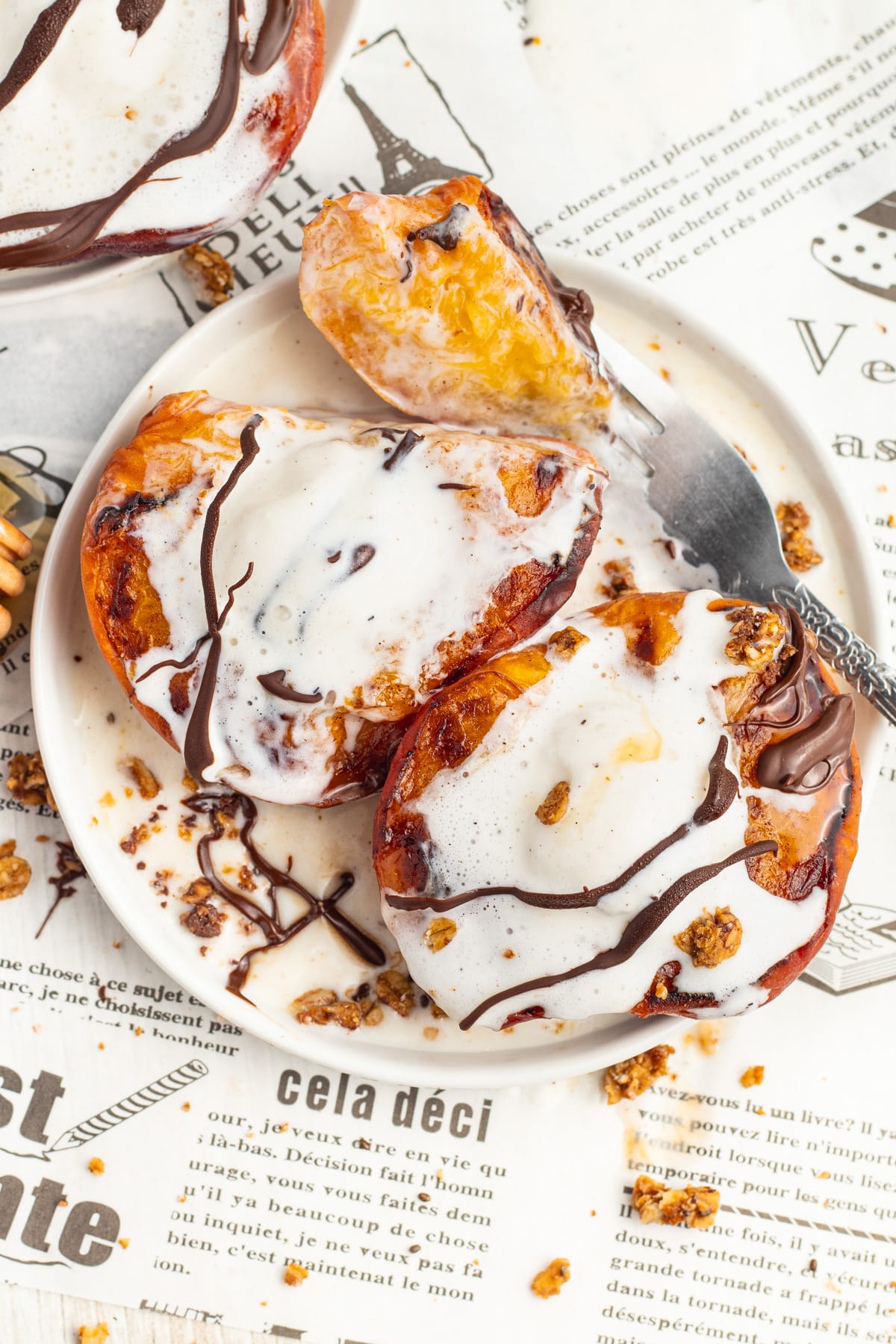 More Sweet Recipes To Try
Tips And Frequently Asked Questions
Can I use canned or frozen peaches? No, I don't recommend using those, fresh peaches are best for this recipe. Canned are already too soft, and frozen hold a lot of moisture and could turn out too mushy.
Leftover air fryer peaches can be stored refrigerated in an airtight container for up to 3 days.
Can I use nectarines? Absolutely yes.
To reheat these peaches, place them in a microwave safe dish and microwave them from 45 seconds to 1 minute, more or less depending on your microwave power.
DO NOT place the parchment paper liner in your air fryer until it's already preheated. It should go in right when you're ready to add the peaches. If you put it early, it can get sucked by the air fryer and burn. I may or may not have made that mistake once before, but in all seriousness, it's a fire hazard good to know! While technically you can skip it all together, I highly recommend using parchment because air fryer peaches can get a tad messy while being caramelizing.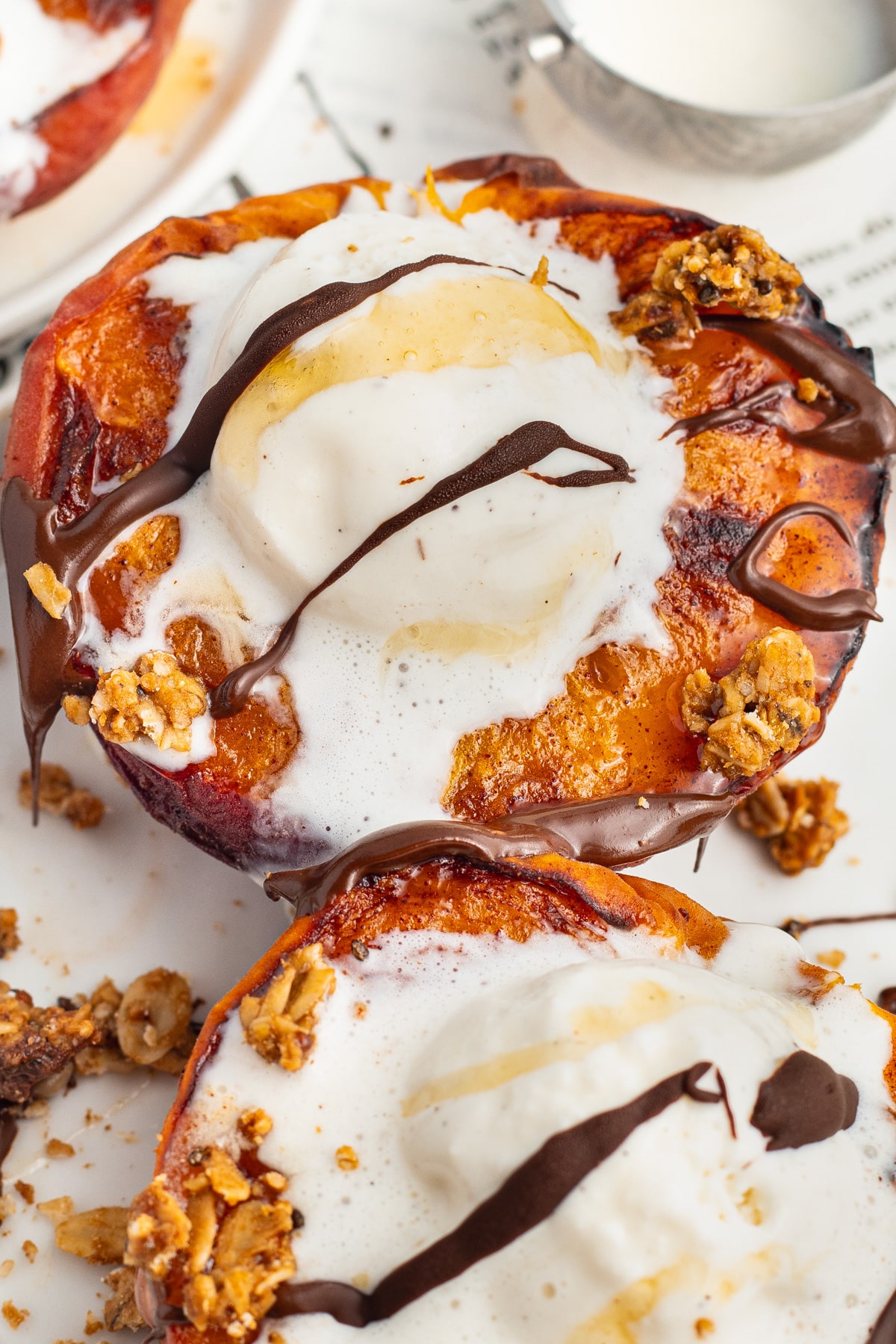 Easy Air Fryer Peaches
These air fryer peaches are about to become your favorite summer dessert! Very simple and easy, the fresh peaches are caramelized with honey and cinnamon and air fried for less than 15 minutes. Add your favorite toppings for a such a fun and delicious sweet treat!
Ingredients
2

peaches

½

tablespoon

honey more or less to taste

¼

teaspoon

cinnamon

more or less to taste
Toppings Ideas
vanilla ice cream

melted chocolate

nuts of choice
Instructions
Preheat air fryer at 375° Fahrenheit.

Slice peaches in half lengthwise, twist it to separate halves and remove pit.

Drizzle honey and sprinkle cinnamon over peaches flesh.

Once air fryer is preheated, add parchment paper then place peaches halves skin down (flesh up). Lightly spray peaches with spray cooking oil. Cook for 8 to 14 minutes or until tender when poked with fork or knife. *cooking time will vary per size, ripeness of peaches and air fryer model. Check peaches for doneness at the 8 minute mark.

Carefully remove peaches from air fryer with tongs, and place on plate. Let cool for a couple of minutes and add toppings of choice before serving warm. Enjoy!
Notes
Spray cooking oil: make sure the spray you use is air fryer safe as some non-stick sprays containing chemicals can damage the air fryer basket. Spray containing oil only such as avocado or olive oil are best.
DO NOT add the parchment paper liner while the air fryer is preheating, add it only as the same time as the peaches. 
*The nutritional values shown in this recipe are approximate for one suggested serving size using the ingredients listed but not including any optional items and may vary per actual preferred portion sizes.
Nutrition
Serving:
1
serving
|
Calories:
78
kcal
|
Carbohydrates:
17
g
|
Protein:
1.4
g
|
Fat:
1
g
|
Saturated Fat:
0.03
g
|
Polyunsaturated Fat:
0.1
g
|
Monounsaturated Fat:
0.1
g
|
Sodium:
19.7
mg
|
Potassium:
186.8
mg
|
Fiber:
3
g
|
Sugar:
12
g
|
Vitamin A:
489.7
IU
|
Vitamin C:
6.2
mg
|
Calcium:
8.8
mg
|
Iron:
0.6
mg
Share on Facebook
Share by Email