Tender in the inside with crispy edges on the outside, these homemade air fryer steak fries are well-seasoned, and super easy to make. Using this method will give you a satisfying side of fries without the need to fry them drenched in oil. Healthier and absolutely delicious!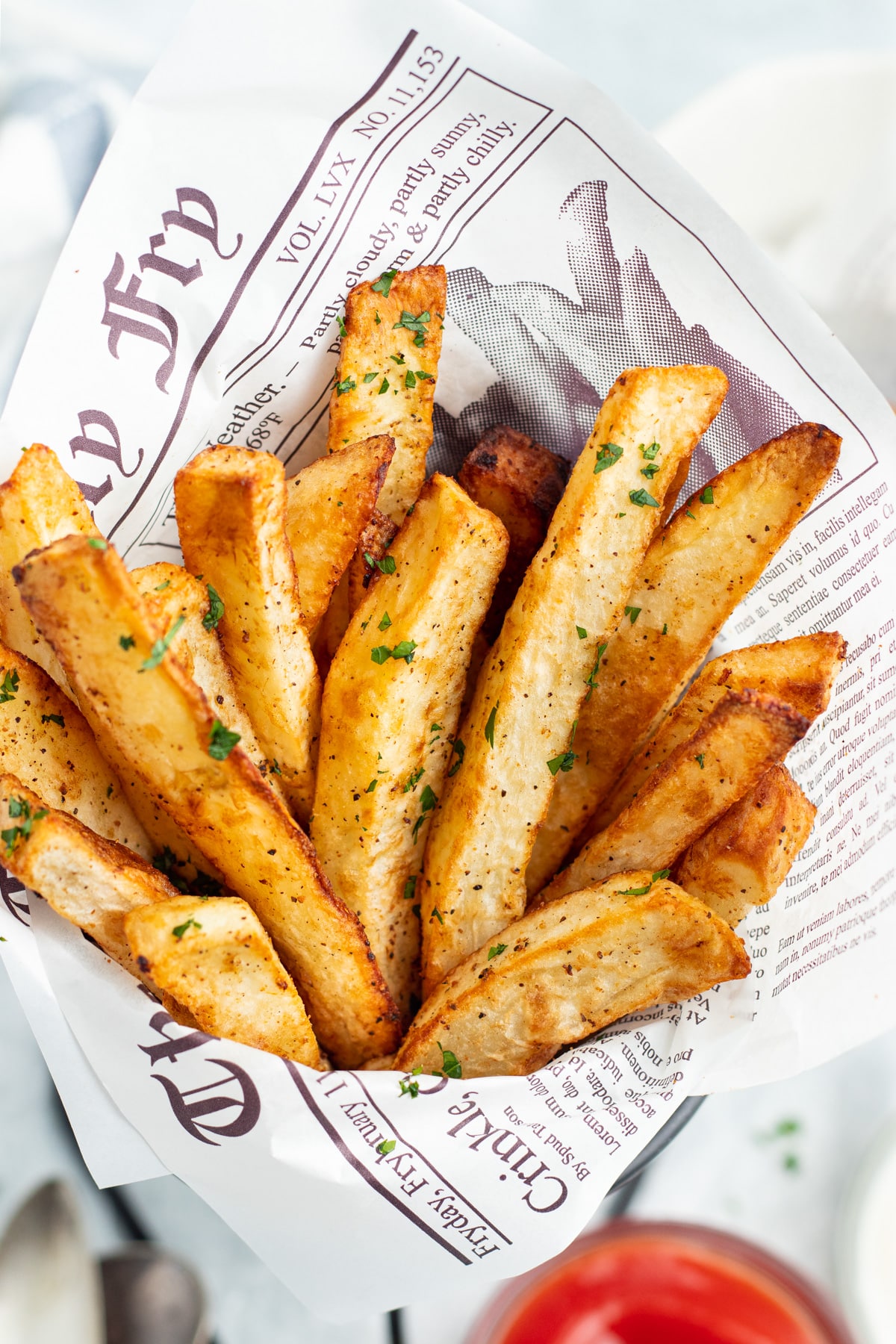 Why You'll Love This Recipe
If you're a potato lover, these homemade air fryer steak fries are a must-try! Fries in general are so delicious, whether they're French, curly, crinkle-cut or really any variety. Steak fries are a tad smaller than wedges, but still very potato-y, you know what I mean! Air frying them results in beautiful crispy edges, with a tender soft inside. Dip them in this Dijon aioli or any sauce you love.
They're healthier than classic fried fries as they're not drenched in a ton of oil. We still use a bit of oil, but let the air fryer do its magic. And because they're thicker fries, you won't need a huge portion to feel satisfied.
Budget-friendly, kid-friendly, and super easy to make. You'll simply need potatoes, seasoning you most likely already have in your pantry, and a bit of neutral oil such as avocado oil.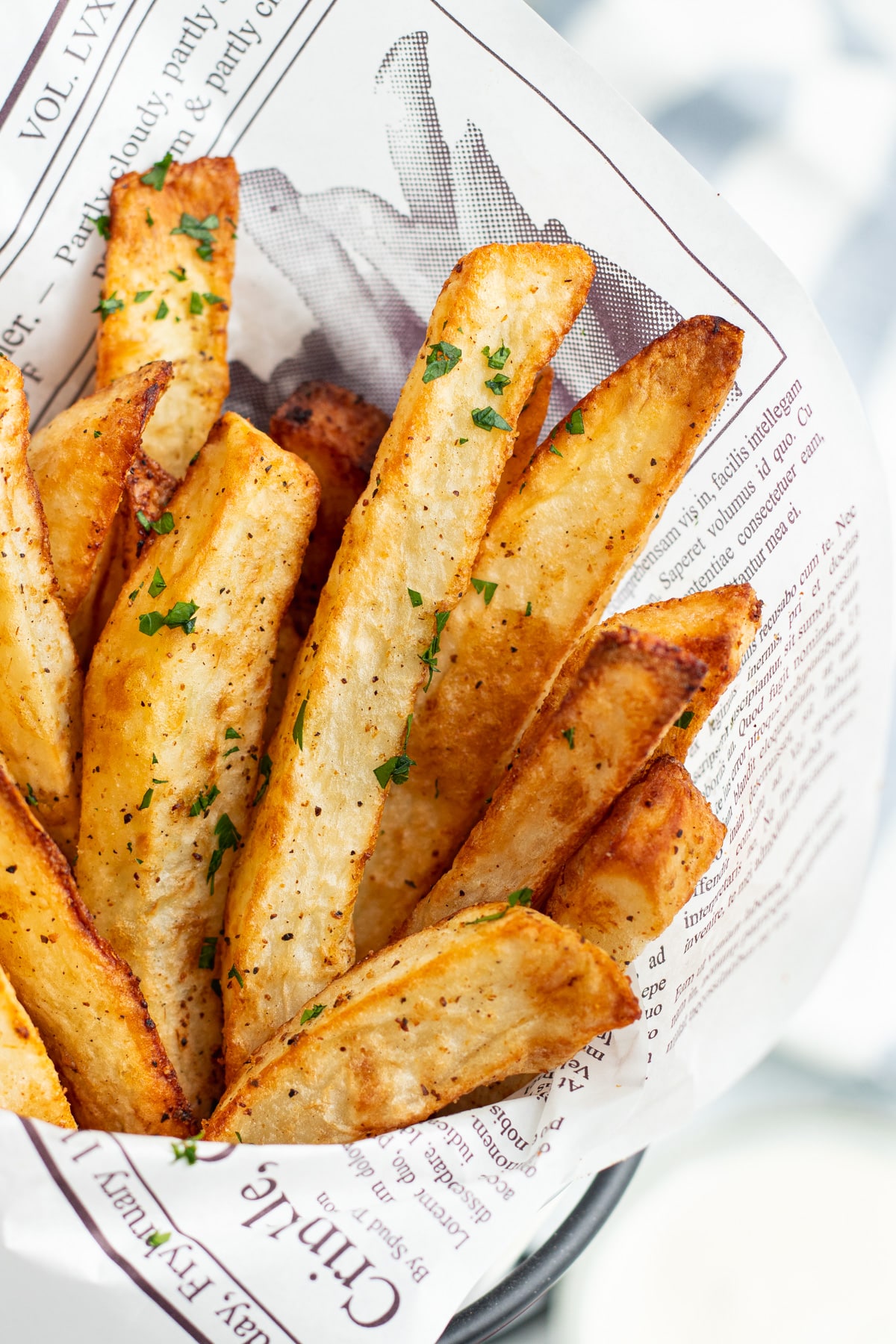 How To Make Air Fryer Steak Fries
To make homemade steak fries, I recommend using Russet or Yukon gold potatoes. I personally always use Russets, they make excellent fries. Scrub the potatoes clean, and peel them. The recipe will work with skin on as well if you prefer, but give them a good wash under running water to remove any dirt.
Once the potatoes are clean, you'll slice them on a cutting board into fries that are about a ½ inch thick. Cut the potatoes in half lengthwise, then cut your steak fries. The exact process will depend on the size of the potatoes. Try to make them fairly close in size to each other, so they cook evenly. But don't worry, it doesn't have to be perfect.
Next you'll soak the steak fries in a bowl of cold water. I highly recommend not skipping this step, as it removes some to the potato starch an prevent them from sticking to each other and helps a lot with the crispiness. They don't need to soak for long, about 20 to 30 minutes.
Once the potatoes have soaked, drain them, and pat them dry really, really well with paper towels or a clean dish towel.
Time for seasoning, you'll add the steak fries to a bowl and toss them with a sprinkle of oil, garlic and onion powder, salt and black pepper.
Finally you'll air fry the fries in a preheated air fryer at 385° Fahrenheit, and cook them in a single layer for 17 to 20 minutes.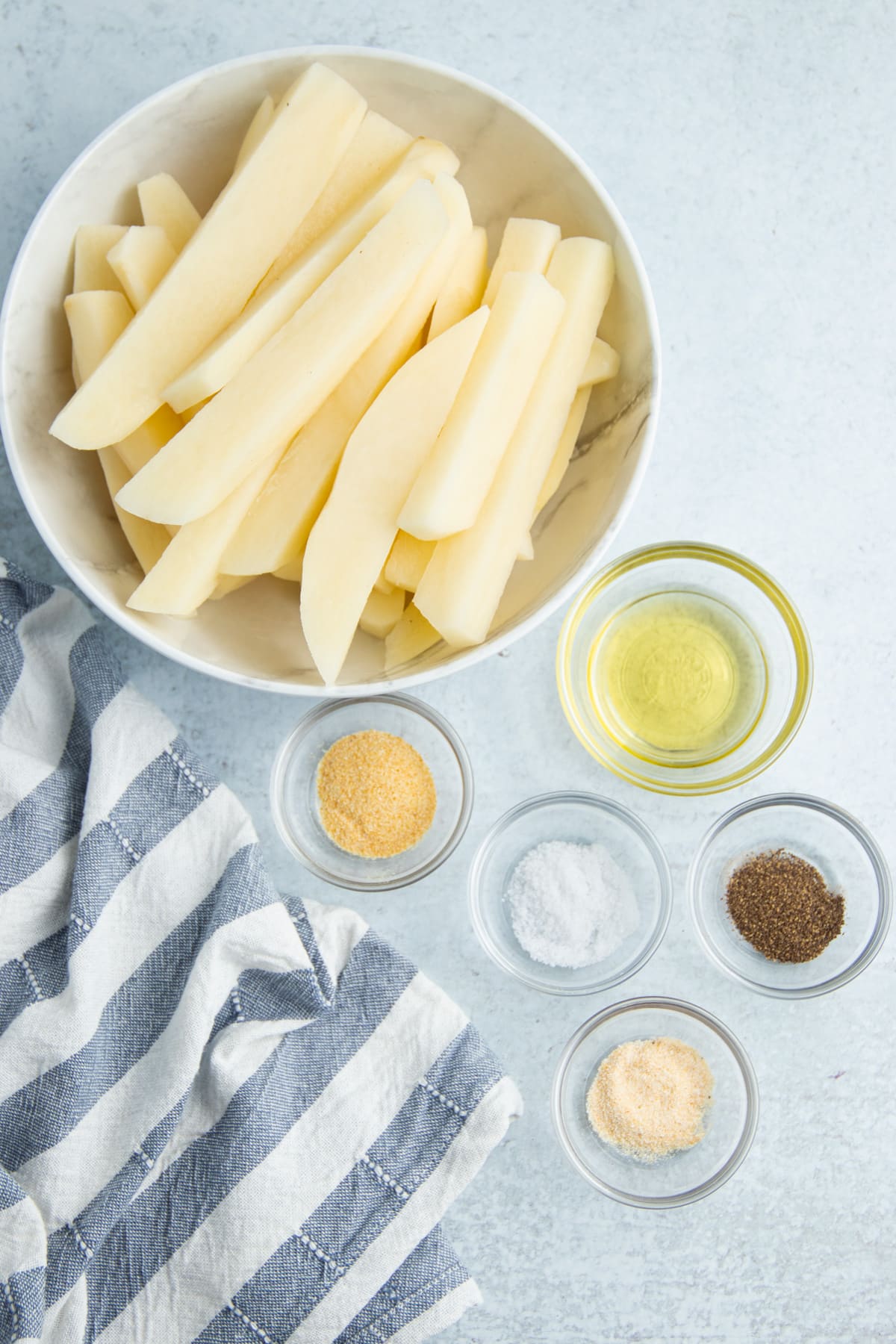 More Delicious Recipes To Try
Tips And Frequently Asked Questions
Make sure the potatoes are completely pat dry before seasoning them.
To get the best results, you'll want to place the steak fries in one single layer in your air fryer. Depending on the size of the basket, you might need to work in 2 batches. But it's worth it, I promise! If you overcrowd the air fryer, the fries could get soggy. Once the 2nd batch is done, you can throw in the 1st batch back in the air fryer for a couple of minutes to warm up.
During cooking time, you'll want to give the air fryer a good shake 2 to 3 times to make sure the fries get crispy edges all around.
Air fryer steak fries are best when consumed immediately after cooking. If you let them sit, they'll lose the crunch. But if you have leftovers, you can totally reheat them in the air fryer for a few minutes to crisp back up, or chop them up and and pan fry them with eggs for example.
You can totally change up the dry seasoning if you'd like! You could use different blends, like ranch or taco seasoning, smoked paprika, dried herbs... Trader Joe's recently got a ketchup seasoning that would taste so good on those!
If you wanted to use sweet potatoes for this recipe in place of Russets, you can! They will cook a little quicker though, so keep an eye on them.
Using frozen steak fries is an option too, just air fry them directly out of the freezer at 400° Fahrenheit for 15 to 18 minutes, shaking the basket halfway thru.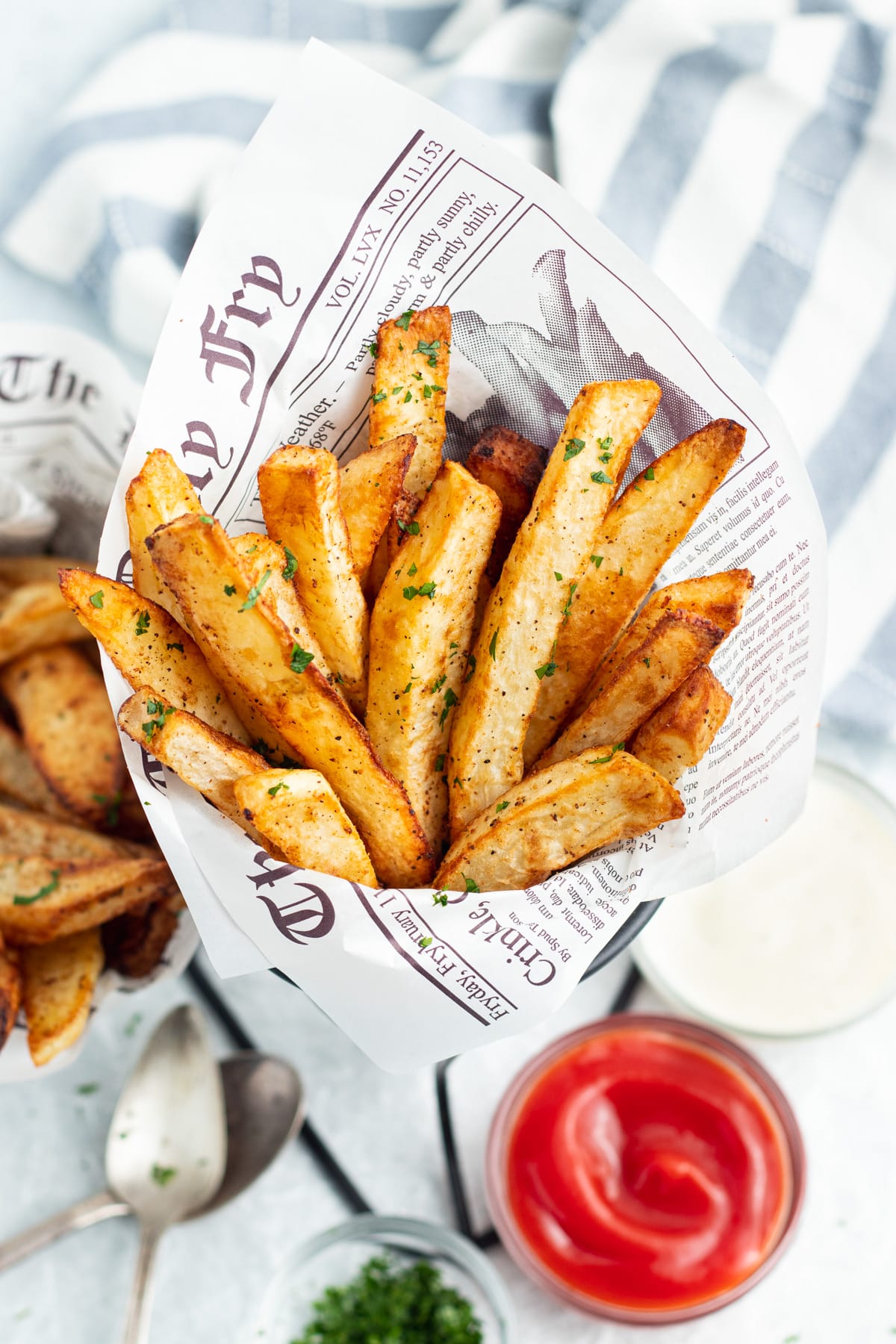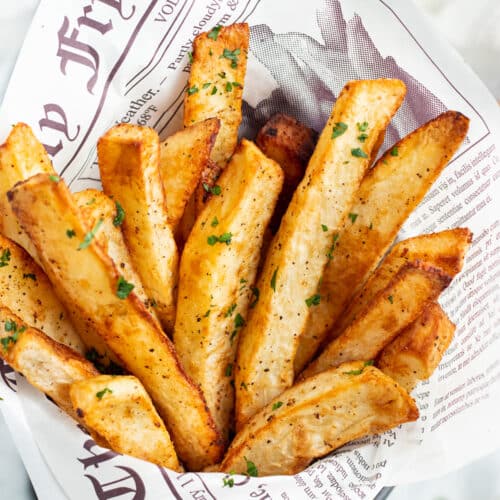 Air Fryer Steak Fries
These air fryer steak fries are tender on the inside with perfect crispy edges, and they're very easy to make.
Equipment
sharp knife

paper towels or kitchen towel
Instructions
Wash and peel potatoes, then cut them into ½ inch fries.

Submerged potatoes into a large bowl filled with cold water, and let them sit for 20 to 30 minutes. When time is almost up, preheat air fryer to 385° Fahrenheit.

Drain potatoes into colander, then pat them dry completely with paper towels or kitchen towel.

Add fries dry large bowl, then add avocado oil, salt, garlic powder, onion powder and black pepper. Toss steak fries into seasoning to coat evenly.

Transfer fries to air fryer in one single layer. Cook steak fries for 17 to 20 minutes, shaking the basket 2 to 3 times during cooking time. Depending on the size of your air fryer basket, you might need to do this step into 2 batches. If so, remove batch 1, then cook batch 2, remove and add batch 1 back to air fryer for 2 minutes.

Remove steak fries from air fryer, sprinkle with fresh chopped parsley and more salt if desired. Serve immediately with side and sauce of choice.
Notes
If you prefer to keep the skin on your steak fries, you totally can, just make sure you scrub the potatoes well before slicing them. 
Cooking time will vary per individual air fryer. You can cook steak fries a few extra minutes if you prefer them extra crispy. 
*The nutritional values shown in this recipe are approximate for one suggested serving size using the ingredients listed but not including any optional items and may vary per actual preferred portion sizes.
Nutrition
Serving:
1
serving
|
Calories:
117
kcal
|
Carbohydrates:
20
g
|
Protein:
2
g
|
Fat:
4
g
|
Saturated Fat:
0.4
g
|
Polyunsaturated Fat:
1
g
|
Monounsaturated Fat:
2
g
|
Sodium:
296
mg
|
Potassium:
452
mg
|
Fiber:
1
g
|
Sugar:
1
g
|
Vitamin A:
2
IU
|
Vitamin C:
6
mg
|
Calcium:
15
mg
|
Iron:
1
mg
Share on Facebook
Share by Email