These baked potato leek puff pastry bites are seriously out of this world delicious! Creamy mashed potato mixed with caramelized leeks, crispy turkey bacon and a little cheese, all wrapped up in flaky buttery puff pastry baked to perfection!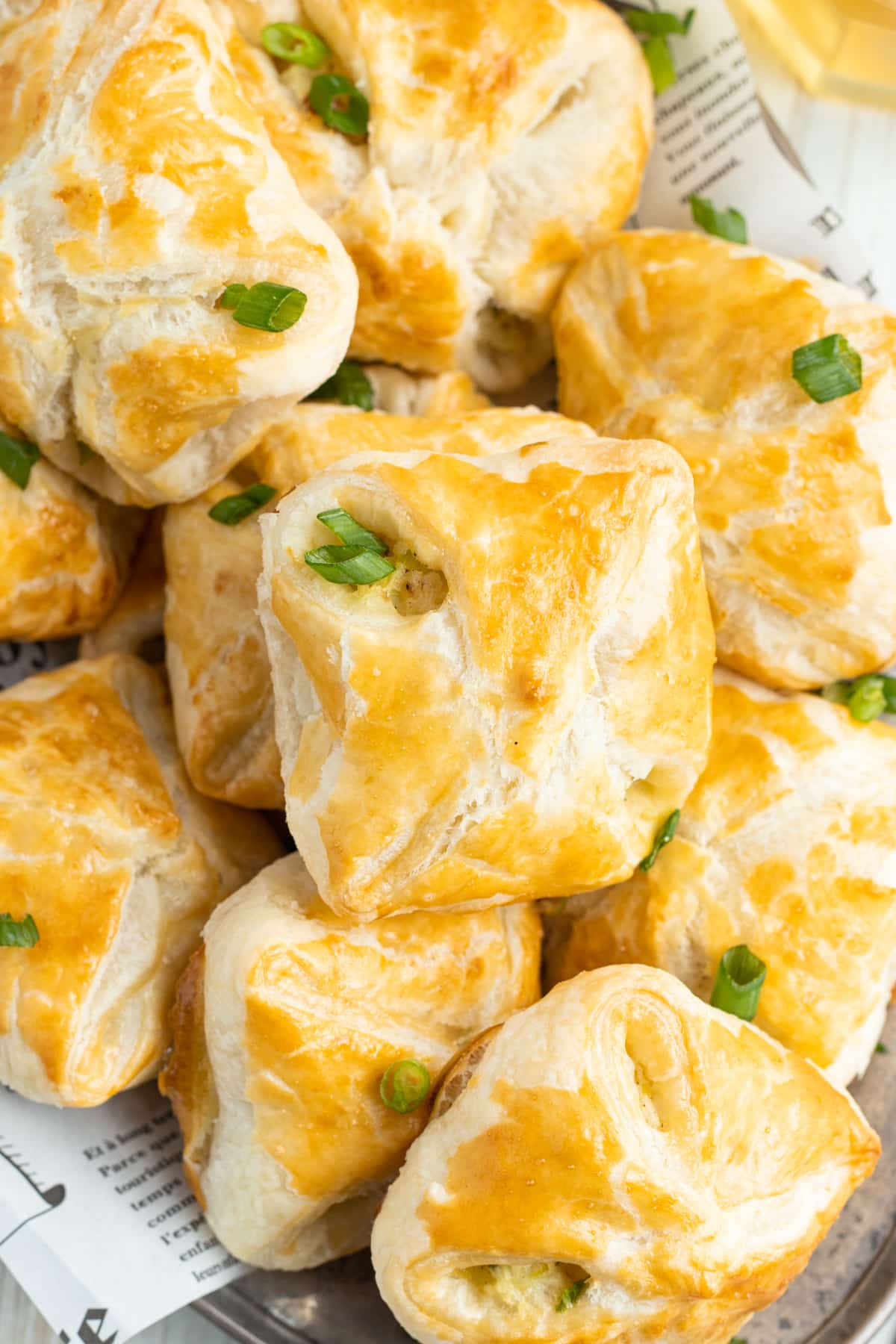 Why This Recipe Works
So incredibly delicious, these little bites of heaven are pillowy, flaky, savory and 100% addictive! The potatoes are mashed then mixed with caramelized leeks, crispy turkey bacon, shredded cheese and chopped green onions. The mixture is then stuffed into puff pasty squares, and then baked. They remind me of a potato leek soup meeting a pierogi but in puff pastry dough. I'm not joking when I tell you these baked potato leek puff pastry bites are insanely delicious!
These bites are the perfect appetizer to serve at any party or holiday dinner! Your guests will absolutely love them and they're kid-friendly too. They'd be really good as a side dish, I see them go extremely well with steak.
They're super easy to make! Thanks to store-bought puff pastry and minimal ingredients, they're ready to eat in less than 1 hour. The filling can also be prepared in advance and stored in the fridge until you're ready to stuff the puff pastry squares right before baking them. The recipe is written for 10 to 12 bites, using 1 puff pastry sheet, but you can easily double or triple if needed (the recipe card gives you that option!)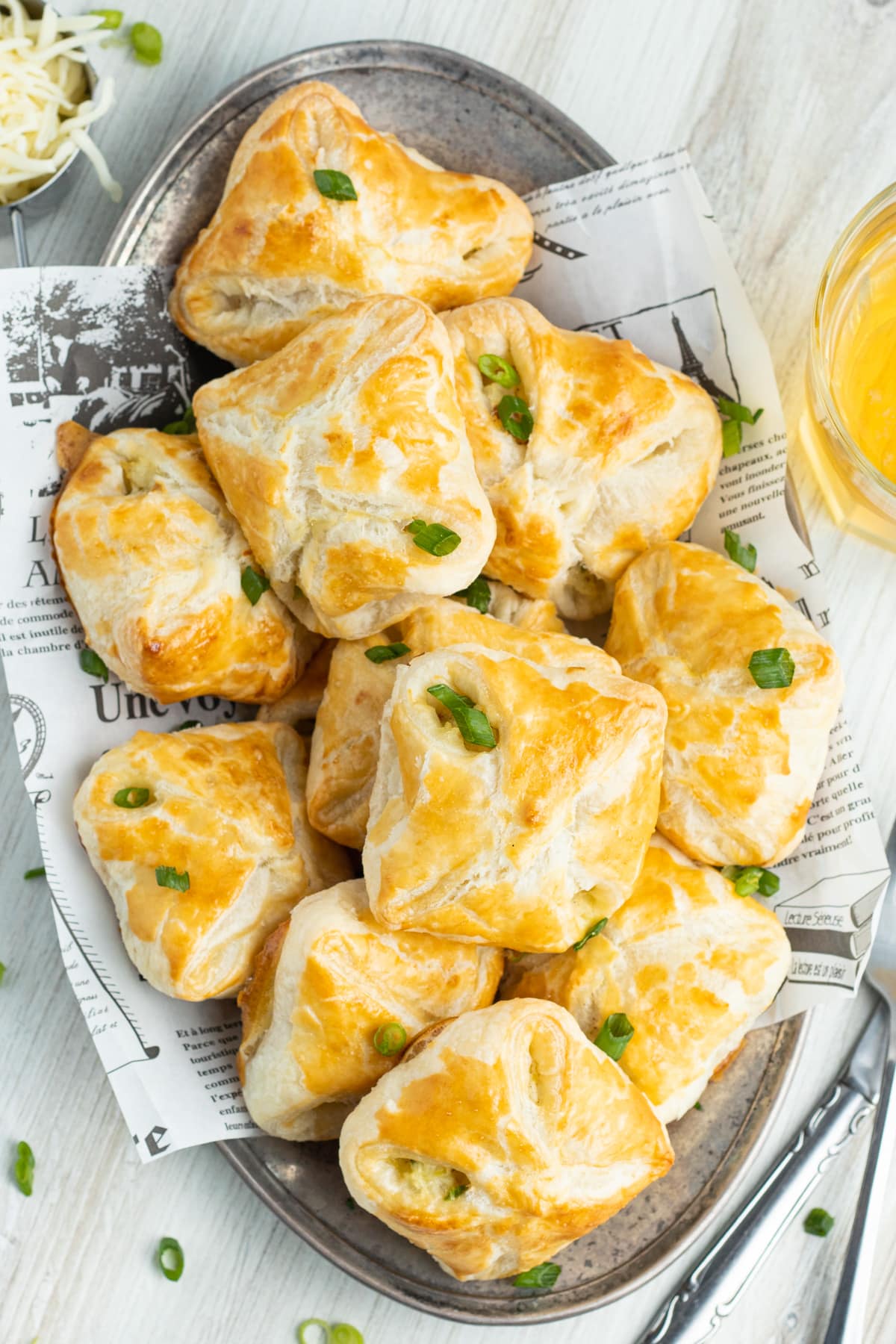 How to Make Baked Potato Leek Puff Pastry Bites
The first step is to cook the turkey bacon until crispy. You can cook in in the oven or the air fryer, whichever method you prefer. Then you'll wash, peel and cook the potatoes by boiling them. While they're cooking, the chopped leeks get caramelized with garlic in a small skillet.
Once all the ingredients are cooked, assemble it all in bowl, adding some fresh chopped green onions and salt and pepper.
Next, you'll get the puff pastry unrolled and laid out on a cutting board dusted with flour. Depending on its size, you'll cut it into 10 to 12 squares. Don't worry if they're not perfectly the same size, try your best to make it as close as possible.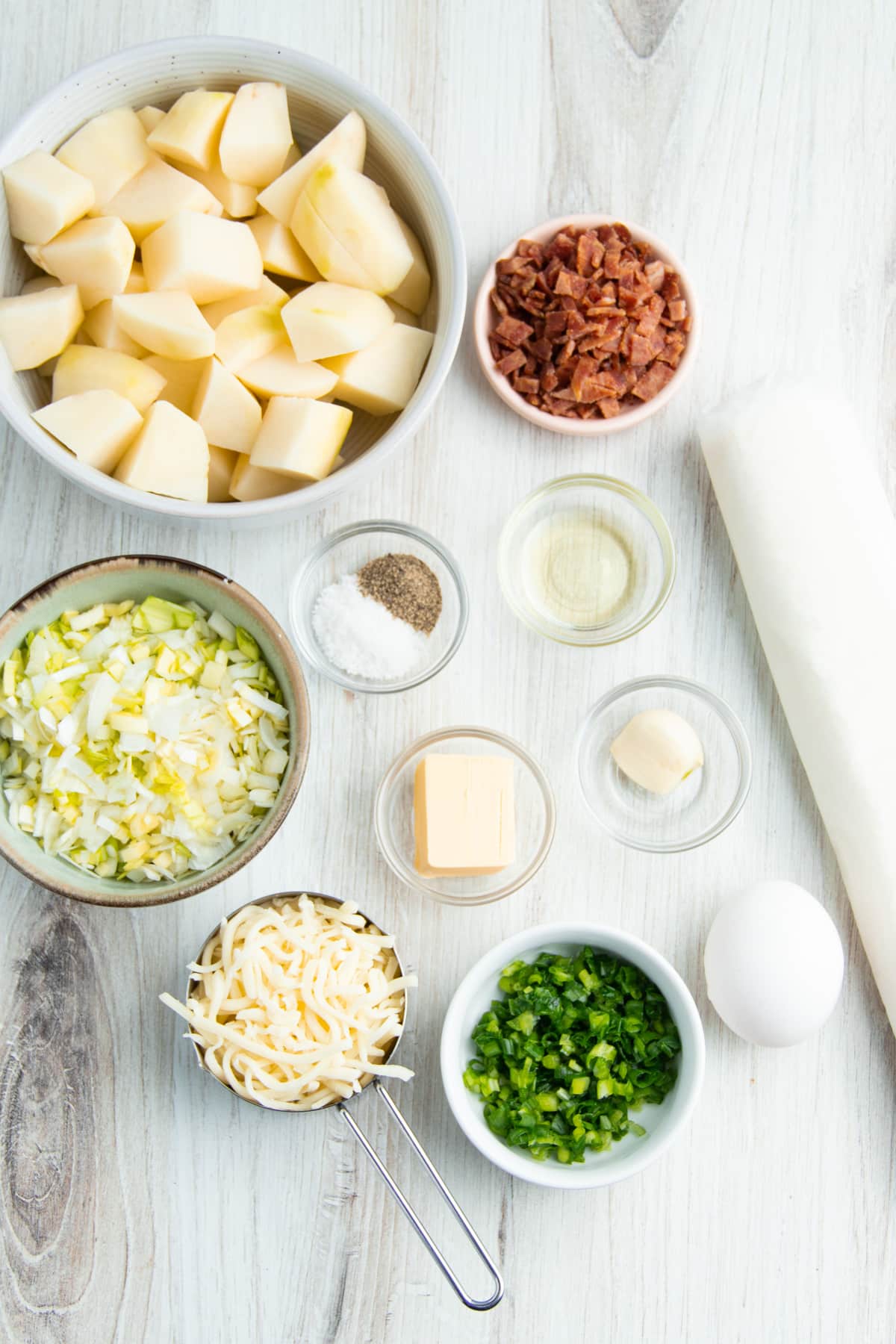 More Delicious Recipes You'll Love
Tips And FAQs
Make sure to add flour to your cutting board surface before unrolling the puff pasty dough. It'll help it from sticking. Also keep the dough refrigerated until it's time to cut it up. If it gets too warm it'll for sure stick and it then becomes more difficult to manipulate.
If you're vegetarian, you can still enjoy this delicious recipe! Simply skip the turkey bacon or replace it with your favorite plant-based bacon.
When closing up your bites, keep a little bowl with water close by, dip you finger tip, and add a drop of water to each corner. It'll help keeping the bites closed.
Try not to overfill the puff pastry squares. Otherwise, they'll open up while baking int the oven. Honestly, it's completely fine if they do, they just won't be as pretty but they'll still be as tasty (and more stuffed!). Each square will be perfectly filled with about 1 heaping tablespoon.
You can store any leftover in an airtight container in the fridge for up to 4 days. Reheat in the microwave or to crisp up the puff pastry a bit again, in the oven or air fryer for about 10 minutes at 375° Fahrenheit.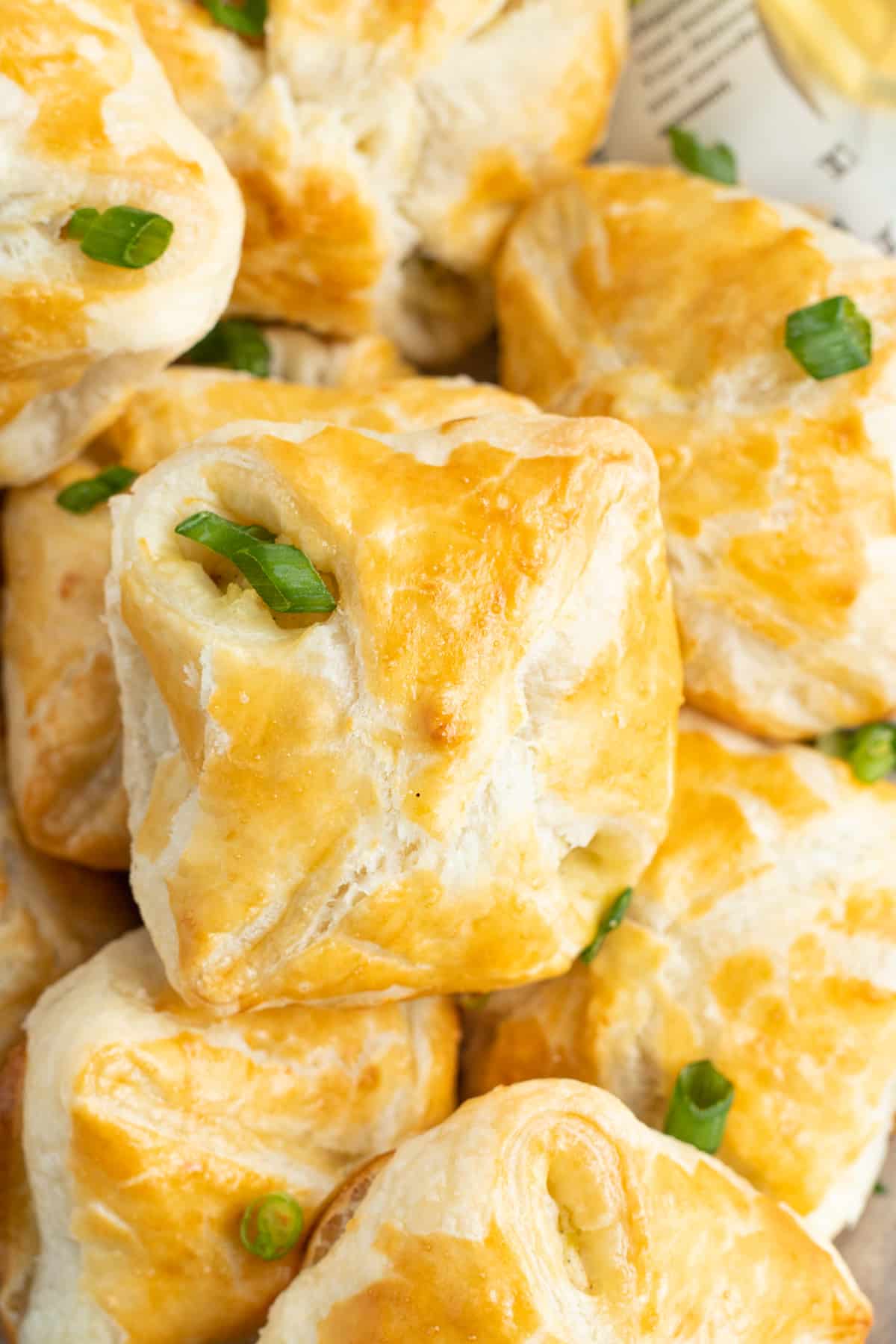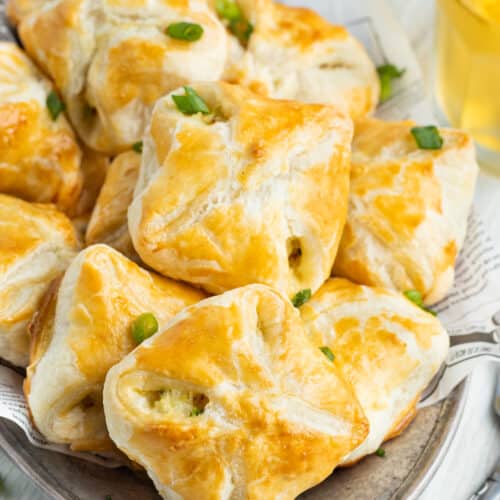 Baked Potato Leek Puff Pastry Bites
These baked potato leek puff pastry bites are so delicious! Creamy mashed potato mixed with caramelized leeks, crispy turkey bacon and a little cheese, all wrapped up in flaky buttery puff pastry baked to perfection.
Equipment
medium pot to cook potatoes

colander or slotted spoon to drain potatoes

potato masher

small skillet to cook leeks

pizza cutter or knife

tablespoon measuring spoon

small bowl for egg wash
Ingredients
2

slices

turkey bacon

about 2 tablespoons chopped up

2

cups

potatoes

peeled and cubed

½

tablespoon

olive oil

¾

cup

leeks

finely chopped

1

garlic clove

minced

½

tablespoon

butter salted if possible

½

teaspoon

salt more of less to taste

pinch

black pepper

more of less to taste

¼

cup

shredded mozzarella

or gruyère

1

tablespoon

green onions

finely chopped

1

egg

beaten with 1 teaspoon of water

1

puff pastry

about 375g
all-purpose flour as needed
Instructions
Preheat oven at 400° Fahrenheit.

Cook turkey bacon by laying it on parchment paper lined baking sheet and adding it to oven. Bake for 7-9 minutes or until crispy. When ready set aside, discard of parchment paper and keep oven on.

Add peeled and cubed potatoes to medium pot with just enough water to fully cover potatoes. Bring to boil on high heat. Once boiling reduce heat to medium high and cook potatoes for about 10 minutes or until tender when poked with a fork.

While potatoes are cooking, add oil to small skillet on medium heat. Add chopped leeks and cook for 8 to 10 minutes, stirring often. Add minced garlic halfway.

Drain potatoes then add them to medium bowl. Mash cooked potatoes with butter until still a tad chunky.

Chop turkey bacon finely then add to potatoes along with cooked leeks, shredded cheese, chopped green onions, salt and pepper to potatoes and stir until combined. Set aside.

On large cutting board, dust all-purpose flour generously. Unroll puff pastry dough on top. With pizza cutter, cut 12 squares pieces of about the same size. (if dough is small, 8 to 10 squares)

Add 1 heaping tablespoon of mixture in the middle of each square. (optional step: keep little bowl with water close by, dip your finger tip, and add 1 drop of water to each corner.) Working with 1 corner at a time, pinch together opposite corners diagonally, then pinch together 2 other corners to create a pocket. Repeat until each square is filled.

Line baking sheet with parchment paper, and beat egg with 1 teaspoon water in small bowl. Transfer each filled puff pastry bite to baking sheet. Brush each puff pastry with egg wash generously, and bake for 21 to 24 minutes or until golden brown.

Let cool for a few minutes before serving.
Notes
Baking time: every oven is different, baking time will vary from about 21 minutes to 24 minutes. The puffs are ready when top is golden brown.
*The nutritional values shown in this recipe are approximate for one suggested serving size using the ingredients listed but not including any optional items and may vary per actual preferred portion sizes.
Nutrition
Serving:
1
puff pastry bite
|
Calories:
174
kcal
|
Carbohydrates:
16
g
|
Protein:
4
g
|
Fat:
10
g
|
Saturated Fat:
3
g
|
Polyunsaturated Fat:
1
g
|
Monounsaturated Fat:
5
g
|
Trans Fat:
0.02
g
|
Cholesterol:
18
mg
|
Sodium:
218
mg
|
Potassium:
187
mg
|
Fiber:
1
g
|
Sugar:
1
g
|
Vitamin A:
133
IU
|
Vitamin C:
8
mg
|
Calcium:
17
mg
|
Iron:
1
mg
Share on Facebook
Share by Email