Perfect to dress any salad, this homemade champagne vinaigrette is simple but yet so incredibly delicious. Tangy and packed with flavor, it only has a handful of ingredients and is ready in just 5 minutes!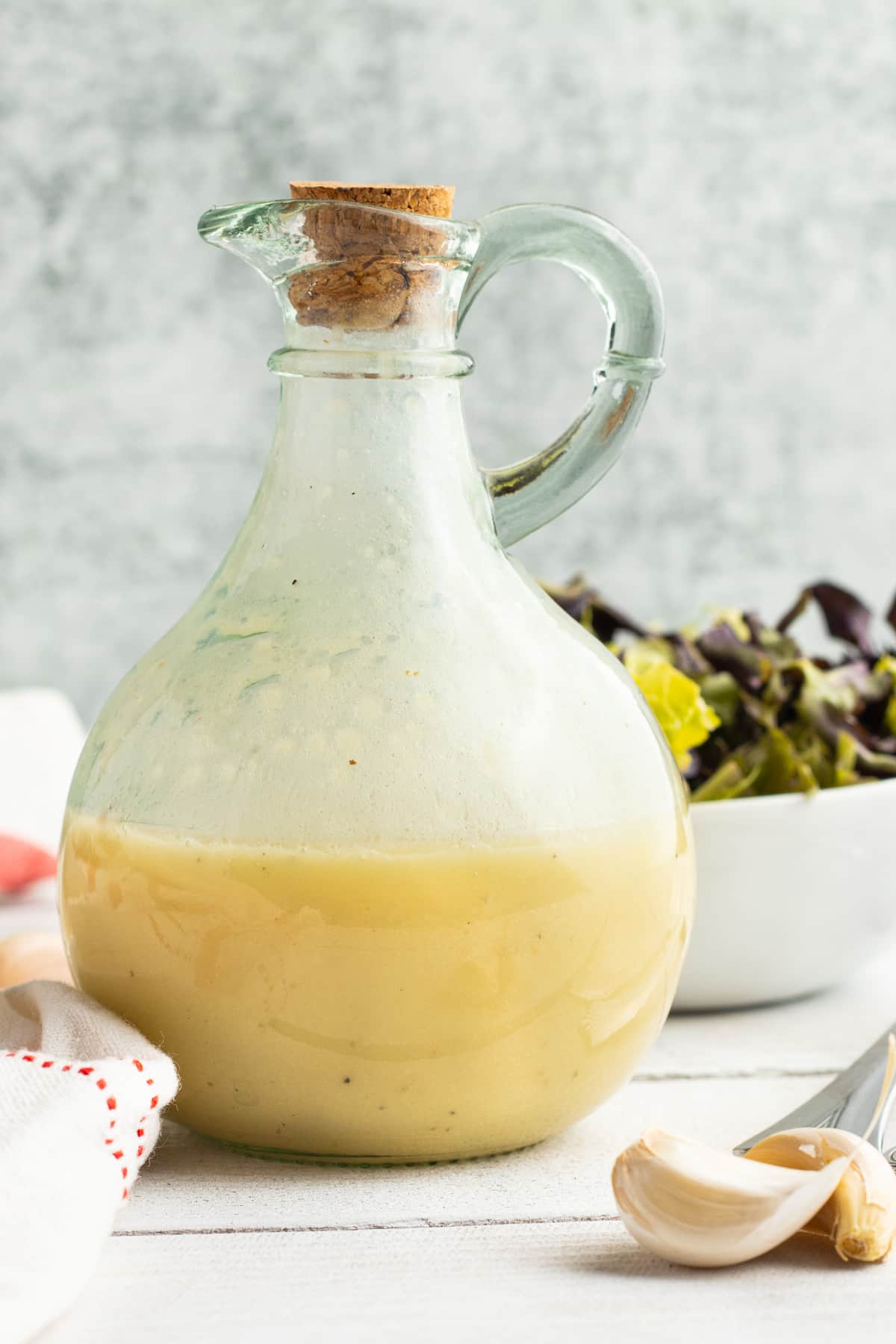 This post contains affiliate links. As an Amazon Associate, I earn from qualifying purchases at no extra cost to you. Please read my privacy policy for more details.
You'll Love This Recipe!
Homemade salad dressing is just the best! It only takes a handful of ingredients, doesn't have any extra fillers you'd find in bottled dressings, and tastes amazing. This champagne vinaigrette is my personal favorite, and I keep a jar of it in my fridge almost at all times. It's so versatile and tasty, it brings a simple salad to the next level. Drizzle it over this beet and cucumber salad, quinoa arugula salad, or even this burrata caprese salad.
It's so easy to make! All the ingredients get quickly blended with a hand blender, making this recipe simple but yet delicious.
Because this vinaigrette is vinegar-forward, you don't need to drench your salad in it. It has so much flavor, a little bit of it goes a long way, which is a great choice if you're counting macros or watching calories.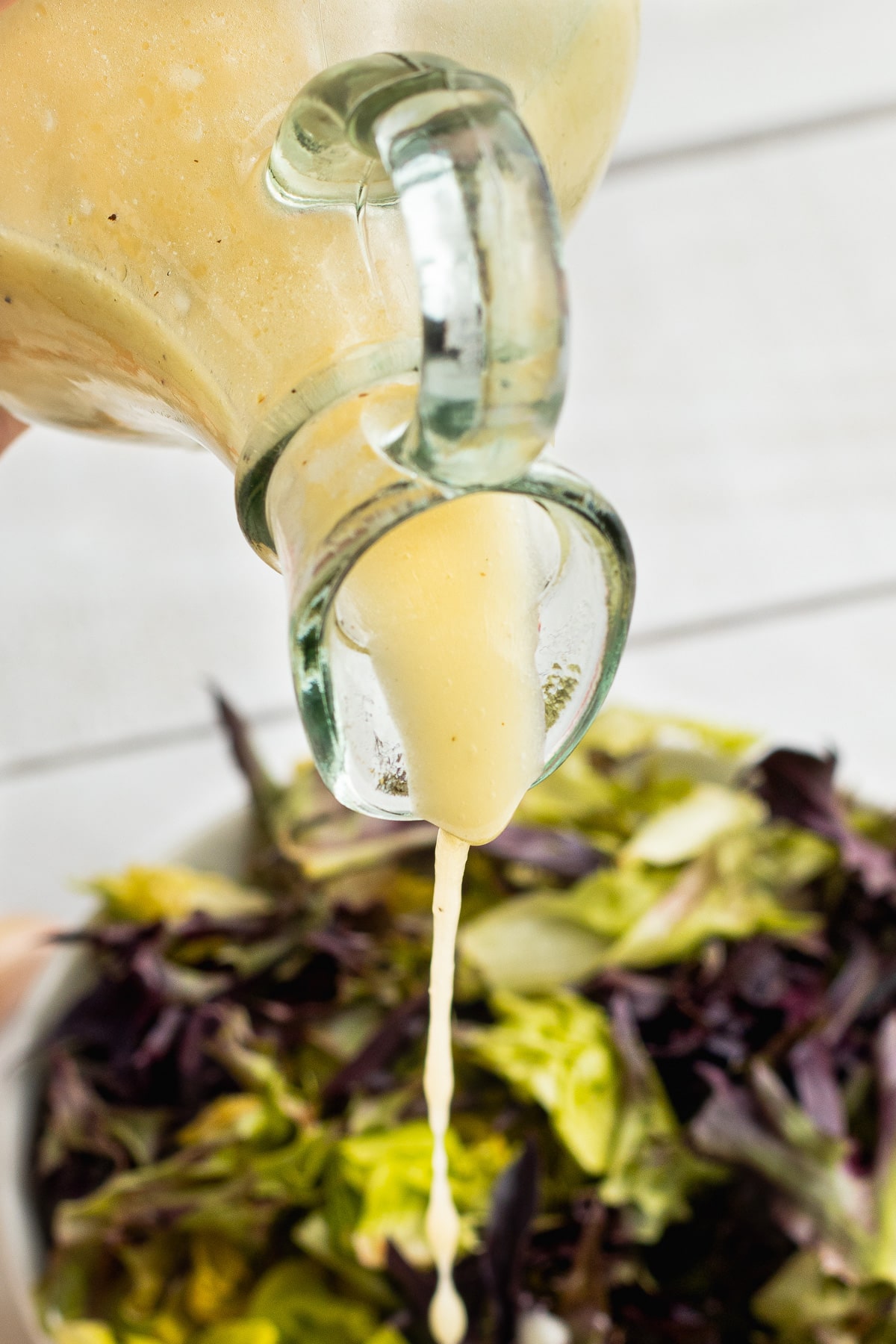 Key Ingredients
Champagne vinegar: the key to this recipe, you guessed it, is champagne vinegar. Made with fermented champagne, it's crisp, has a beautiful delicate flavor, and is a little less pungent that most vinegars.
Oil: a vinaigrette is made of a mixture of oil and vinegar, and my choice for this champagne vinaigrette is avocado oil, cause it doesn't have a strong flavor. You can also use olive oil, but keep in mind that olive oil has a strong taste, so I'd highly recommend using a mild or light olive oil. You can buy olive oil in all different level of taste from robust to extra-light.
Dijon mustard: this is a key ingredient to this vinaigrette. It adds a ton of flavor and helps the vinaigrette emulsify so the oil and vinegar don't separate.
Garlic: I use fresh garlic but garlic powder works great too.
Salt and pepper: these two are just the perfect finishing touch.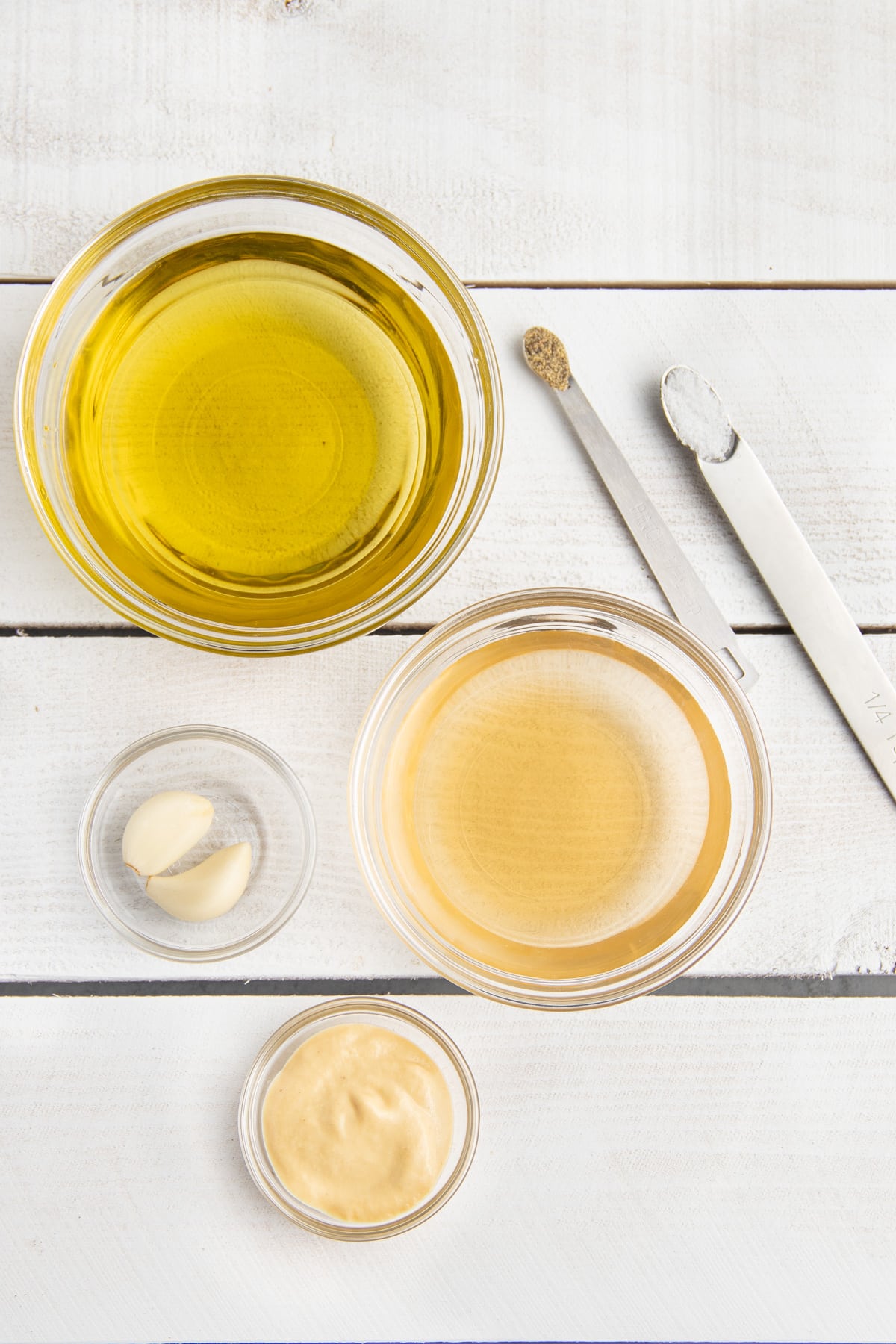 How To Make Champagne Vinaigrette
It's so easy to put together! You'll simply add all the ingredients to a jar that has a wide mouth, meaning it can fit a hand blender, also called an immersion blender. It could be measuring cup, a wide mouth mason jar or any other similar container.
Once all the ingredients are in the jar, stick the hand blender in and start blending, slightly going up and down for about 30 seconds, or until the vinaigrette is fully blended.
Carefully remove the hand blender and store your vinaigrette sealed refrigerated for up to 10 days.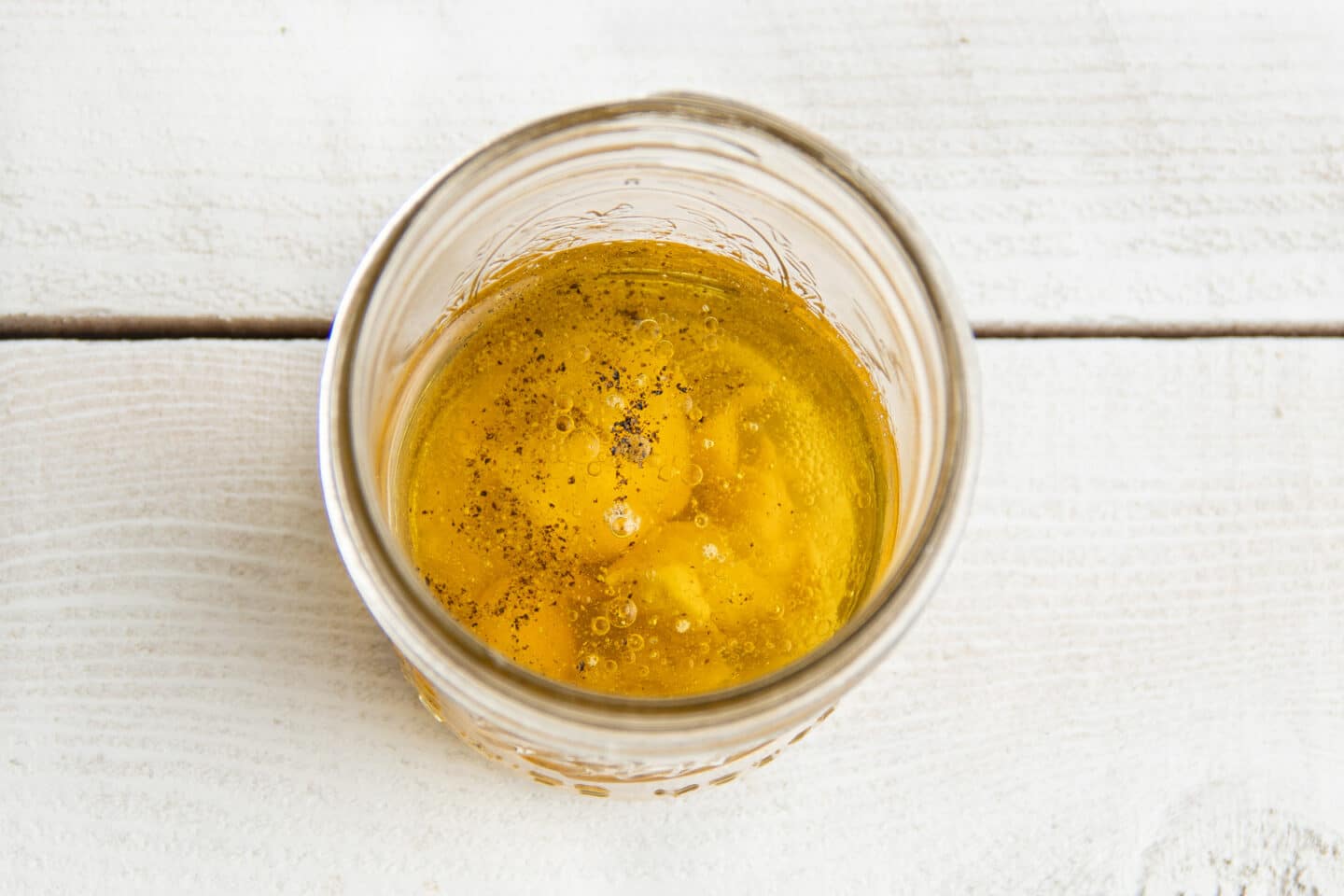 Add all ingredients to a jar.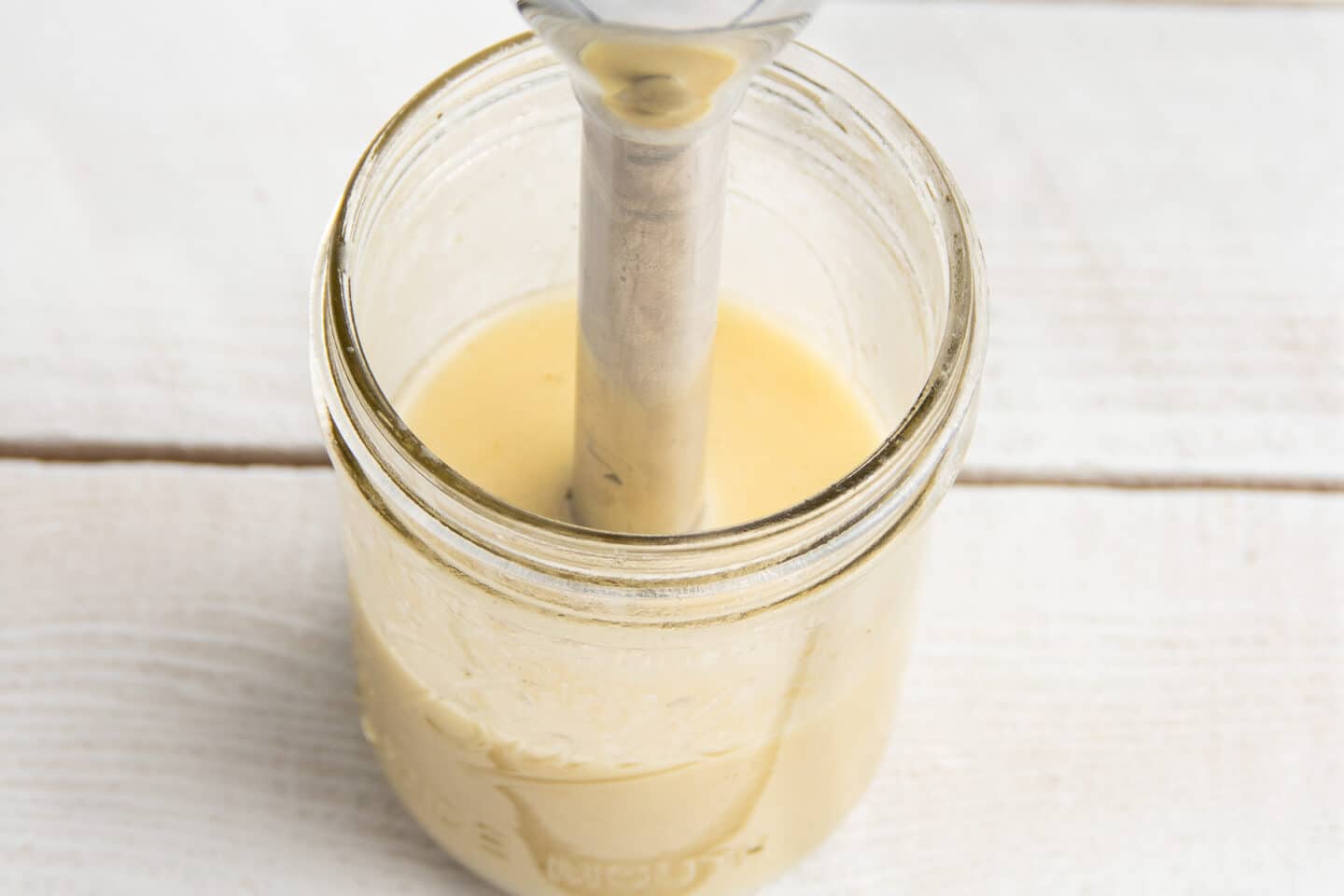 Blend with hand blender for about 30 seconds.
More Condiments Recipes To Try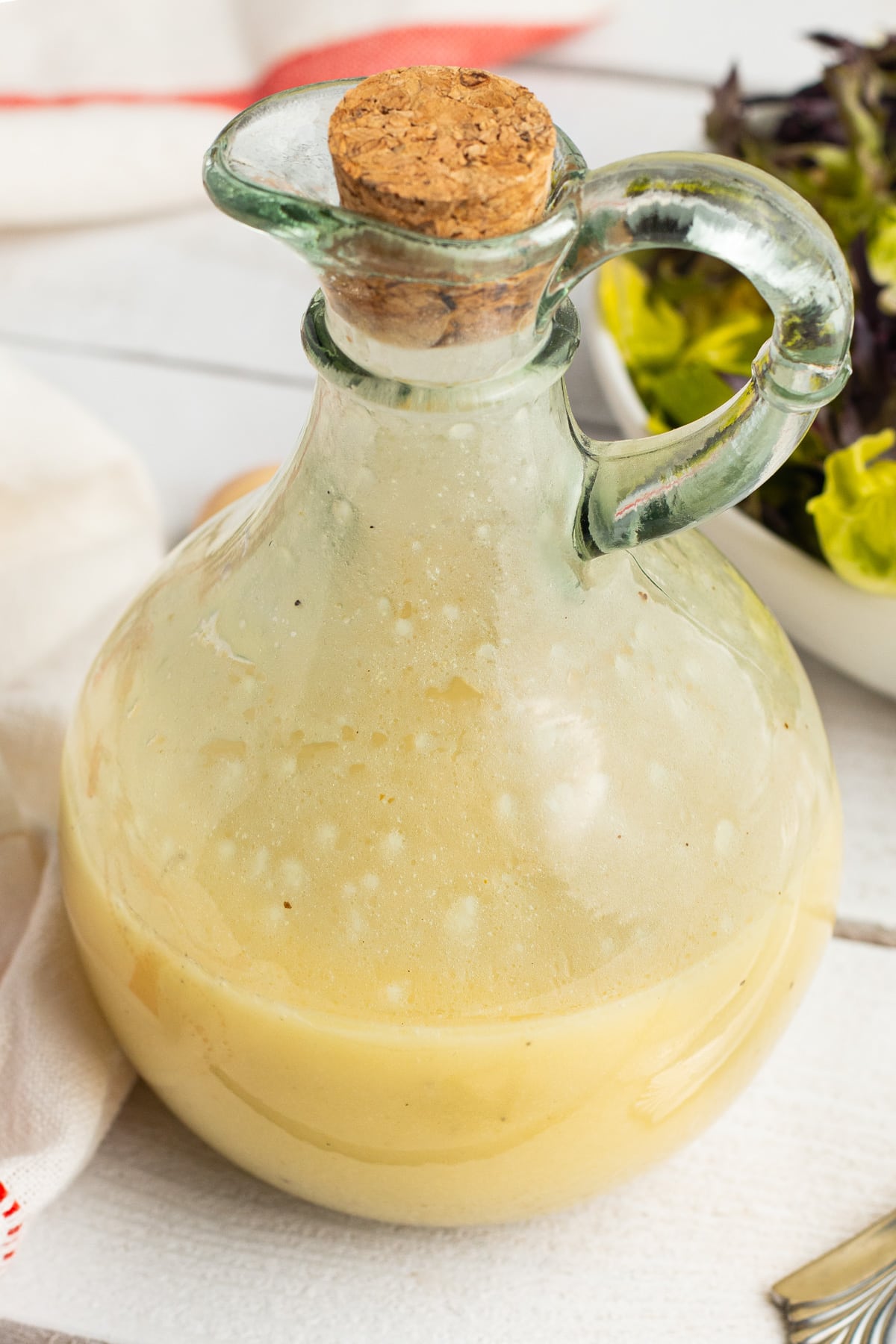 Tips And Frequently Asked Questions
I don't have a hand or immersion blender, can I still make this champagne vinaigrette? Yes absolutely. Technically the vinaigrette doesn't have to be blended, but it makes it a little "creamier" and well emulsified so it doesn't really separate. So you can simply whisk it, adding the oil slowly last while whisking vigorously. Or using a regular blender will do the job too. The reason why I prefer the hand one is because you're in full control. One thing though, if you don't blend it, make sure the fresh garlic is finely minced, or use garlic powder instead.
It's possible that the oil from the vinaigrette could harden a bit in the fridge, and it's completely fine, just take the dressing out 15 minutes before using and give the jar a good shake.
Can I use a different mustard? The French in me is 100% partial to Dijon for this recipe. The flavor is just a perfect match to the champagne vinegar. If you really need to use something else, spicy brown mustard would be the one I'd choose for substitution.
Does champagne vinegar have alcohol in it? Because it's made from fermented sparkling champagne, the alcohol is gone at the end of the process, but it could technically contain a very tiny trace but nothing that would have an effect at all.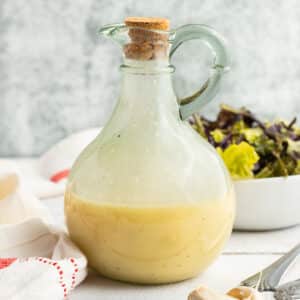 Champagne Vinaigrette
Perfect to dress any salad, this homemade champagne vinaigrette is simple but yet so incredibly delicious. Tangy and packed with flavor, it only has a handful of ingredients and is ready in just 5 minutes!
Instructions
Add all ingredients into a wide mouth jar.

Add hand blender all the way into the jar covering ingredients, and start blending barely going up and down for about 30 seconds or until fully combined. Slowly remove blender from jar, and the champagne vinaigrette is ready to enjoy!
Notes
1 serving size yields 2 tablespoons of champagne vinaigrette.
Storage: store vinaigrette in a sealed airtight container refrigerated for up to 10 days. Glass container if possible.
*The nutritional values shown in this recipe are approximate for one suggested serving size using the ingredients listed but not including any optional items and may vary per actual preferred portion sizes.
Nutrition
Serving:
1
serving
|
Calories:
155
kcal
|
Carbohydrates:
0.5
g
|
Protein:
1
g
|
Fat:
15
g
|
Saturated Fat:
2
g
|
Polyunsaturated Fat:
2
g
|
Monounsaturated Fat:
10
g
|
Sodium:
90
mg
|
Potassium:
10
mg
|
Fiber:
0.5
g
|
Sugar:
0.05
g
|
Vitamin A:
2
IU
|
Vitamin C:
0.4
mg
|
Calcium:
4.3
mg
|
Iron:
0.1
mg
Share on Facebook
Share by Email