Deliciously cheesy, nutritious and packed with flavor, these chicken zucchini boats are low-carb, easy to make and amazing for meal-prep. Zucchini halves filled with ground chicken cooked with onion, mushrooms, garlic and spices, mixed with marinara sauce and topped with melted mozzarella and fresh basil.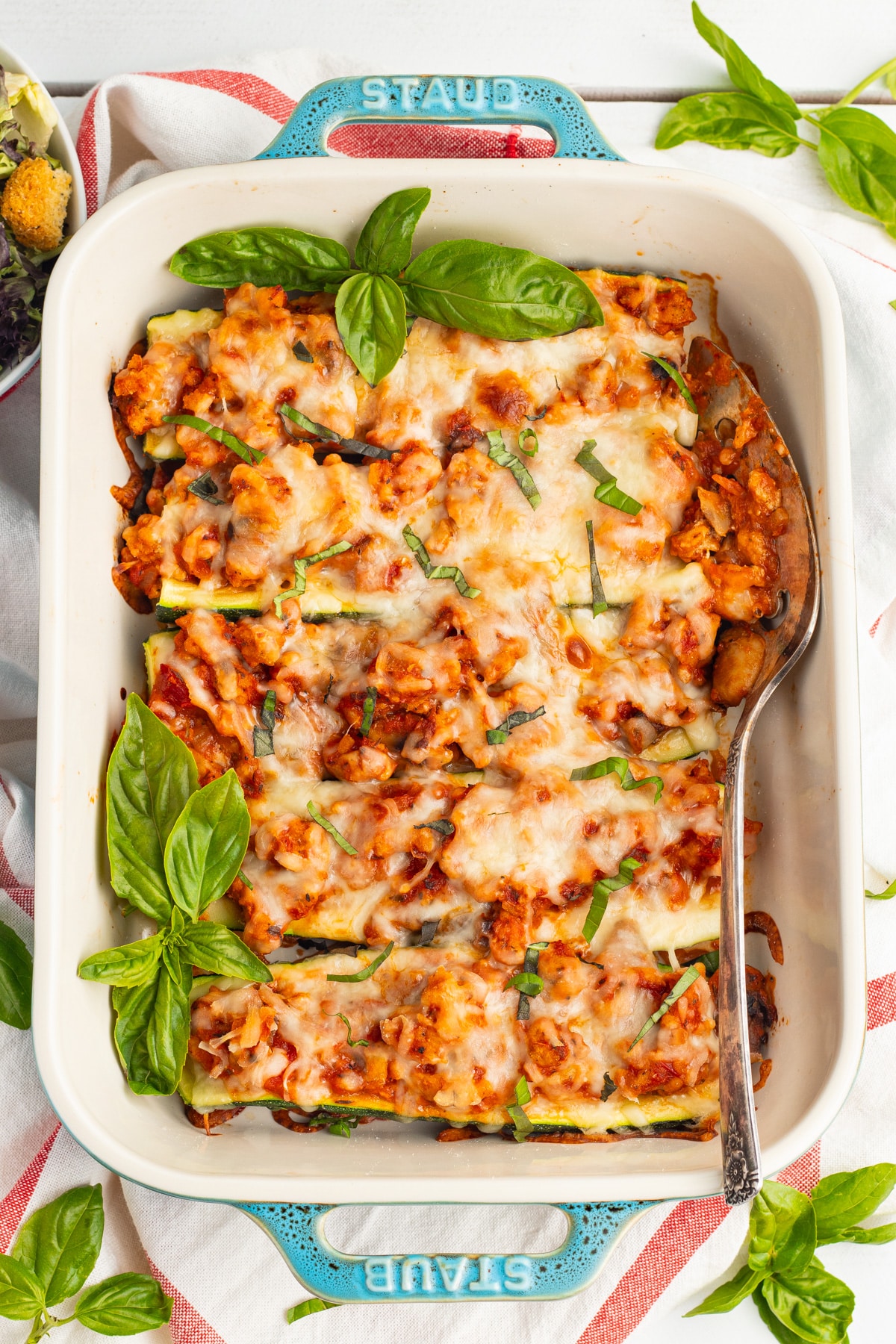 This post contains affiliate links. As an Amazon Associate, I earn from qualifying purchases at no extra cost to you. Please read my privacy policy for more details.
You'll Love This Recipe!
This recipe is so incredibly delicious, it's sure to become a favorite for the whole family. It's cheesy, filled with texture and jam-packed with Italian flavors.
Made with fresh ingredients, it's a nutritious, high in protein and low-carb. It's great served as-is, but if you'd like to add a starch source, it's delicious served over rice too. If you love ground chicken, this stir fry recipe is delicious too!
They're budget-friendly and easy to make! I dissected every single step in the instructions to make it as clear as possible, everything is cooked in one skillet and then transferred to a baking dish.
These chicken zucchini boats reheat beautifully and are one of my favorite dish to meal-prep! You can easily portion them out individually in airtight containers and keep them refrigerated for up to 4 days for a quick tasty lunch or dinner.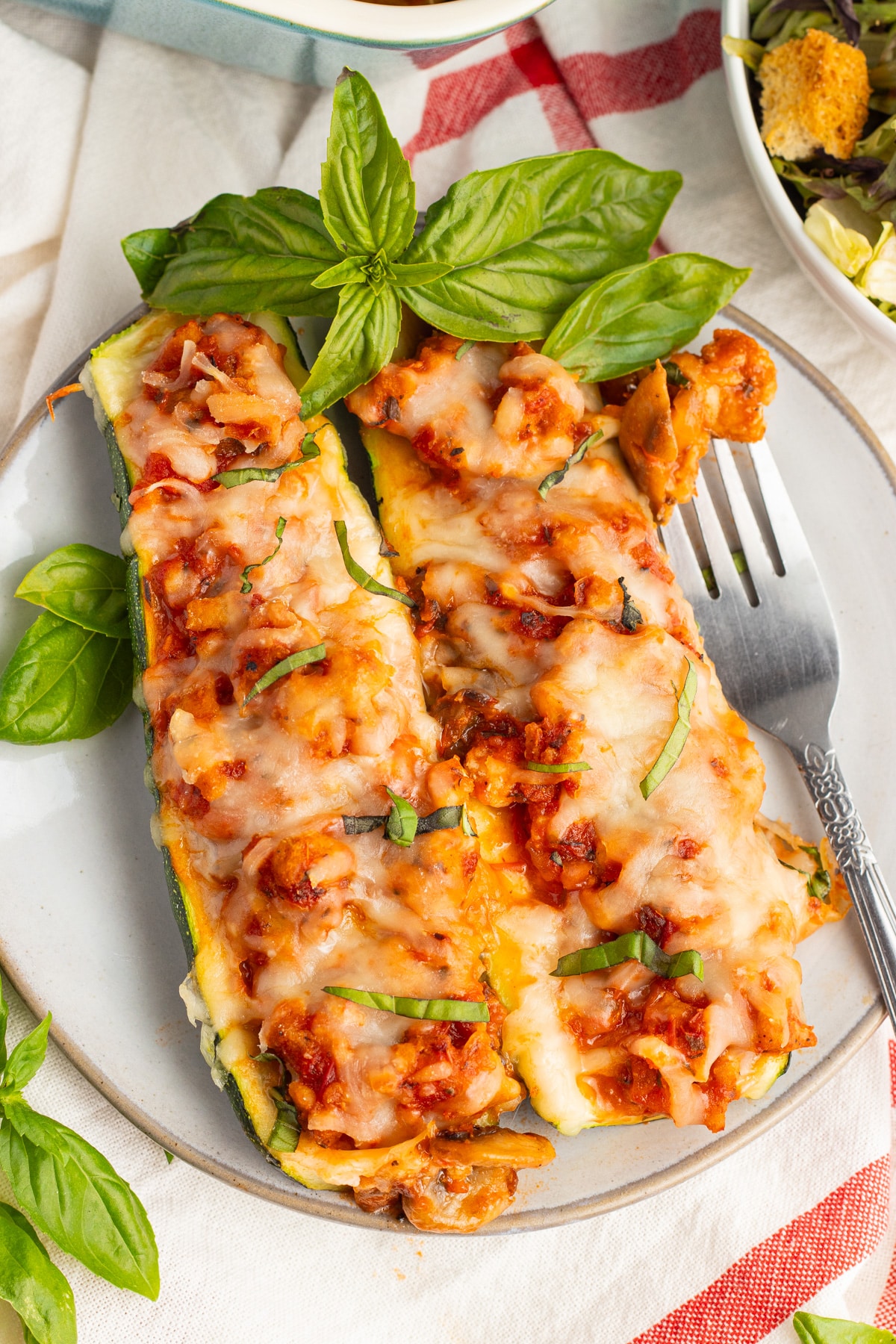 Key Ingredients
Zucchini: ideally you'll want to use 4 to 5 medium zucchini that are all close in size so they cook evenly when baked.
Ground chicken which is lean and delicious. If you're more of a ground turkey lover, go for it, it'll cook exactly the same.
Marinara sauce: I used a plain jarred marinara sauce for these zucchini boats, but a tomato and basil pasta sauce would be just as good.
Spices: Italian seasoning mix is the main spice for this recipe.
Mozzarella cheese: use shredded mozzarella as it doesn't hold as much moisture as fresh mozzarella. Packaged Italian cheese mix or gruyère would work really well for this recipe too.
Fresh basil: if you've made any of my recipes, you know how much I love fresh herbs. They just take dishes to the next level in my opinion, and basil just finishes this dish perfectly with added freshness and flavor.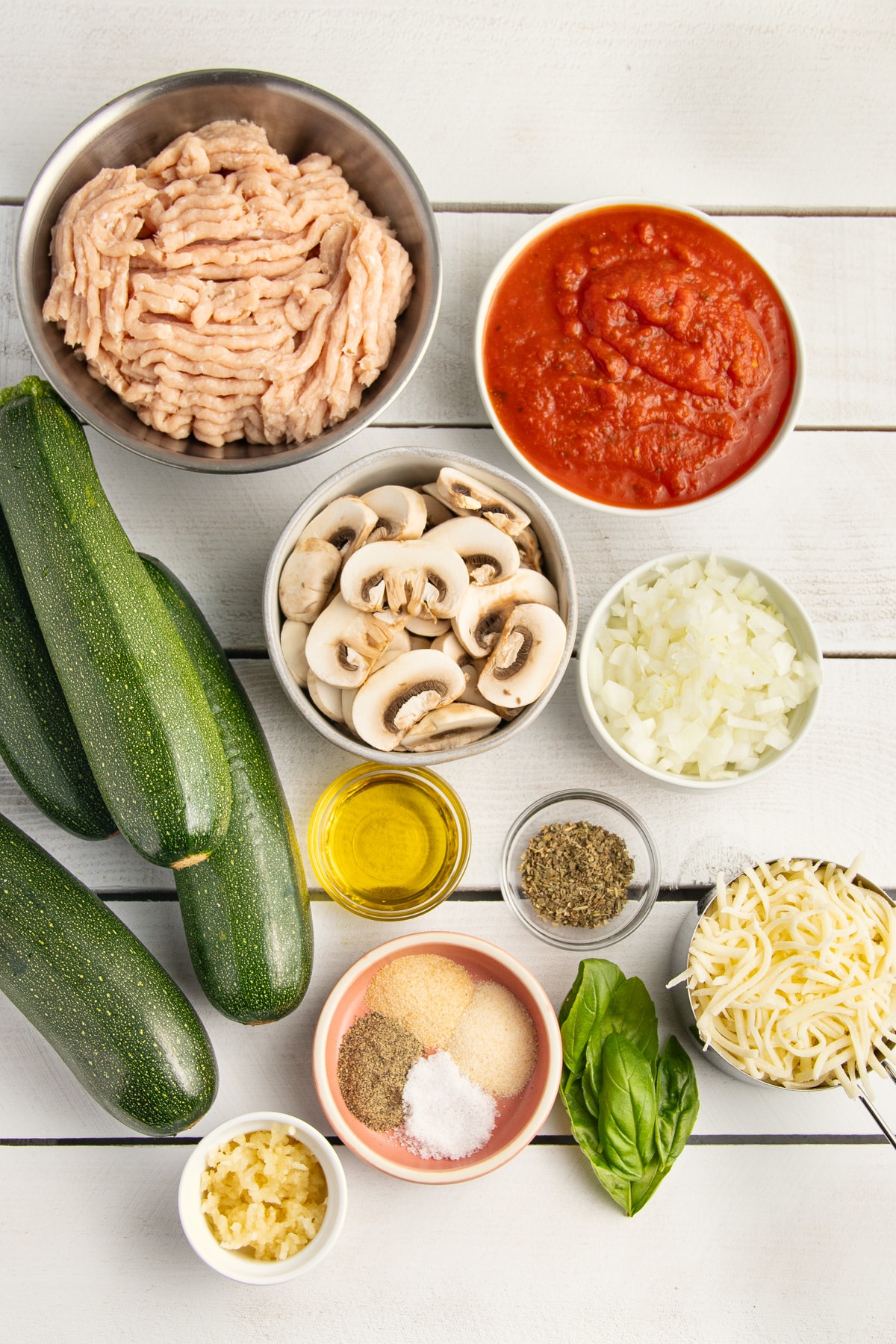 How To Make Chicken Zucchini Boats
First, wash the zucchini, cut the ends off and slice them in the middle lengthwise. Using a spoon gently scoop out the seedy middle for the vegetable (I love using a grapefruit spoon or melon baller for this step but a regular one will work just fine). Sprinkle the flesh with a little salt and place the zucchini flesh down on paper towels. This will help sweat some of the extra moisture while you cook the rest of the dish.
Then you'll cook the chopped onion, mushrooms, and chicken.
The tomato marinara sauce gets added, and everything simmers for a bit to get delicious flavors developed.
Then you'll fill up the zucchini boats with the chicken mixture. It's totally ok if it spills over, the more mixture the better!
Sprinkle the cheese and bake for around 25 minutes or until the zucchini are tender and the cheese is beautifully melted.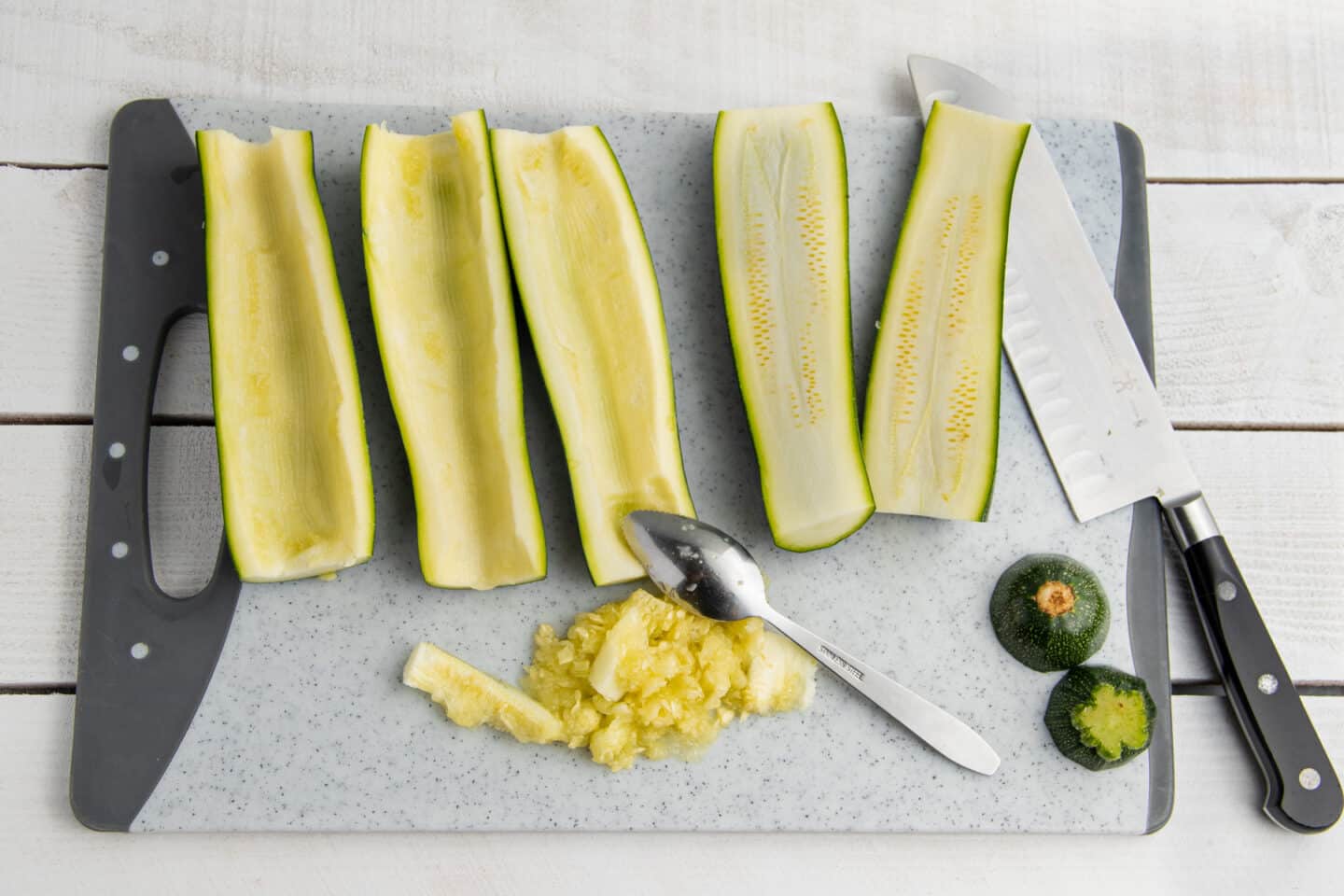 Gently scrape the seedy middle of the zucchini.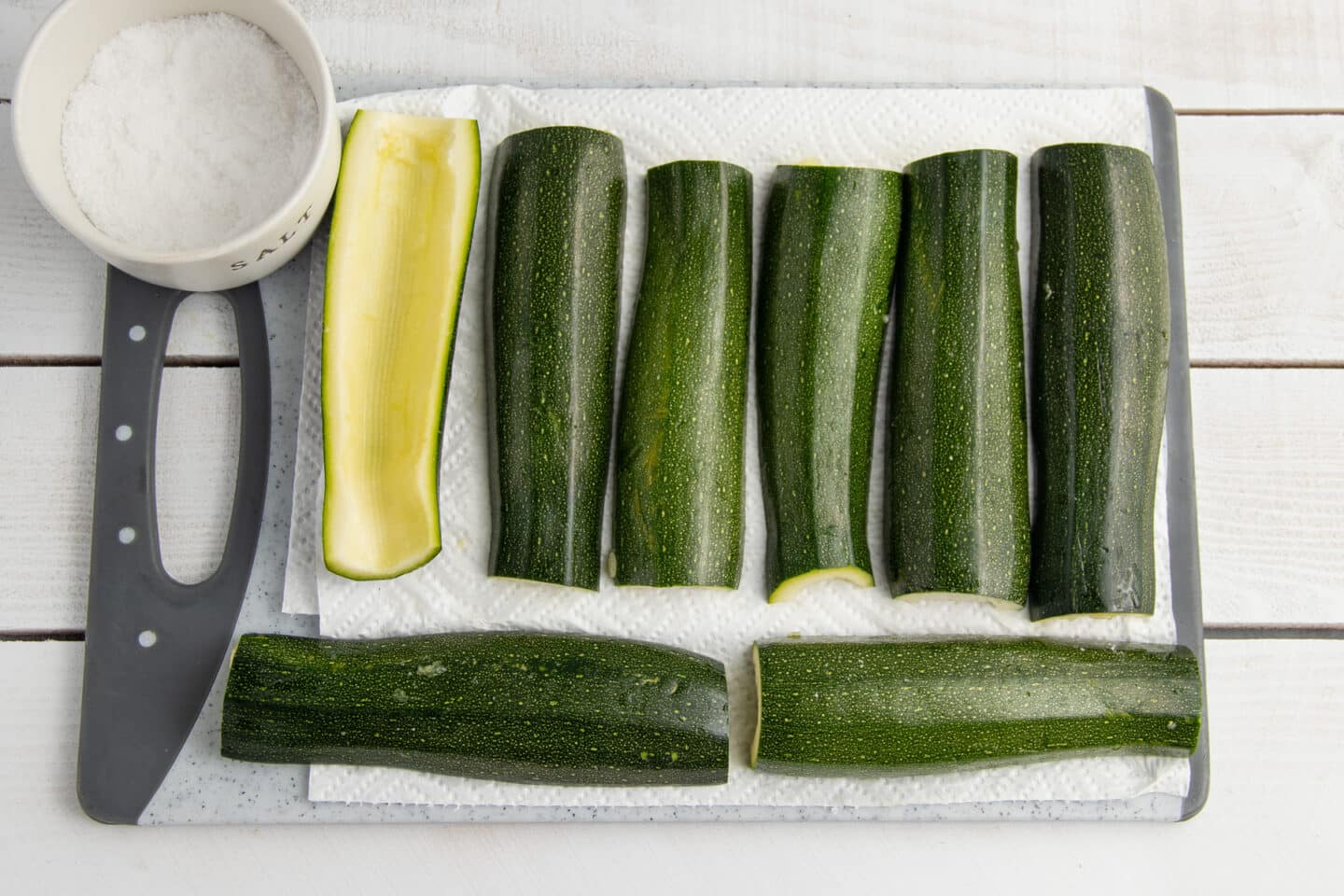 Sprinkle with a little salt and lay on paper towels.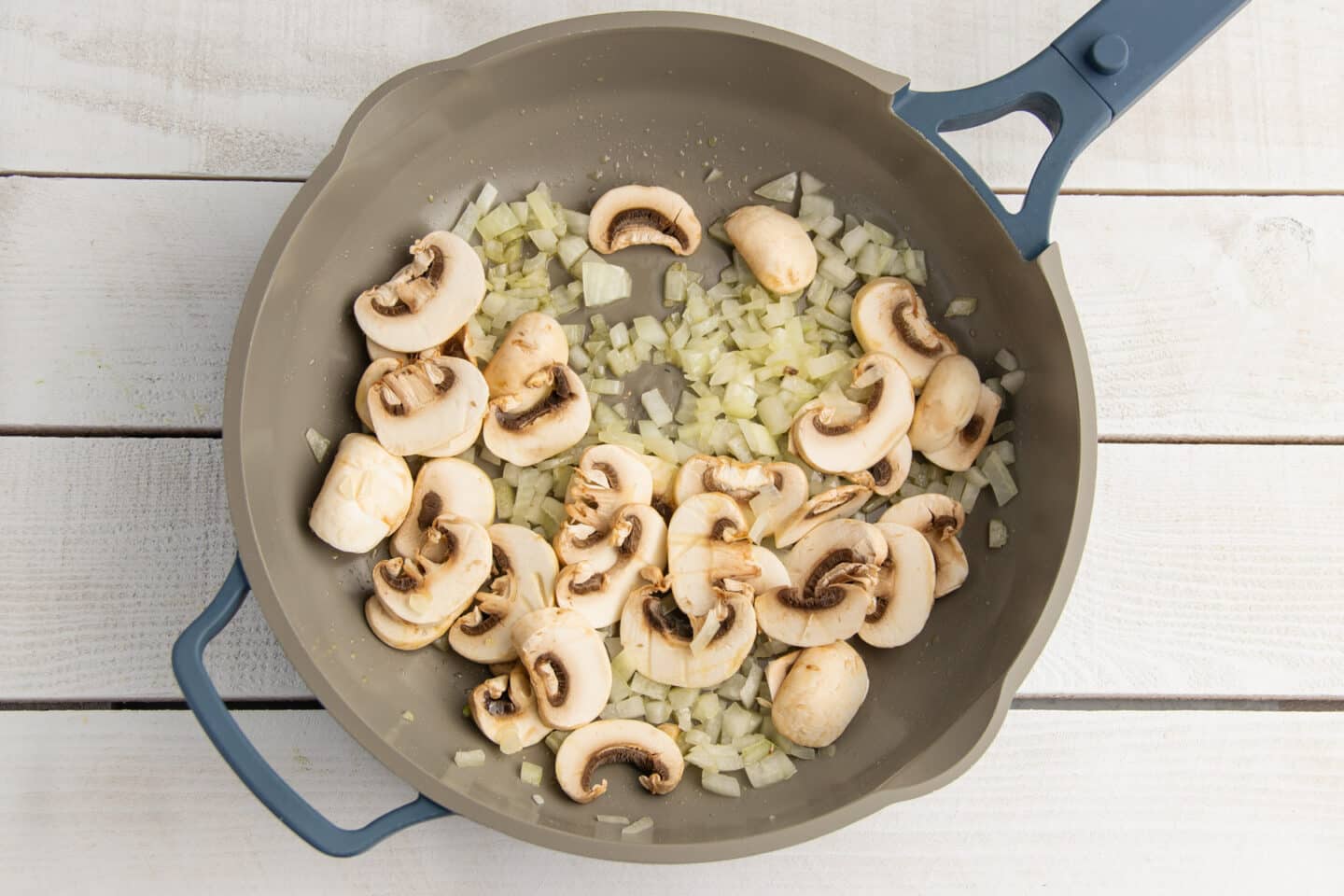 Cook onion and mushrooms.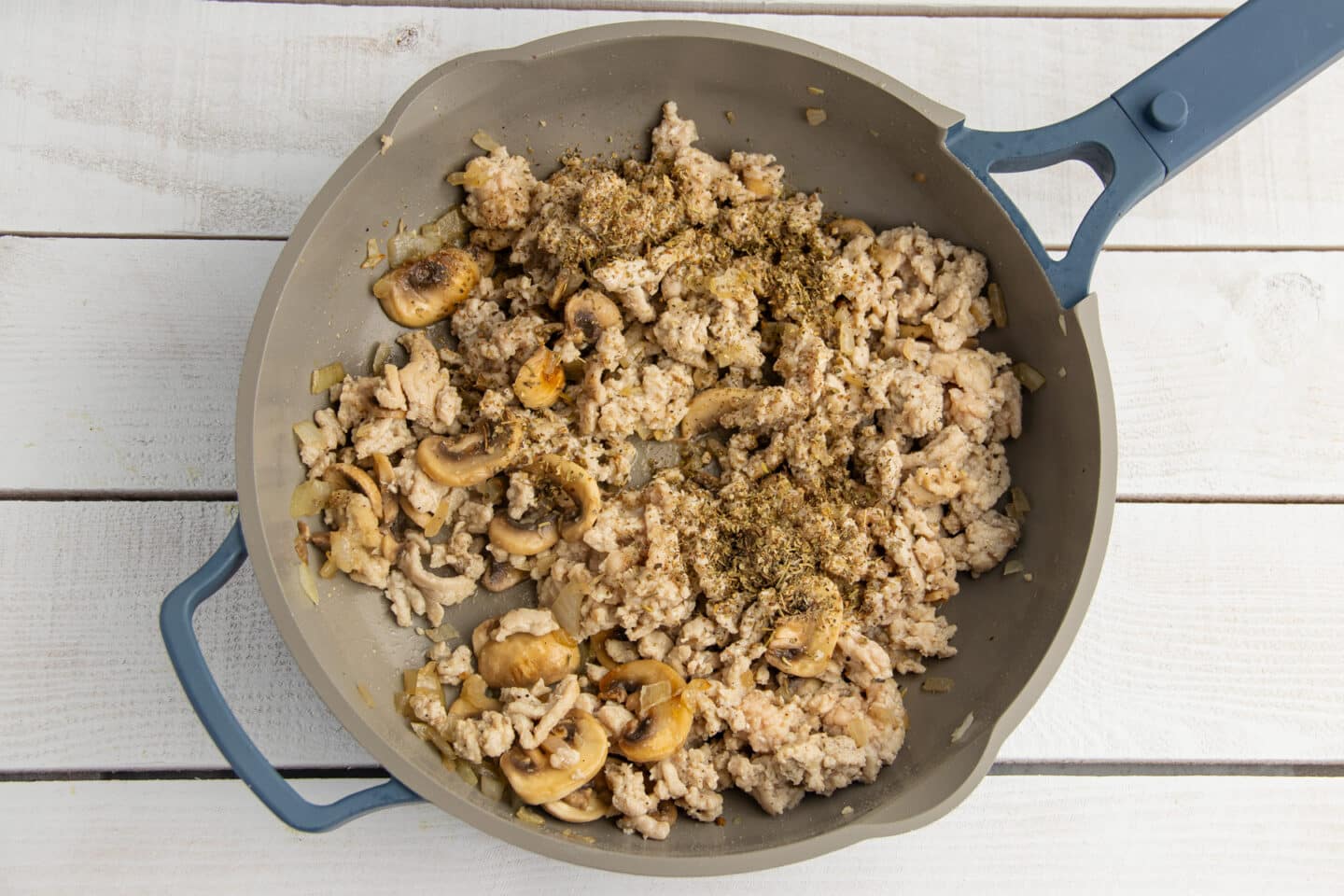 Add chicken and seasoning.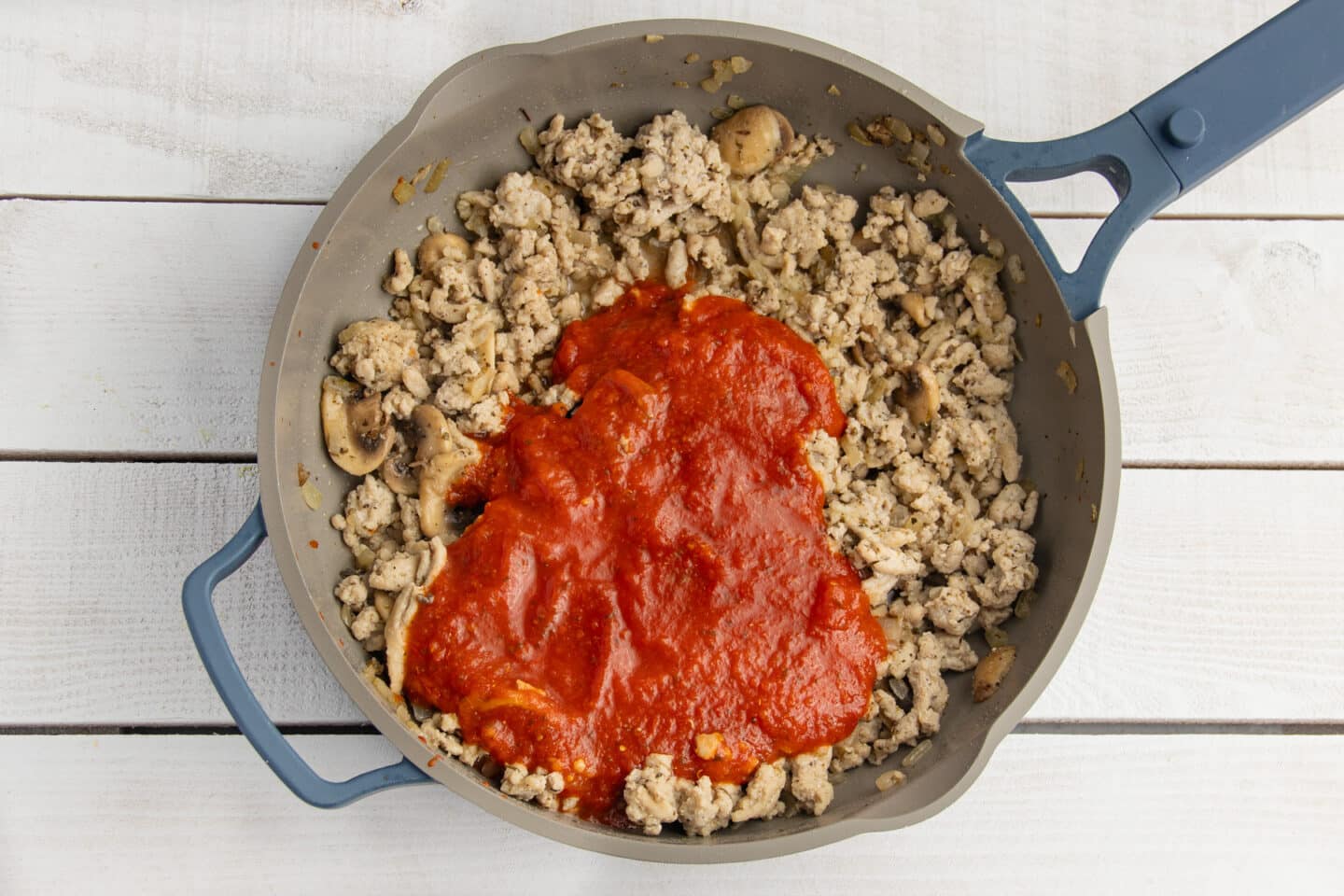 Add garlic and marinara, let simmer for 8 minutes.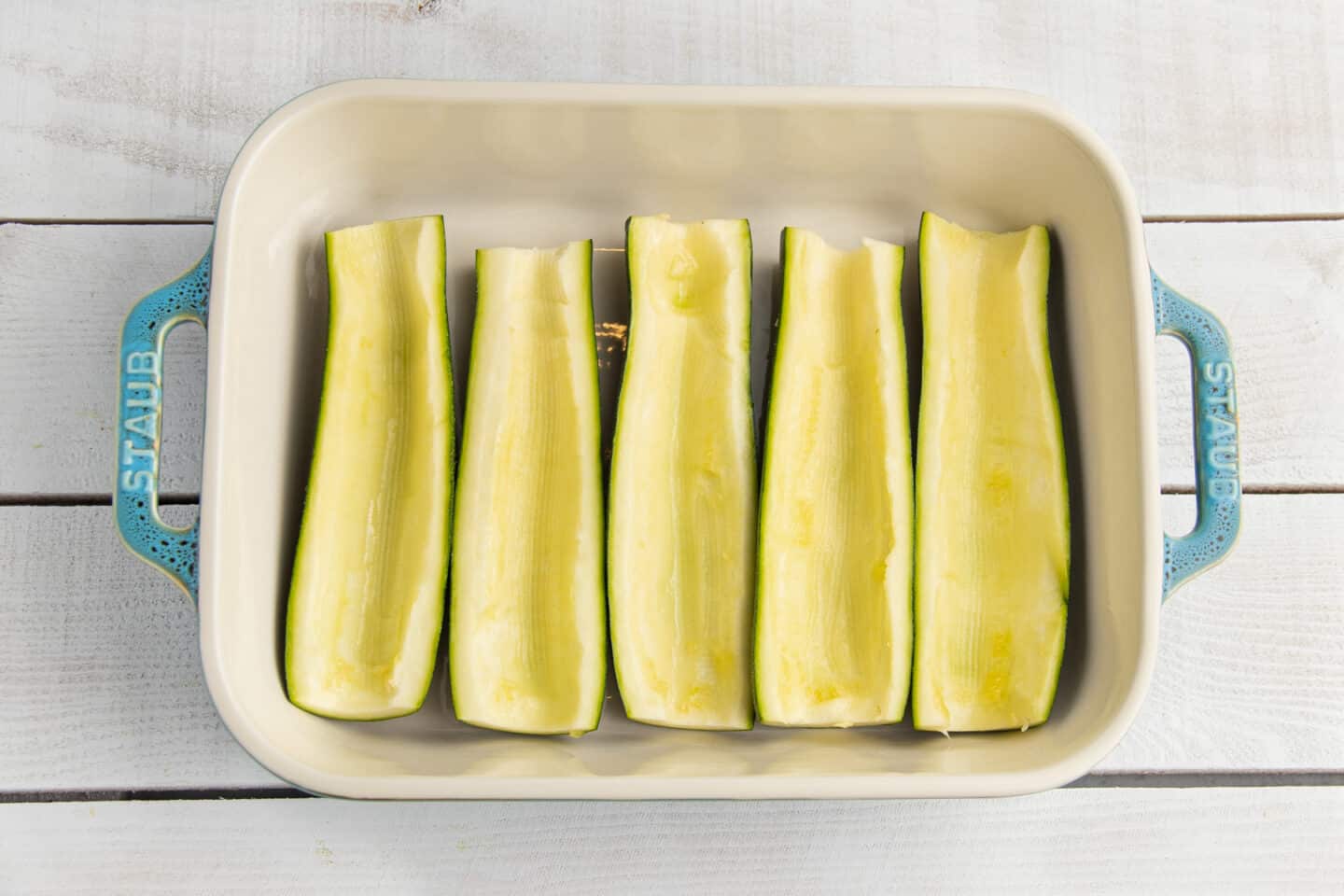 Lightly coat dish with oil spray, lay zucchini in baking dish.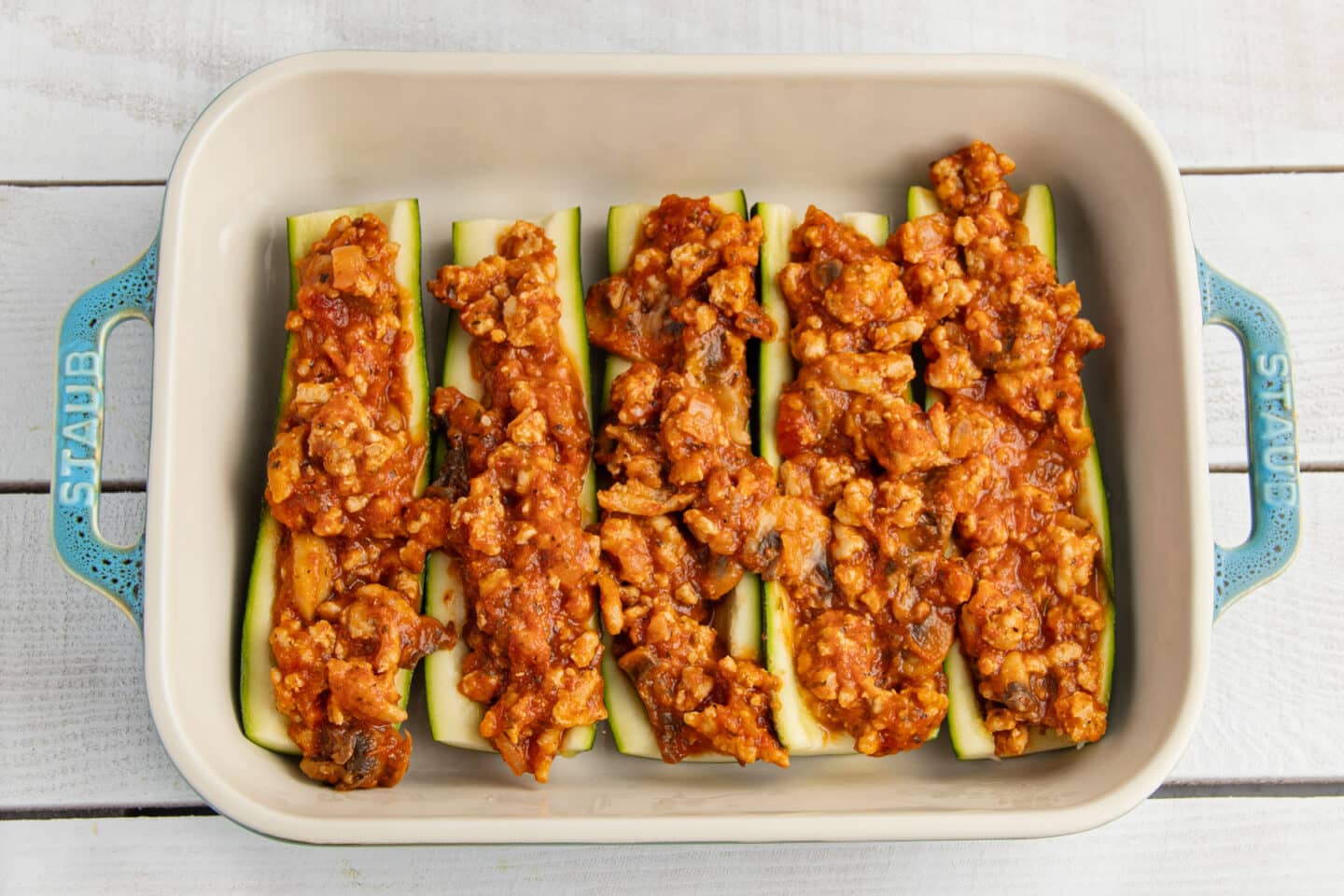 Fill up zucchini with chicken mixture.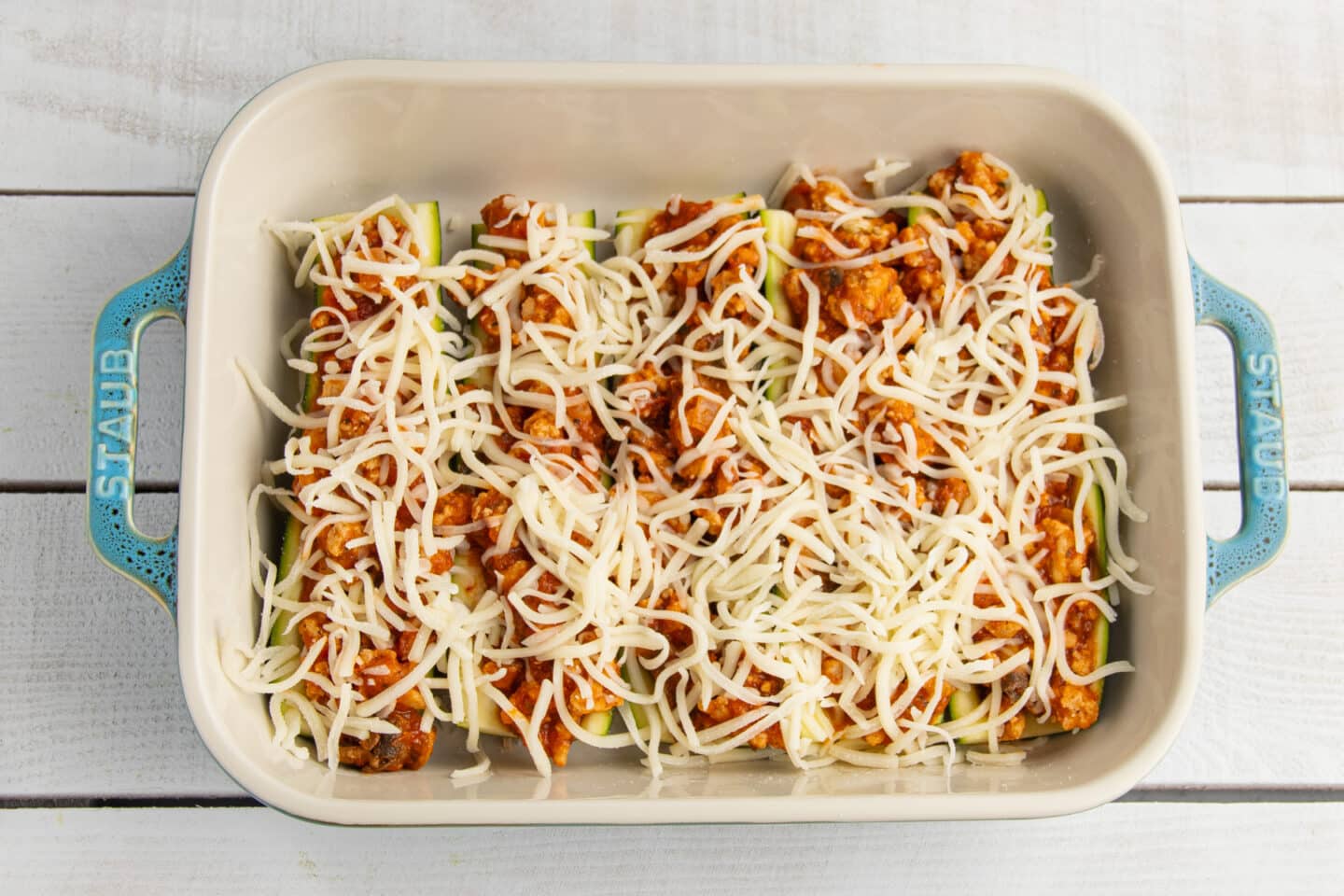 Sprinkle cheese and bake for about 25 minutes.
More Delicious Recipes To Try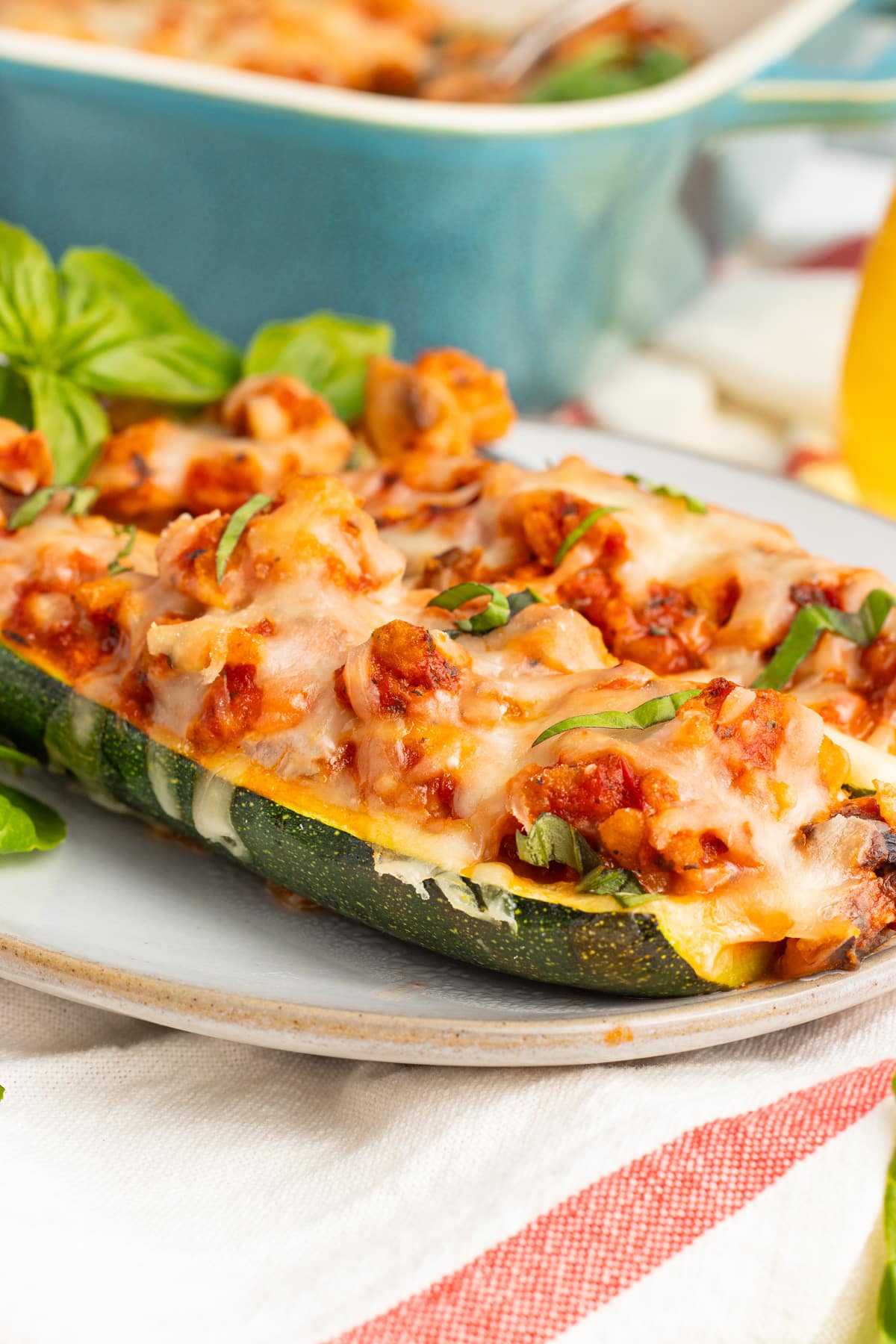 Tips And Frequently Asked Questions
Leftover storage: leftovers can be stored refrigerated in an airtight container for up to 4 days.
How to reheat chicken zucchini boats? You can reheat them in the microwave for 2 to 3 minutes. Time will vary per microwave. Or use the oven preheated at 350° Fahrenheit, and place boats in an oven-safe dish and cook for about 10 minutes or until warmed thru.
Should I peel zucchini? Zucchini skin is very soft, tender and delicious so it's not necessary to peel it. Make sure you wash them before cooking. But it's really up to you but keep in mind that they'll cook faster and might not hold their shape without the skin, so I'd recommend reducing the baking time a bit.
Don't overly scoop the zucchini flesh, you want to remove just the seedy part but still keep some of the vegetable flesh to look like a boat.
If you like you food a little spicy, add a pinch of red pepper flakes or cayenne pepper to the mixture with the seasoning.
You can easily transform this recipe into a vegetarian dish by replacing the chicken with plant-based meat, tofu, cooked rice, more mushrooms or other veggies too.
Can I freeze zucchini boats? I don't recommend freezing cooked zucchini as they'll get soggy.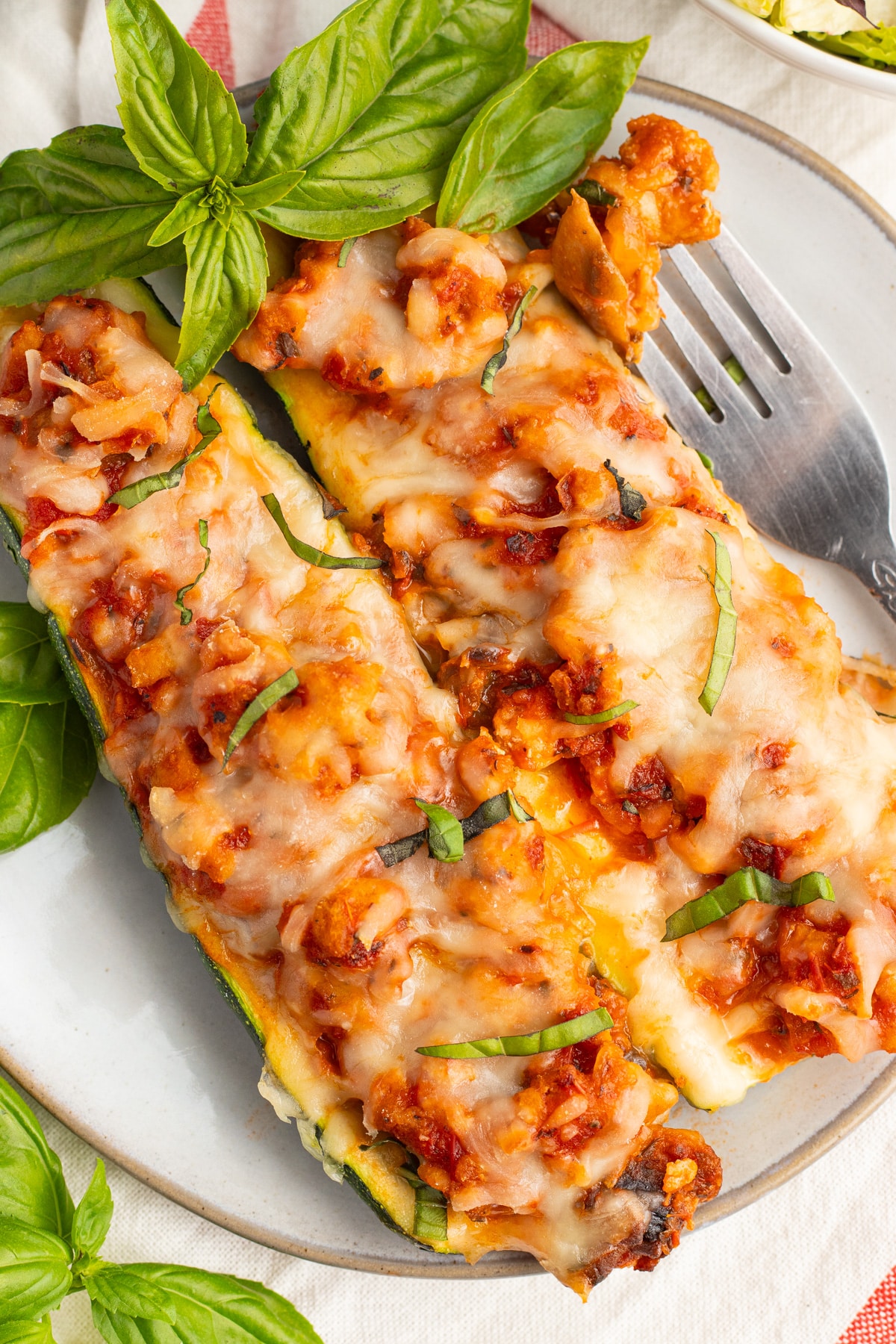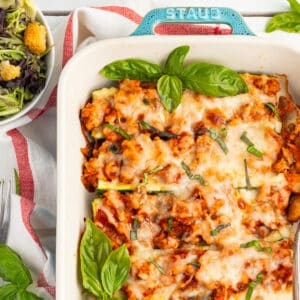 Chicken Zucchini Boats
Deliciously cheesy, nutritious and packed with flavor, these chicken zucchini boats are low-carb, easy to make and amazing for meal-prep. Zucchini halves filled with ground chicken cooked with onion, mushrooms, garlic and spices, mixed with marinara sauce and topped with melted mozzarella and fresh basil.
Equipment
small spoon

paper towels

large killet

wooden spoon

oven
Ingredients
4

medium zucchini

1

tablespoon

olive oil

½

yellow onion

chopped, about ½ cup

6-7

medium mushrooms

sliced, about ¾ cup

1

pound

ground chicken

½

teaspoon

garlic powder

½

teaspoon

onion powder

1

teaspoon

salt more or less to taste

½

teaspoon

black pepper

more or less to taste

1

teaspoon

Italian seasoning

4

cloves

garlic

minced

2

cups

marinara sauce

1

cup

shredded mozzarella

6-7

leaves

fresh basil

chopped, more or less to taste
Instructions
Wash and cut both ends of each zucchini, then slice them in half lengthwise. Using a small spoon, gently scoop out most of the seedy flesh.

Once the flesh is removed, sprinkle a little salt over zucchini, and place them flesh side down on paper towels to remove excess moisture.

Preheat oven to 375° Fahrenheit.

Heat up olive oil in skillet over medium-high heat. Once hot, swirl skillet around to get it all coated with oil. Add chopped onion and sliced mushrooms. Cook for about 5 minutes or until tender, stirring often with wooden spoon.

Once mushrooms and onion are tender, push them to one side of the skillet, add a little more olive oil if needed, then add ground chicken. Brown the chicken for 2 minutes alone, stirring often, then mix it with mushrooms and onion.

Add spices: onion and garlic powders, Italian seasoning, salt and black pepper, mix them in, and cook for about 5 minutes on medium-high heat.

Add minced garlic to skillet, stir it in until fragrant, about 30 seconds.

Add in marinara sauce, stir it in well, bring to low boil then reduce heat to medium-low, and let simmer uncovered for about 8-10 minutes.

Lightly coat baking dish with oil spray, then lay zucchini halves skin down.

Fill each of them with the chicken marinara mixture. It's completely fine if they overflow in baking dish.

Sprinkle the shredded mozzarella on top, then add dish to oven for 23 to 28 minutes. After 23 min, carefully poke a couple of zucchini with tines of fork to see if they're cooked. Zucchini should feel tender, if they still feel tough, continue cooking for an additional 4-6 minutes.

Once cooked, carefully remove from oven, let cool for 2 to 3 minutes, then sprinkle chopped fresh basil all over. Serve warm as-is, over rice, with a side salad and enjoy!
Notes
Ground chicken can be substituted with ground turkey.
Storage: store leftovers in an airtight container refrigerated for up to 4 days. 
*The nutritional values shown in this recipe are approximate for one suggested serving size using the ingredients listed but not including any optional items and may vary per actual preferred portion sizes.
Nutrition
Serving:
1
serving
|
Calories:
348
kcal
|
Carbohydrates:
17
g
|
Protein:
32
g
|
Fat:
15
g
|
Saturated Fat:
5.2
g
|
Polyunsaturated Fat:
1.6
g
|
Monounsaturated Fat:
6
g
|
Cholesterol:
104.6
mg
|
Sodium:
549.8
mg
|
Potassium:
1037.5
mg
|
Fiber:
5
g
|
Sugar:
5
g
|
Vitamin A:
1108.3
IU
|
Vitamin C:
46.5
mg
|
Calcium:
297.8
mg
|
Iron:
3.4
mg
Share on Facebook
Share by Email