Cooked until tender in a grill basket, this colorful grilled vegetable medley is packed with amazing flavors! Coated with an easy and delicious marinade, these veggies are a perfect nutritious side dish to any summer barbecue!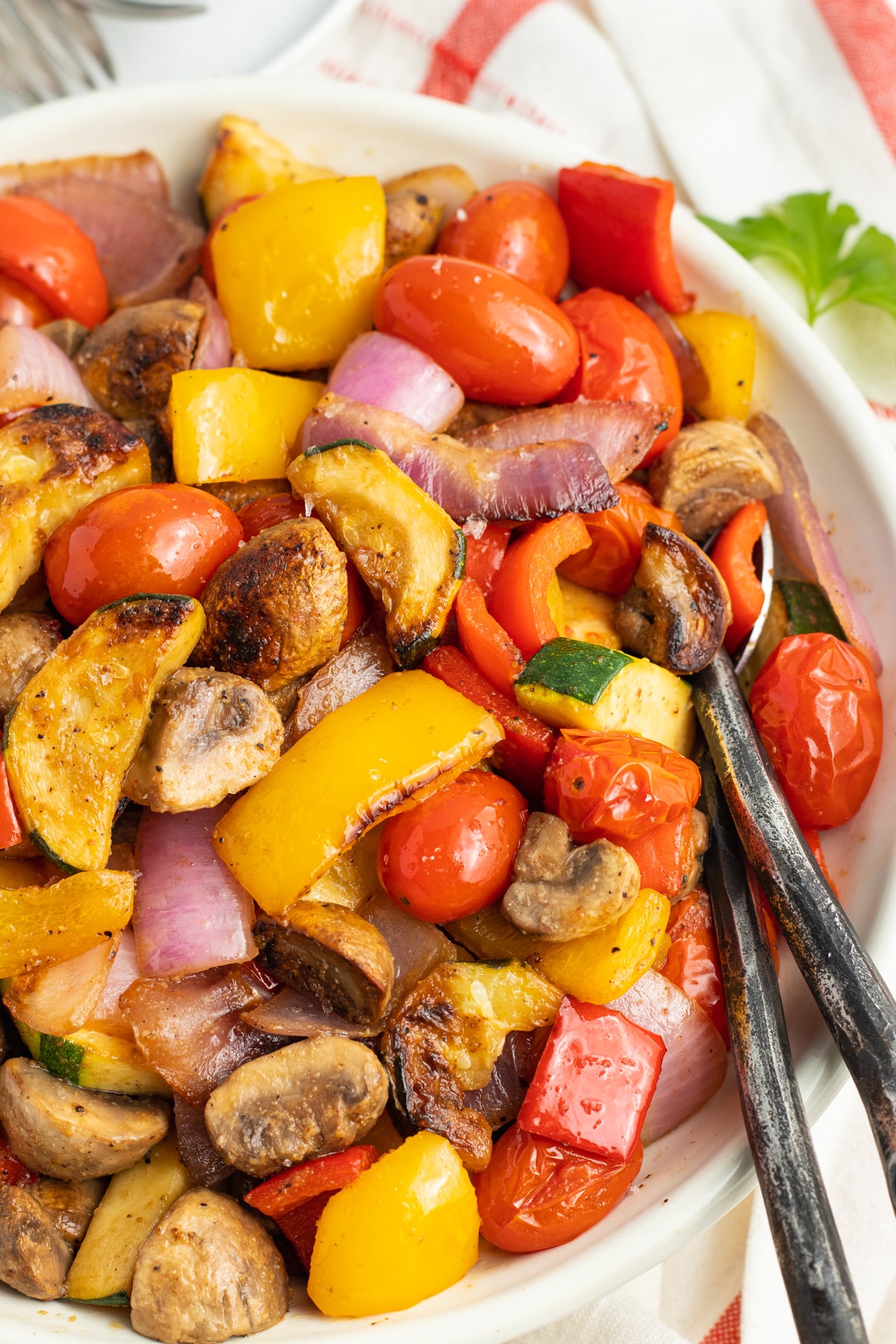 This post contains affiliate links. As an Amazon Associate, I earn from qualifying purchases at no extra cost to you. Please read my privacy policy for more details.
Why This Recipe Works
This recipe is one of my absolute favorite way to cook vegetables! Grilled veggies are so incredibly delicious, they're tender with subtle charred marks giving them such a nice flavor. The medley of bell peppers, mushrooms, zucchini, red onion and cherry tomatoes is coated with a simple but very flavorful marinade. And they go really well with a side of my Dijon aioli.
This grilled vegetable medley is healthy, nutritious and low in calories. Veggies are naturally full of vitamins, nutrients, and fiber. A diet rich in vegetables is a great way to nourish your body and add volume to your meals without a ton of extra calories.
It's very easy to throw together and a great addition to any barbecue. The veggies are chopped, tossed in the marinade then cooked in a grill basket on the grill. Perfect as a side for steak, grilled chicken, smoked pork and more. Ready to eat in less than 20 minutes, and I guarantee you, your guests will go back for seconds!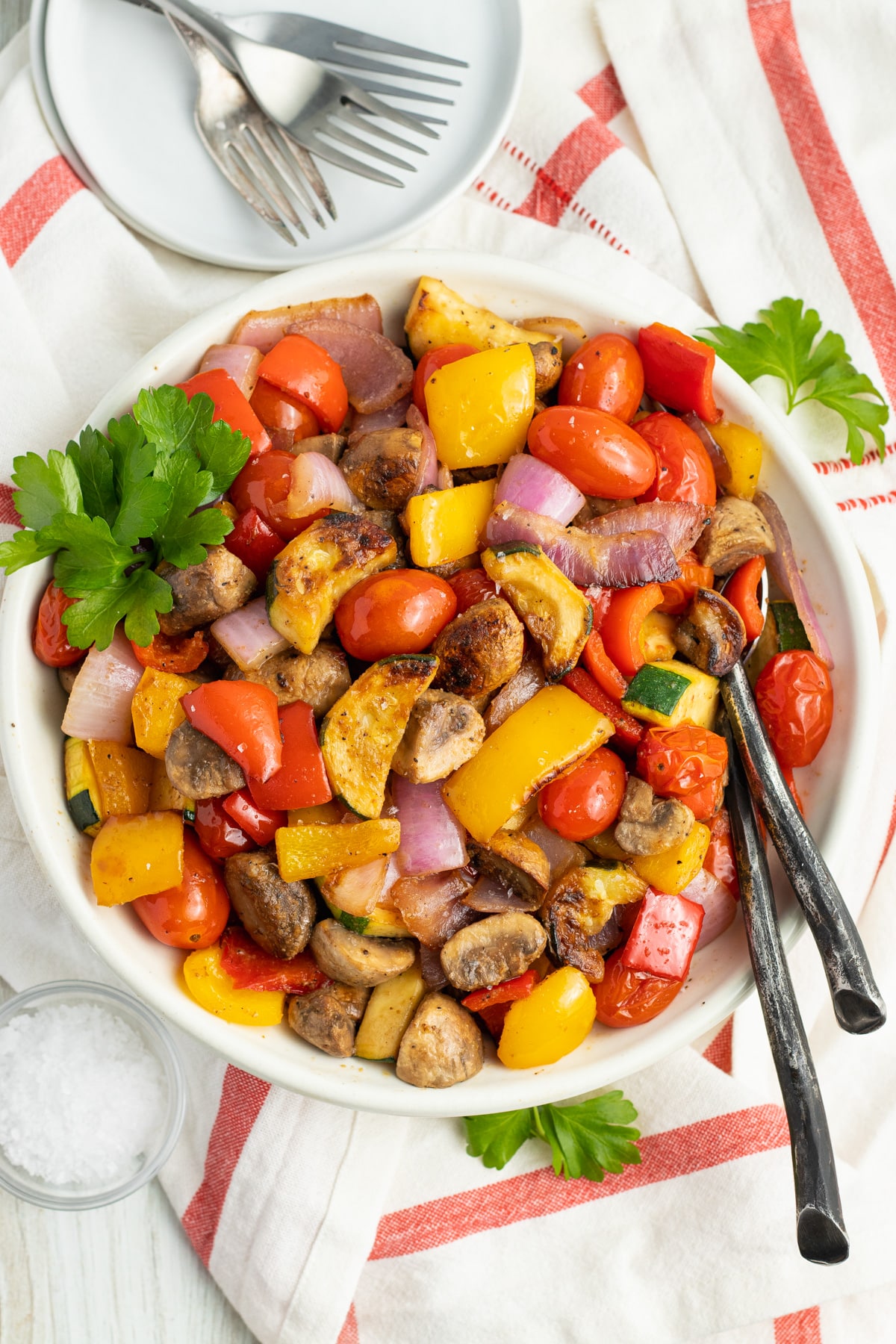 How To Make This Grilled Vegetable Medley
Wash and dry the vegetables well to remove any dirt.
Then you'll chop them all, except for the cherry tomatoes, which you'll keep aside as they're not incorporated until later in the cooking time. Slice the bell peppers into 1-inch pieces. I like to half-peel my zucchini but this is completely optional and up to your taste. Slice the zucchini lengthwise, then slice in half-moons. Don't cut them too thin, as zucchini cooked fairly quickly and could become a little mushy if overcooked. Slice the mushrooms in half if they're small, or in quarters if they're larger (keep whole if very small). And slice the red onion to your liking. The veggies don't have to be perfect, just close enough in size so they cook evenly.
Preheat your grill on high heat. If you have a grill that gets very hot, medium high heat would work too. Once the grill is hot, add the empty grill basket for 5 minutes to heat up, so your veggies sizzle when added.
In a small bowl or measuring cup, you'll whisk together the marinade, made of a little avocado or olive oil, soy sauce (or coconut aminos), Dijon mustard, garlic and onion powder, salt and black pepper.
Add the marinade to the veggies, and toss well until every piece is coated.
Add the tomatoes to the empty cup with the leftover sauce.
You'll pour the veggies into your grill basket, and let them cook for 10 to 13 minutes, stirring them often. Then finally you'll add the tomatoes and cook for another 5 to 7 minutes or until all the grilled vegetables are tender when poked with the tines of a fork.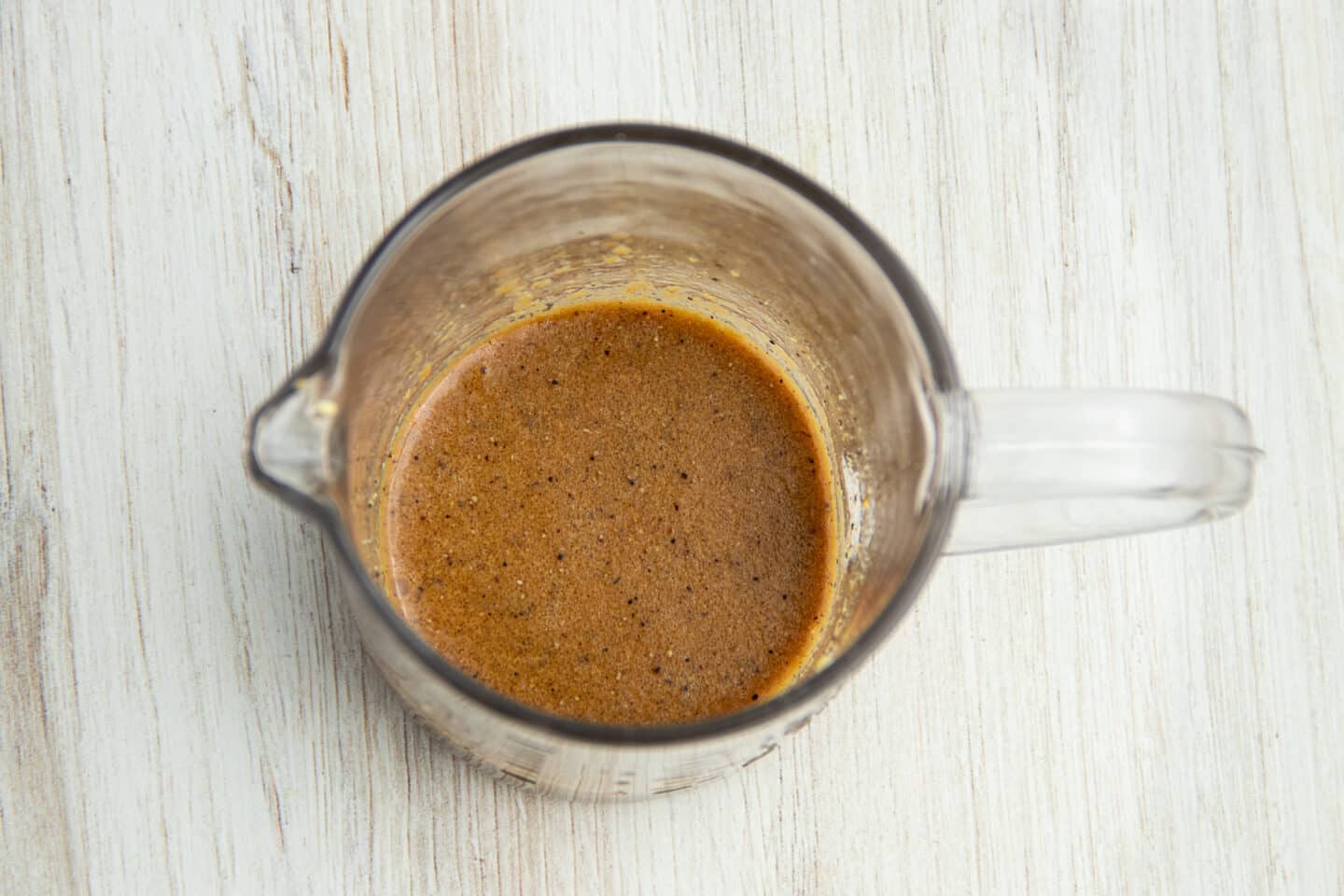 Whisk together the marinade.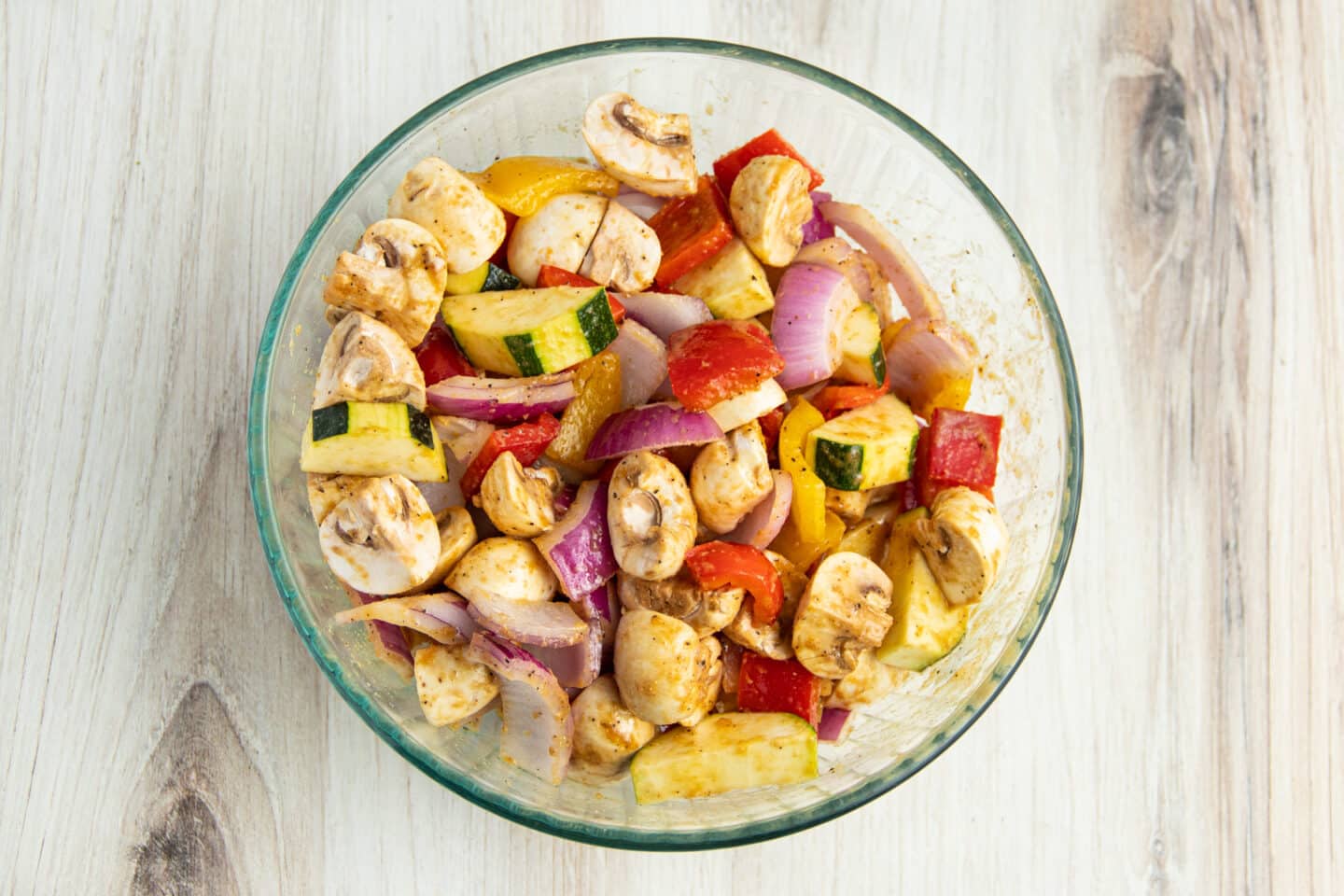 Add marinade to chopped veggies, and stir to coat.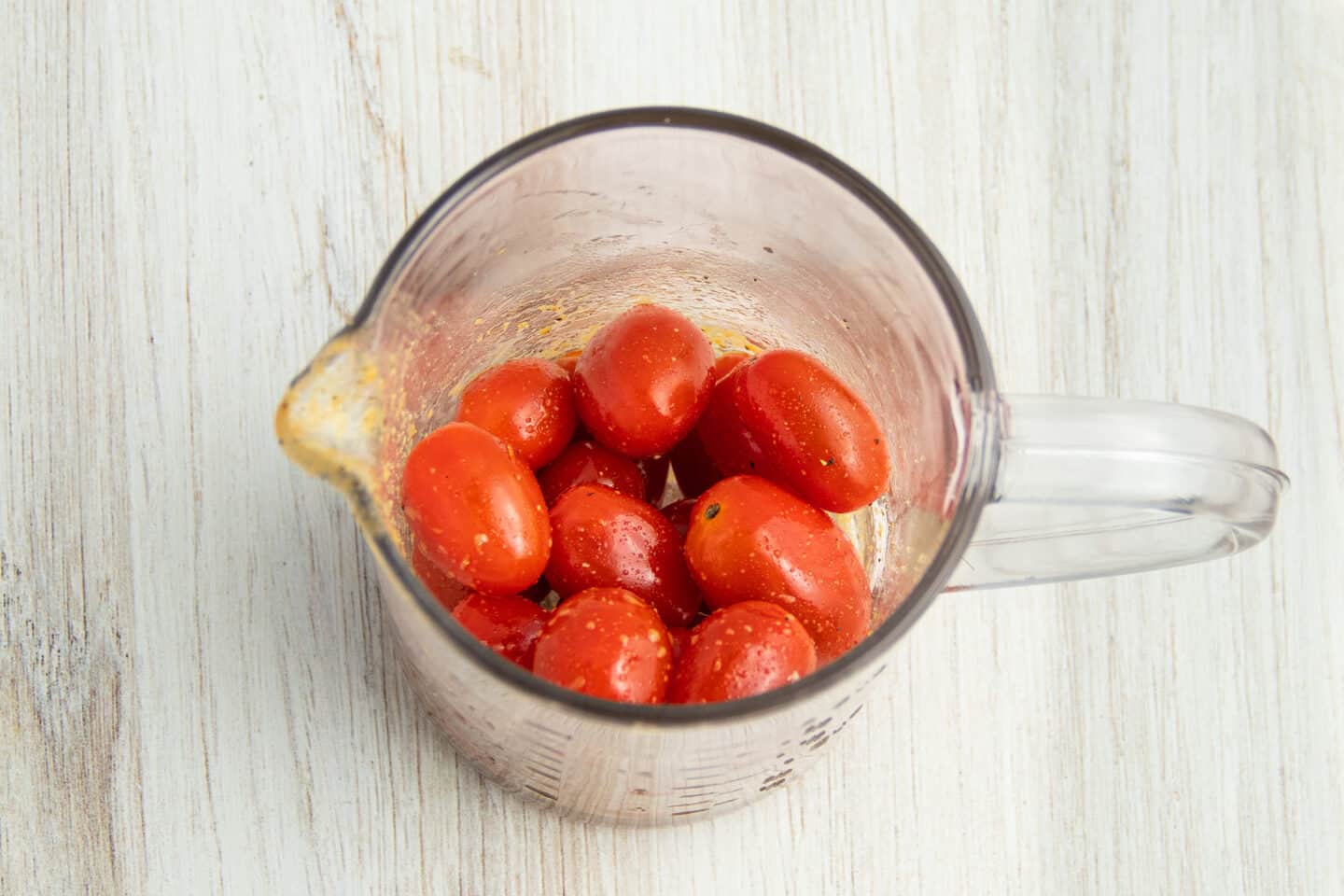 Place tomatoes into empty marinade bowl to coat with leftover sauce.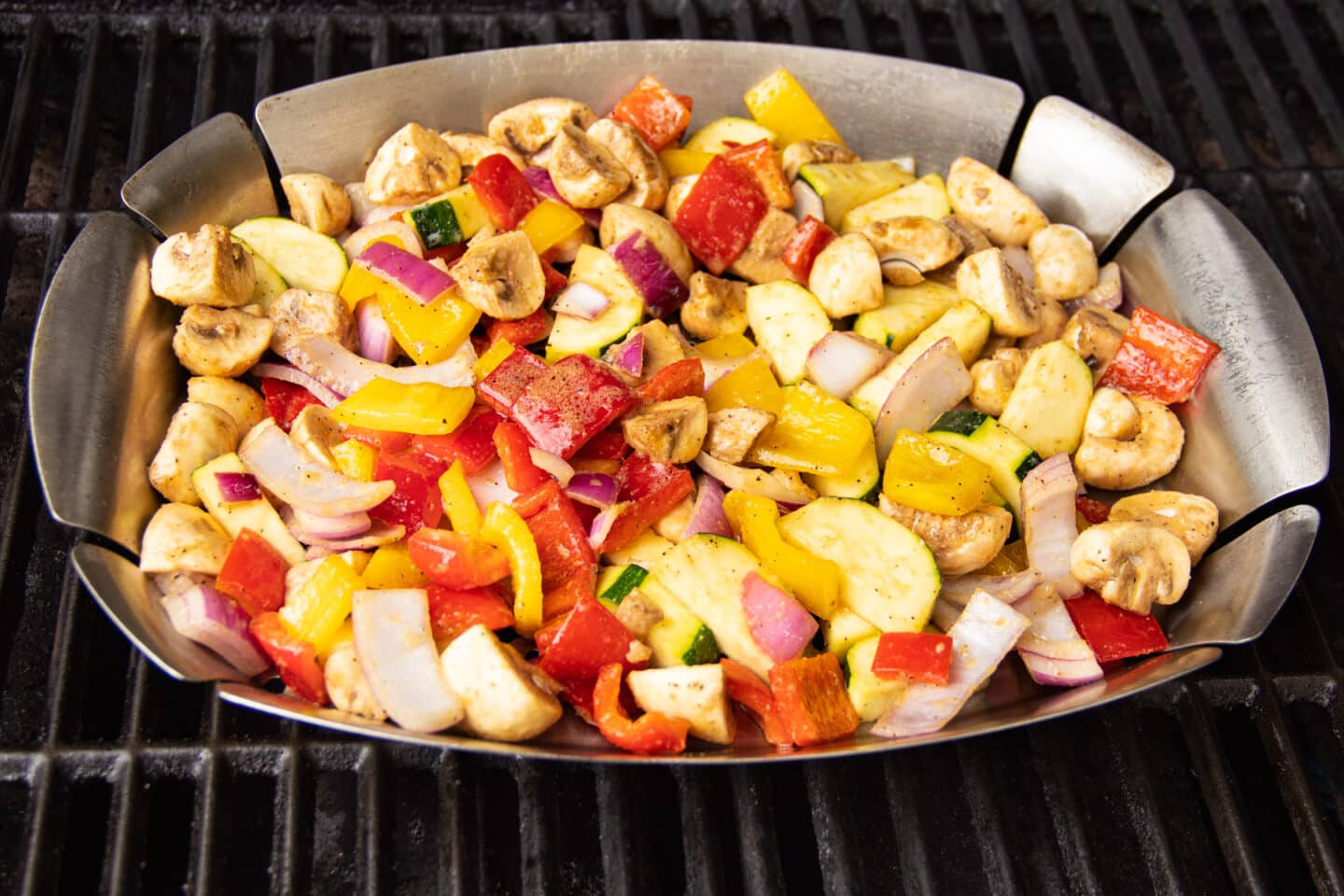 Add the veggies to warm grilled basket on grill, and cook for 10-13 minutes.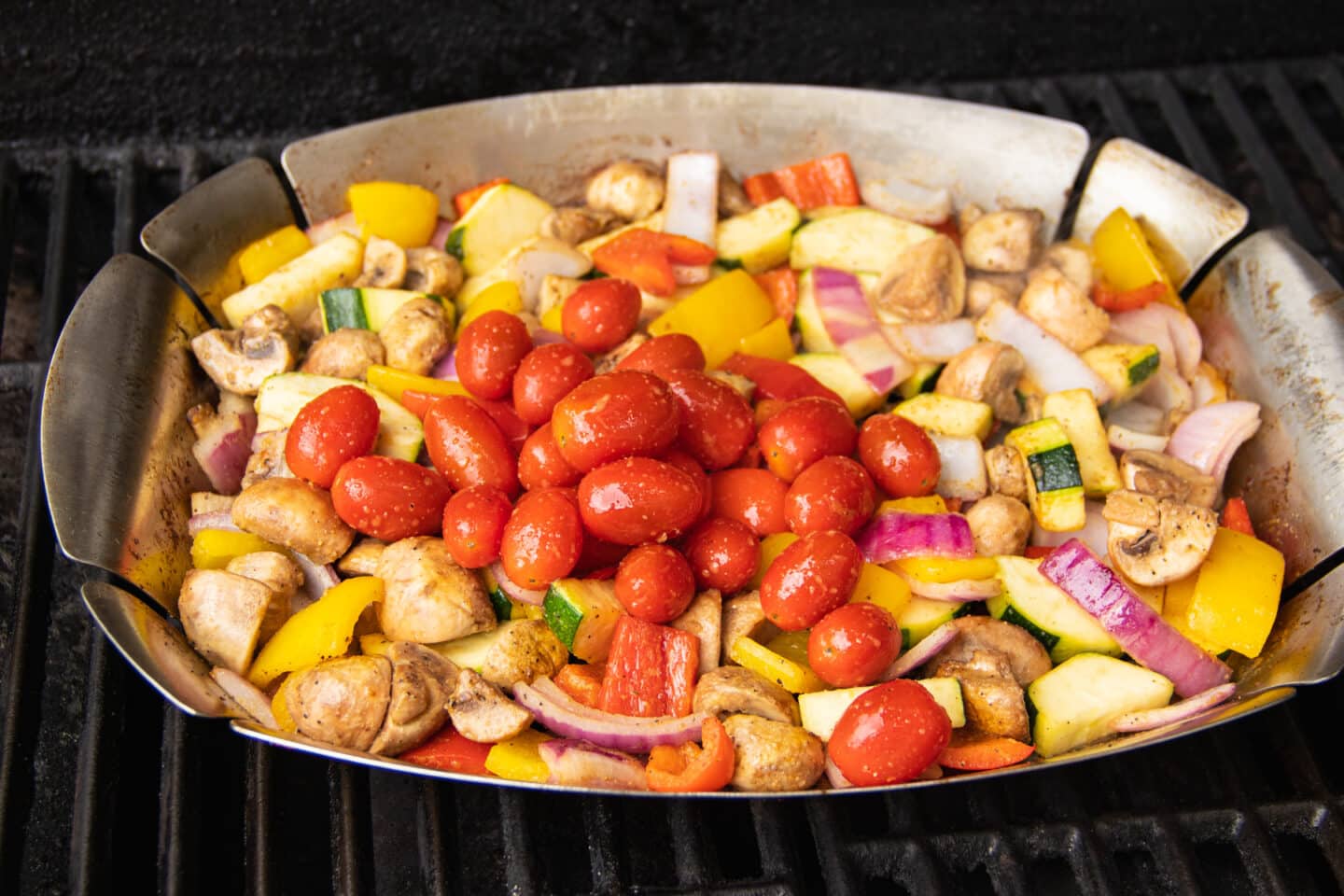 After 10-13 minutes add cherry tomatoes to grill basket and finish cooking for 5-7 more minutes.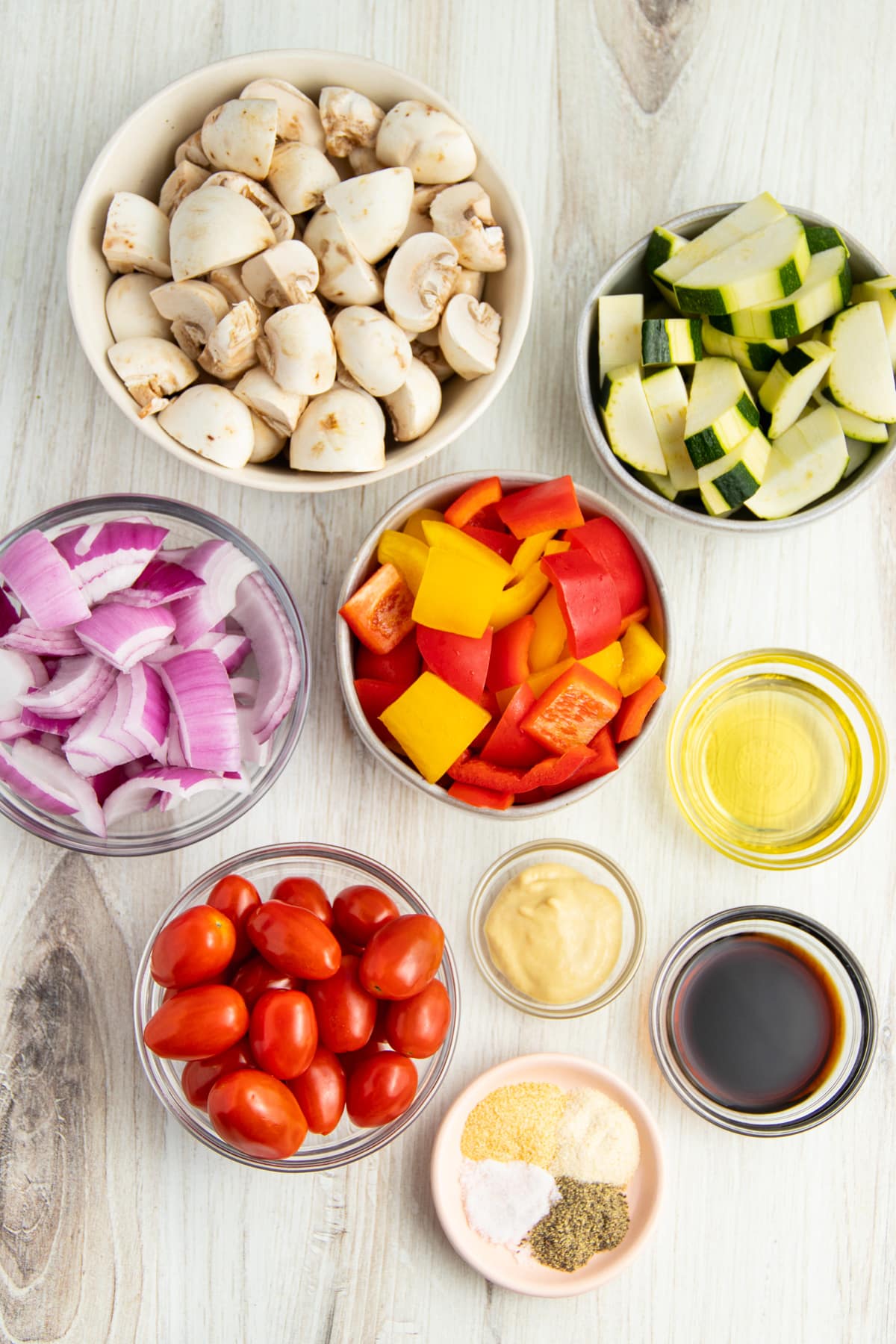 More Delicious Easy Recipes To Try
Tips And Frequently Asked Questions
Try to not overly crowd your grill basket. If you're making a big batch of grilled veggies, I'd recommend using two baskets. That way they'll all get charred edges, and don't just steam.
Feel free to use different veggies if you'd like! This recipe is very customizable, and you could use squash in place, or in addition, of the zucchini. If you prefer white onion, over red onion, go for it. Add sliced carrots, green beans, asparagus, potatoes, the options are truly endless.
Besides using this grilled vegetable medley as a side dish, you can chop them down a bit, then add them on top of a green salad, mixed with pasta, rice or in vegetable lasagna, or even as a veggie pizza topping or in a quesadilla.
If you want to prep the veggies in advance, you can absolutely let them marinade in the mixture for up to 4 hours.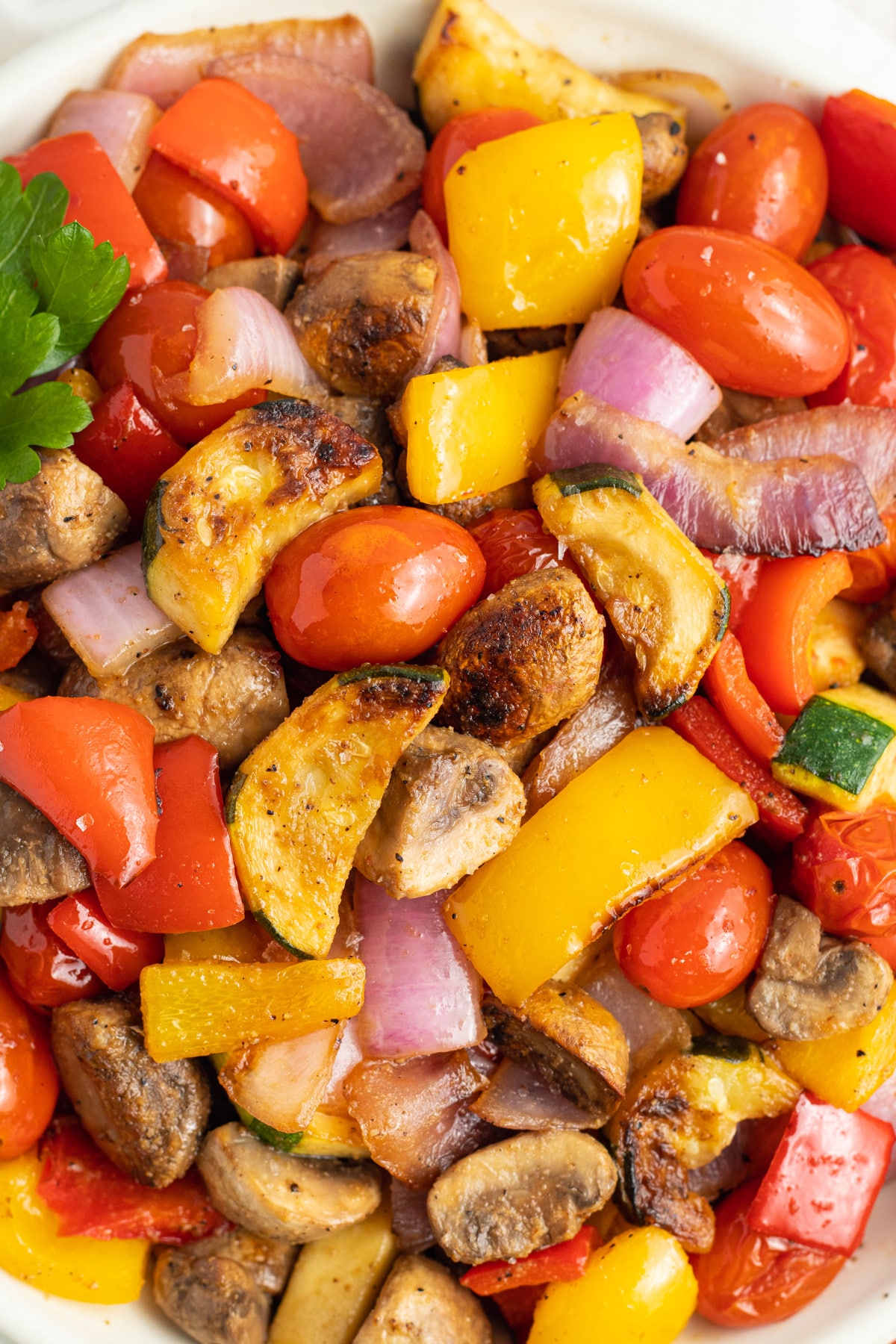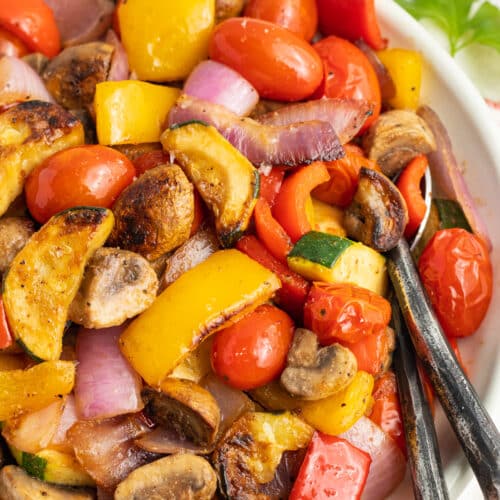 Grilled Vegetable Medley
Cooked until tender in a grill basket, this colorful grilled vegetable medley is packed with amazing flavors! Coated with an easy and delicious marinade, these veggies are a perfect nutritious side dish to any summer barbecue!
Equipment
small bowl or measuring cup

grill

wooden spoon
Ingredients
Vegetables
2

bell peppers

red, yellow or orange. Chopped into 1-inch pieces, about 1 ½ cup chopped

1

zucchini

sliced in 1-inch half-moons, about 2 cups

8

ounces

mushrooms

sliced in half or quarters, about 3 cups

½

red onion

chopped, about 1 cup

1

cup

cherry tomatoes

whole
Instructions
Chop all the vegetables, then add them to a large bowl except for cherry tomatoes.

Preheat grill to high heat, about 400 to 450° Fahrenheit.

In small bowl, whisk together oil, soy sauce, Dijon mustard, garlic and onion powders, salt and pepper until well incorporated.

Add marinade mixture to veggies and mix well until well coated. Let sit for about 10 minutes.

Place cherry tomatoes into empty small bowl where marinade was, and mix to coat with leftover mixture. Set aside.

While veggies are marinating, place empty grill basket on top of grill grates to heat up, about 5 minutes.

Add veggies (except tomatoes) to grill basket, and cook for about 10 to 13 minutes, stirring with wooden spoon or tongs often.

After 10-13 minutes, add cherry tomatoes to rest for veggies, mix them in, and continue cooking for another 5 to 7 minutes or until veggies are tender when poked with tines of fork and tomatoes are just starting to burst. Once veggies are cooked through, carefully remove hot grill basket from grill, transfer them to bowl or plate, and serve warm with sides of choice.
Notes
Cooking time will vary per size of vegetables and the amount of them, the smaller, thinner, the quicker they'll cook. 
Vegetables: you can use other veggies to your liking, don't chop them too small or they could get mushy. 
Soy Sauce: you can replace it with lite tamari or coconut aminos. 
*The nutritional values shown in this recipe are approximate for one suggested serving size using the ingredients listed but not including any optional items and may vary per actual preferred portion sizes.
Nutrition
Serving:
1
serving
|
Calories:
119
kcal
|
Carbohydrates:
10
g
|
Protein:
4.5
g
|
Fat:
6
g
|
Saturated Fat:
0.9
g
|
Polyunsaturated Fat:
1.2
g
|
Monounsaturated Fat:
5.1
g
|
Sodium:
344.8
mg
|
Potassium:
477.4
mg
|
Fiber:
3.5
g
|
Sugar:
4.5
g
|
Vitamin A:
2146.7
IU
|
Vitamin C:
95.7
mg
|
Calcium:
27.6
mg
|
Iron:
1.2
mg
Share on Facebook
Share by Email