Ready to eat in just 30 minutes, shrimp pineapple fried rice is incredibly flavorful with the perfect combination of sweet and savory. Filled with tender shrimp, sweet pineapple and veggies, it's such a fun one-pot meal the whole family will adore!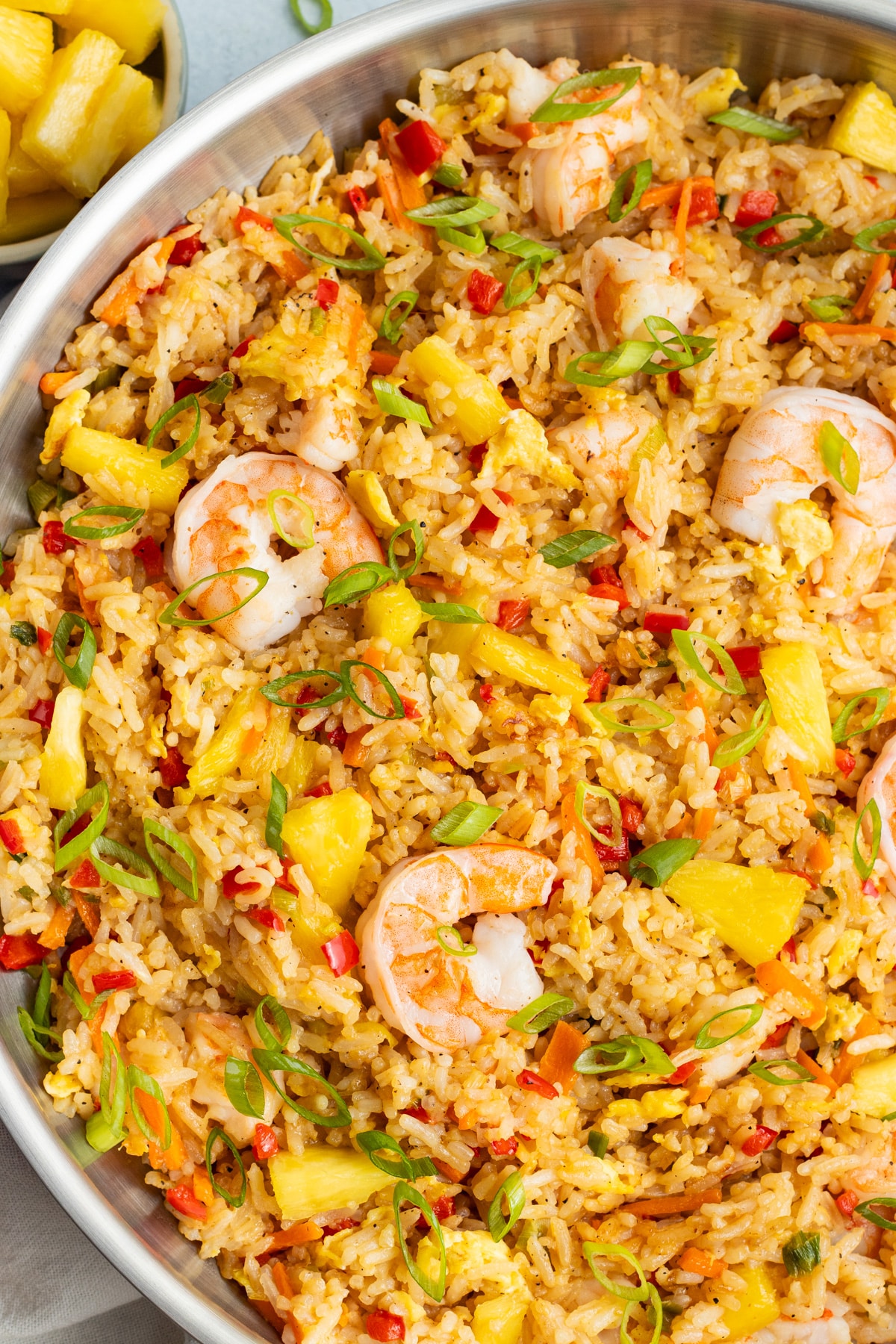 This post contains affiliate links. As an Amazon Associate, I earn from qualifying purchases at no extra cost to you. Please read my privacy policy for more details.
You'll Love This Recipe!
It's seriously so delicious! Better than takeout, this shrimp pineapple fried rice is savory, sweet, filled with texture and simply irresistible. I love dishes that mix sweet and savory together like these salmon bites with mango salsa, these teriyaki chicken pineapple kabobs and this mango and grilled corn salsa.
This recipe is very easy to make! It's a complete, well rounded, one-pot meal ready to eat in barely 30 minutes. Perfect for a busy weeknight dinner but special enough to cook for a gathering with friends and family too.
You can easily customize it to your preference of dietary needs. Keep it gluten-free by using soy sauce without gluten, or replace it with tamari or coconut aminos. You can add some spice with a sprinkle of red pepper flakes or hot sauce like Sriracha. Lower the carbohydrate count by doing half rice and half cauliflower rice.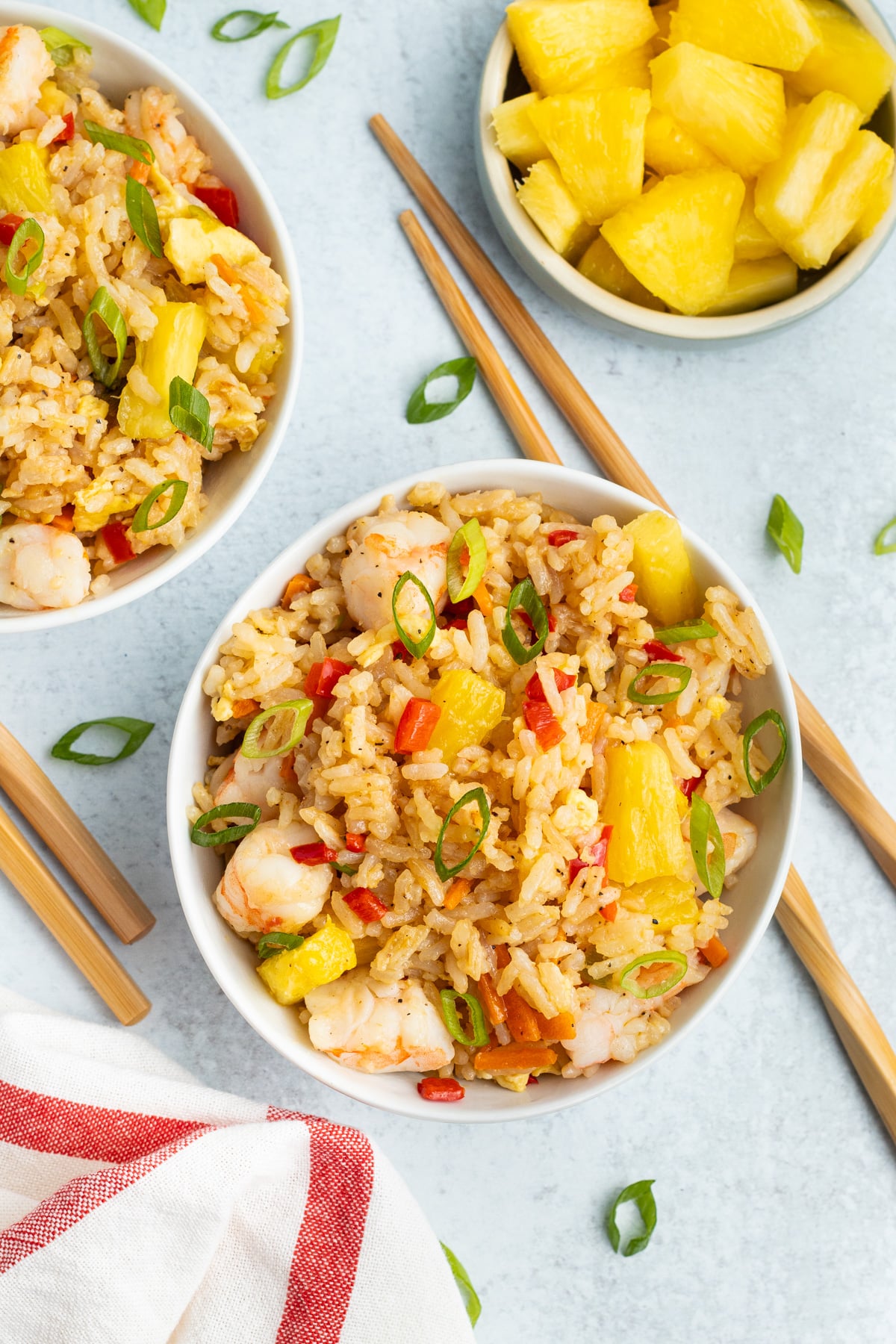 Key Ingredients
Shrimp: I used thawed frozen large shrimp to make this fried rice but since i chopped them into bite size, you can use medium or extra large too. Keep in mind the smaller they are, the fastest they'll cook and vise-versa. Shrimp should be fully peeled and deveined, which means the black membranes running in the back and the front of the shrimp are removed, as well as the shell and tail.
Pineapple: I recommend using fresh pineapple if possible for this dish, but canned pineapple would be fine on a pinch. Just ensure that it's not in syrup, but in juice instead, and you buy pineapple chunks or slices you'll chop yourself and not crushed pineapple.
Rice: the rice must be pre-cooked and completely cooled down so a lot of the moisture is gone. Ideally leftover rice which is dryer then fresh, or you can use pre-cooked rice packets too. If the rice is fresh and warm when adding it to the dish, you'll most likely end up with mushy fried rice. White or brown rice are both great, so choose whichever you prefer.
Soy Sauce: it adds such an amazing flavor. A little bit goes a long way.
Sesame oil: sesame oil really locks in that amazing Asian flavor in the dish.
Carrots and Bell Pepper: not only do they add nutrients, they also add some crunch and texture to the fried rice.
Eggs: scrambled eggs are a classic fried rice component. They add flavor and protein.
Green Onions: also called scallions. They're a must for me in this recipe as they bring so much freshness.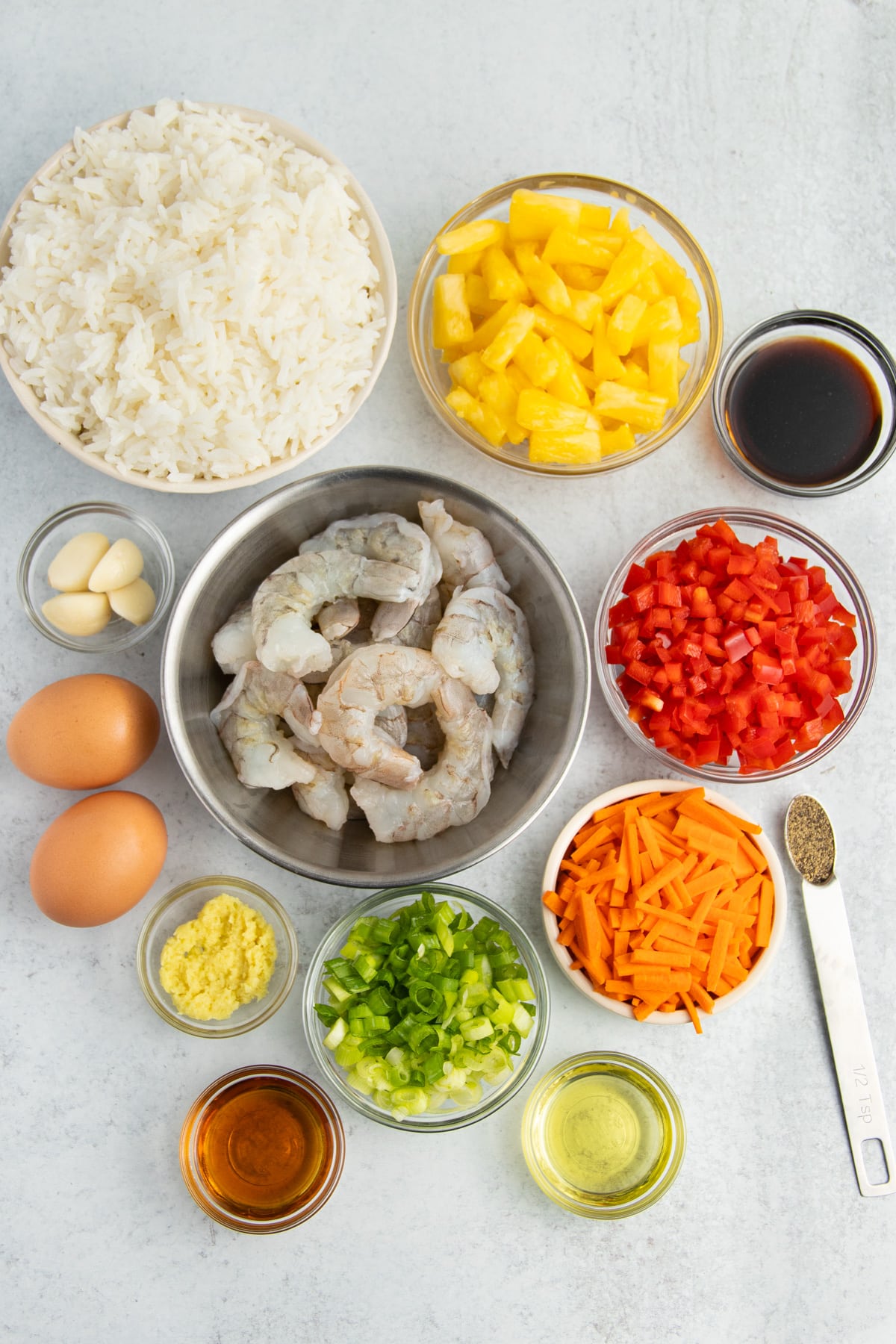 How To Make Shrimp Pineapple Fried Rice
Before you start with this recipe, make sure you ideally have leftover, pre-cooked rice or cook the rice and let it cool completely before adding it to the dish. I love frozen pre-packaged rice that take a few minutes to cook, they work beautifully for fried rice.
Cook the shrimp first. They'll cook fast, about 3 to 4 minutes total. Shrimp are cooked when they're no longer gray and just start curling into a C. Remove them from the skillet and keep them aside. Once they've cooled a bit, chop them in bite size. Don't overcook the shrimp!
Then you'll cook the veggies until tender.
Add the scallions, fresh garlic and ginger and stir in until fragrant which is quick, 30 seconds to 1 minute.
Stir in the rice.
Add the sweet pineapple, and soy sauce.
Then, with a wooden spoon or spatula, push the fried rice to the one side of the non-stick skillet, and add the beaten eggs to scramble. Once cooked stir them in.
Finally add the cook shrimp back, stir in and cook for a couple of minutes until warm. Garnish with extra green onions and serve warm.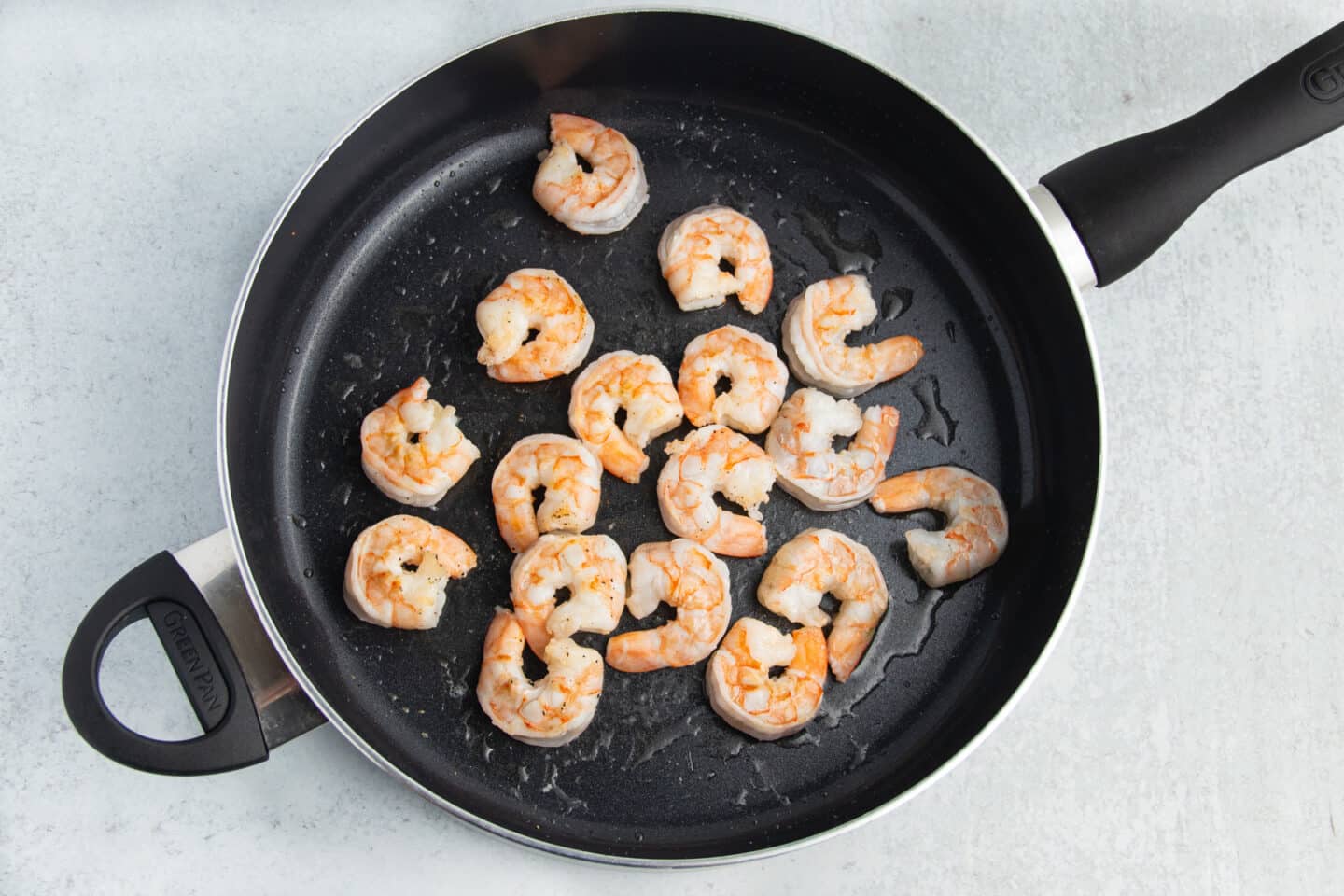 Cook shrimp about 1 to 2 minutes per side.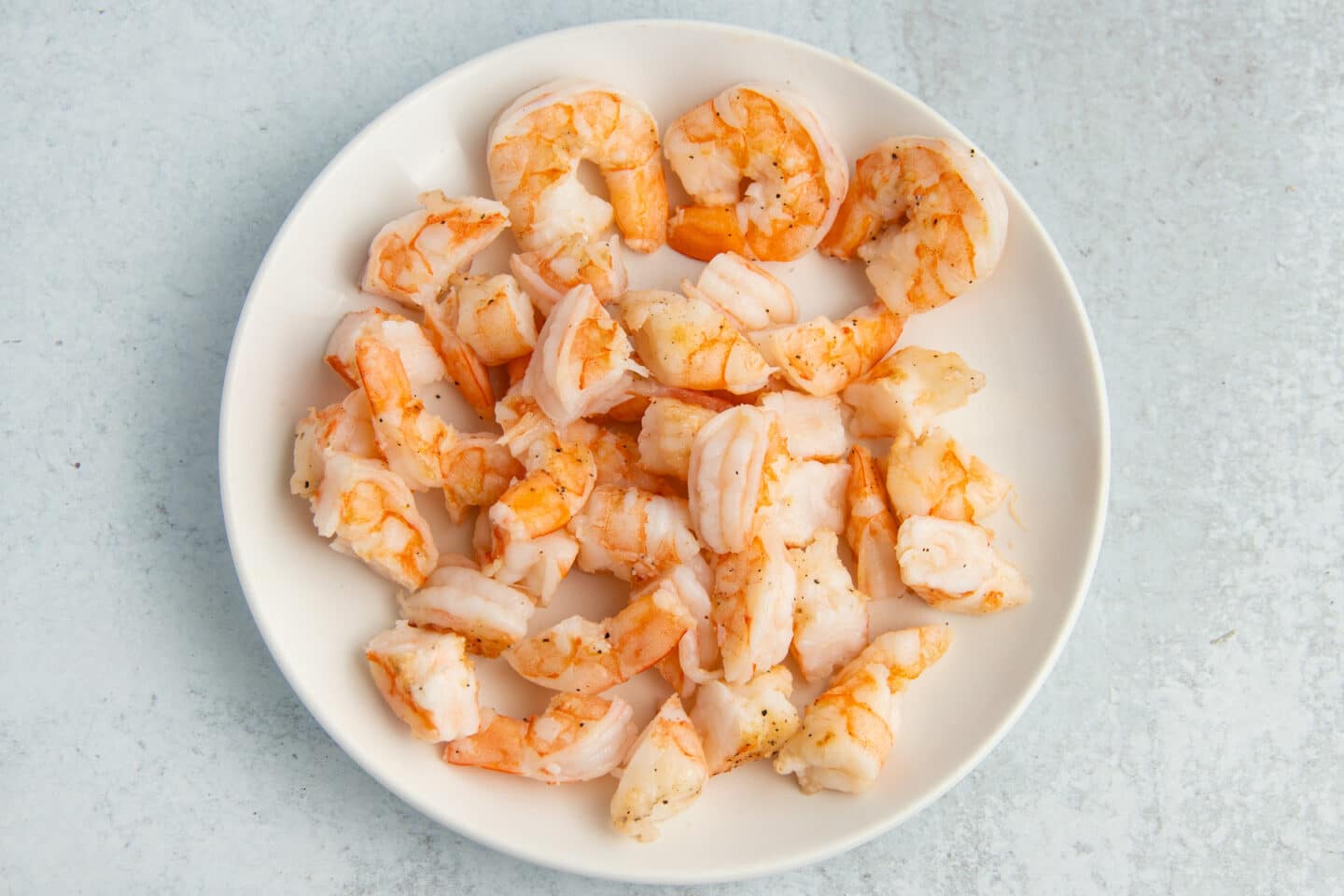 Remove from skillet, let cool and chop into bite size pieces.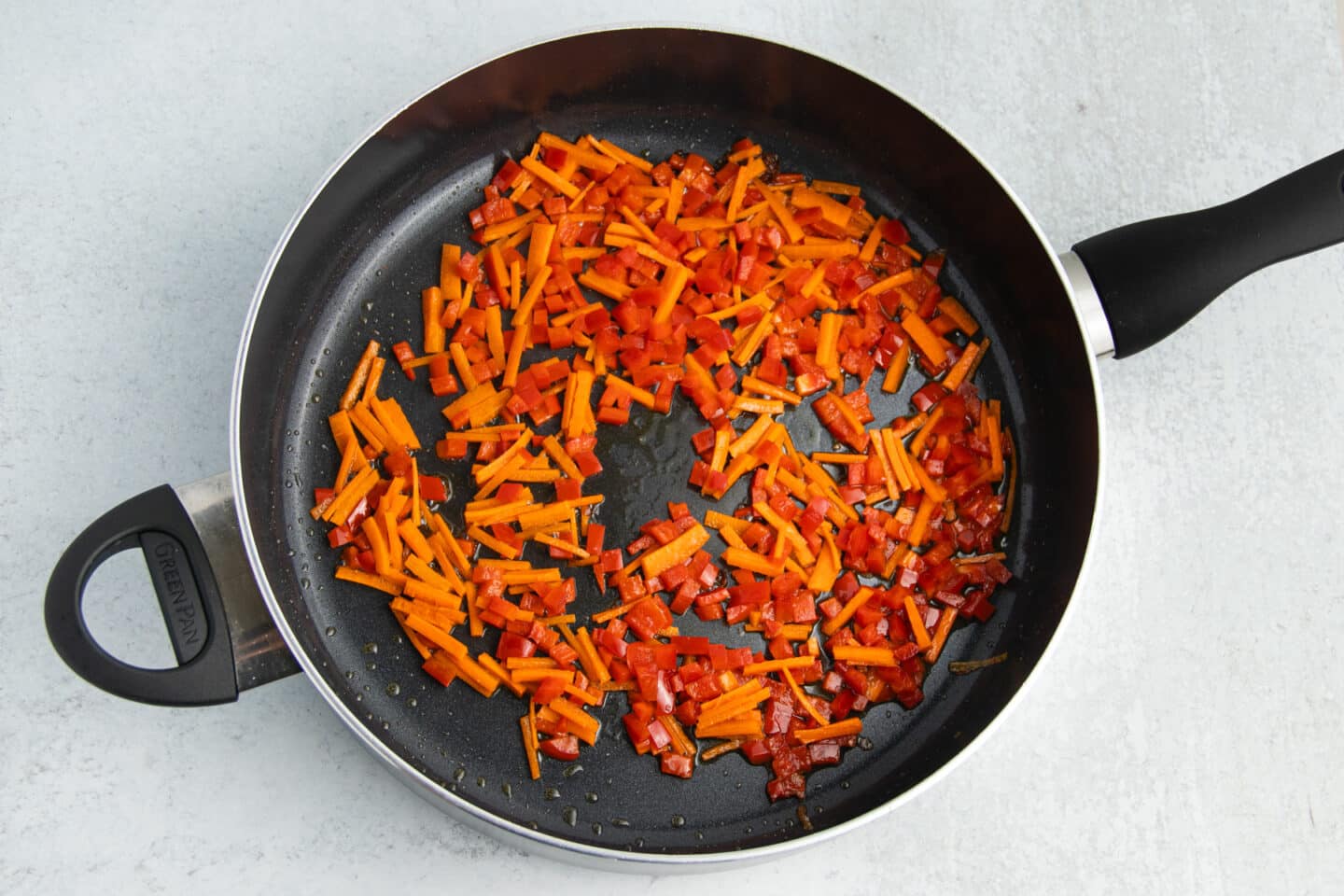 Cook the carrots bell pepper until tender, about 5 minutes.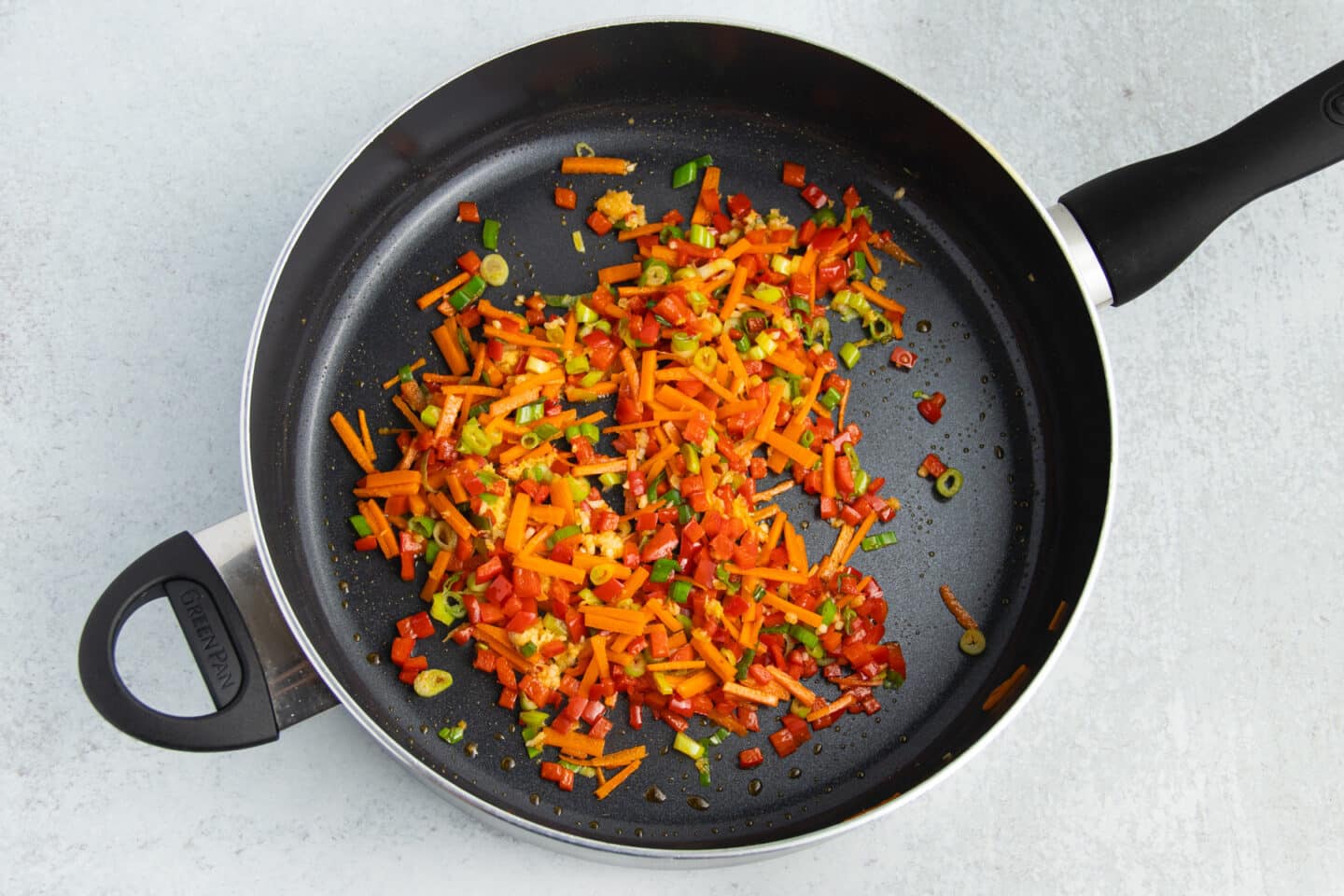 Add green onions, garlic and ginger.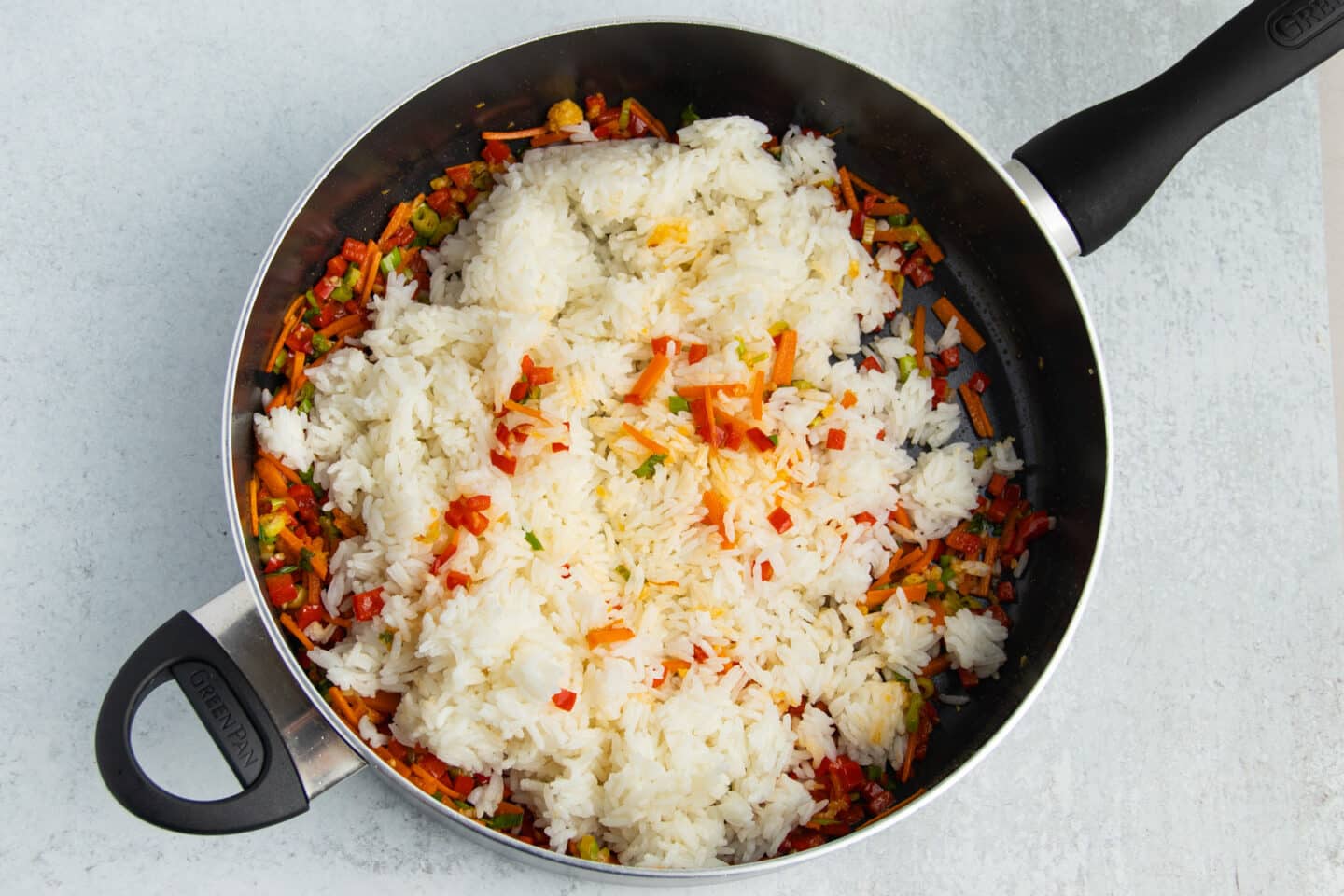 Stir in the cold rice.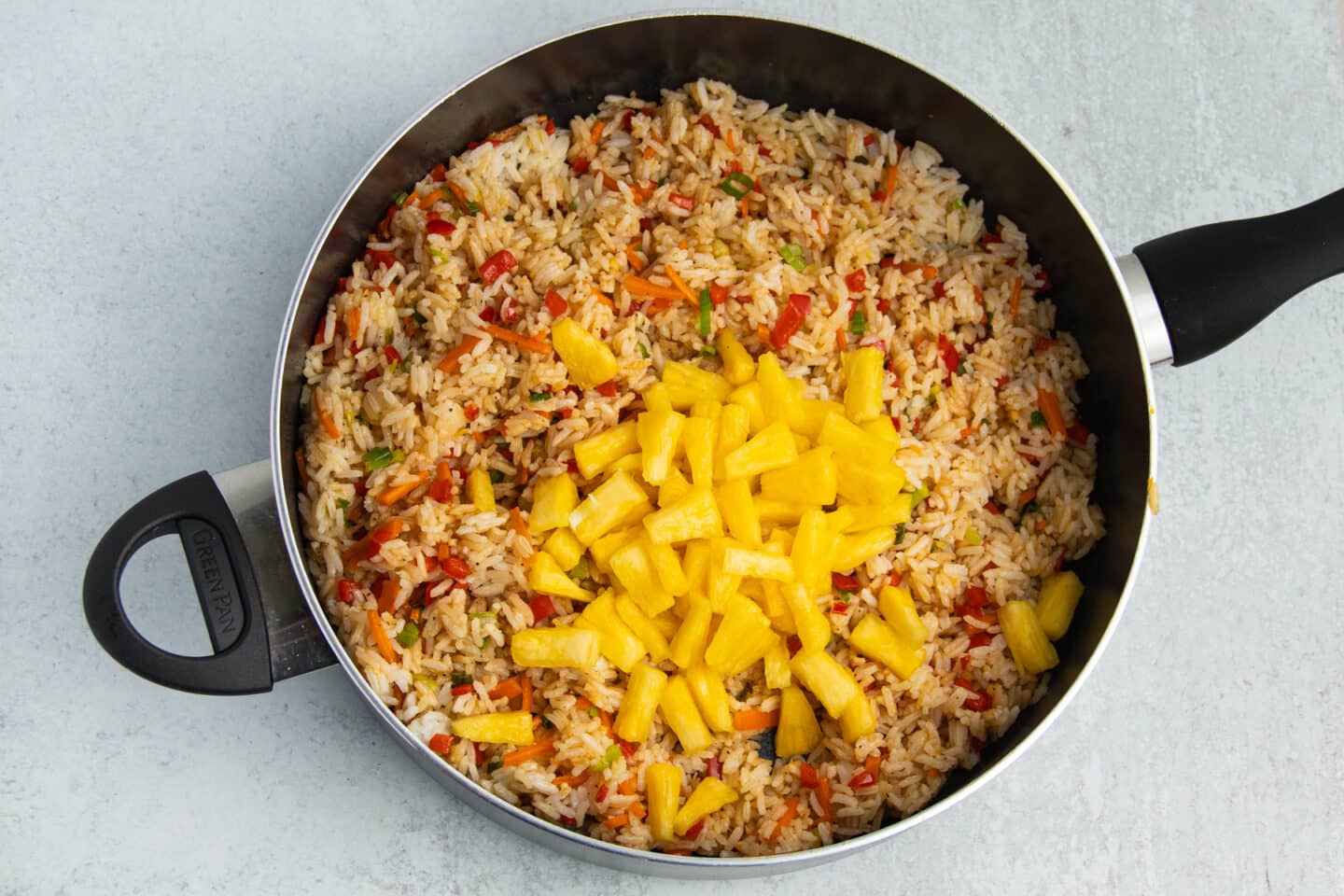 Add the soy sauce and pineapple.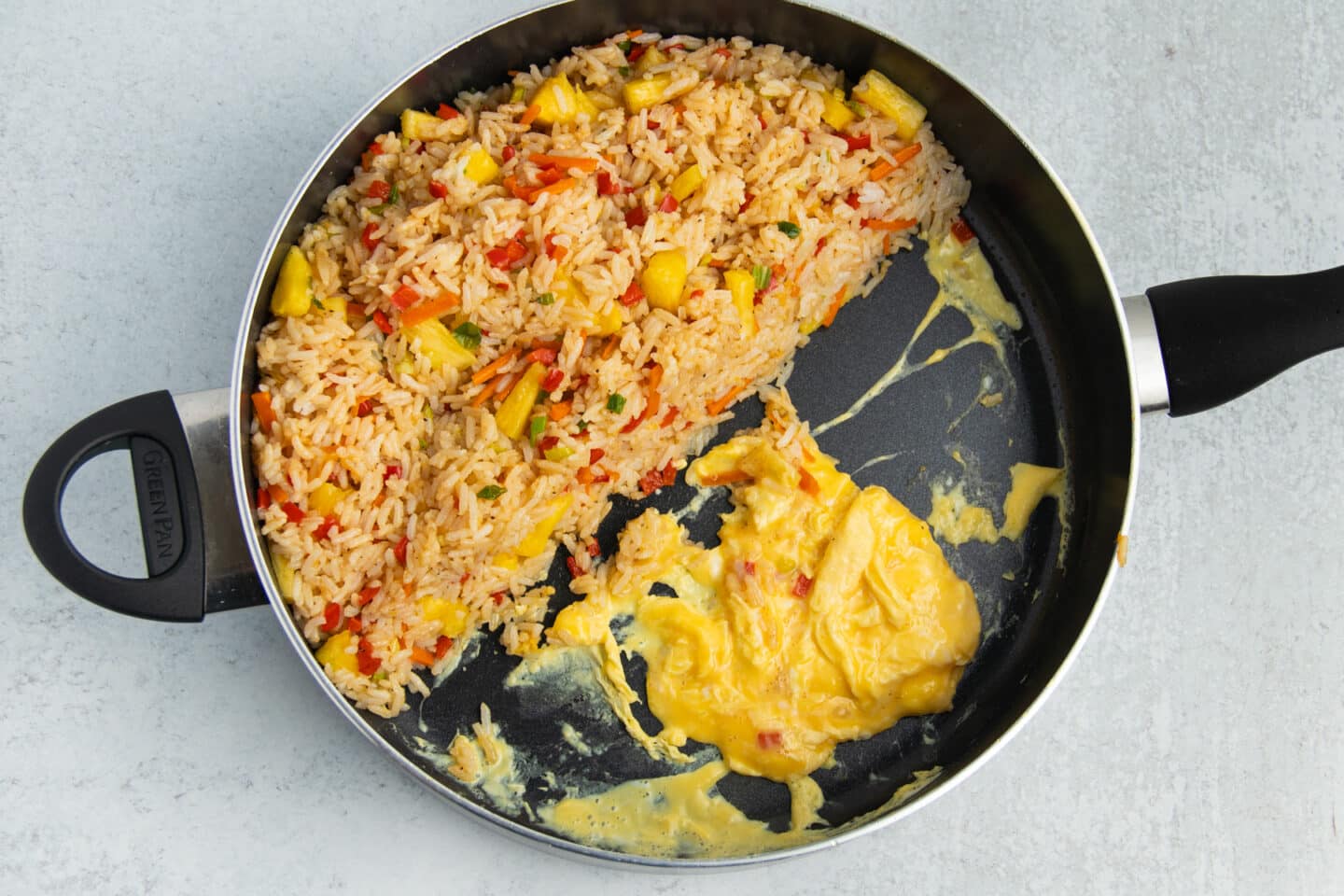 Push rice to one side and scramble eggs.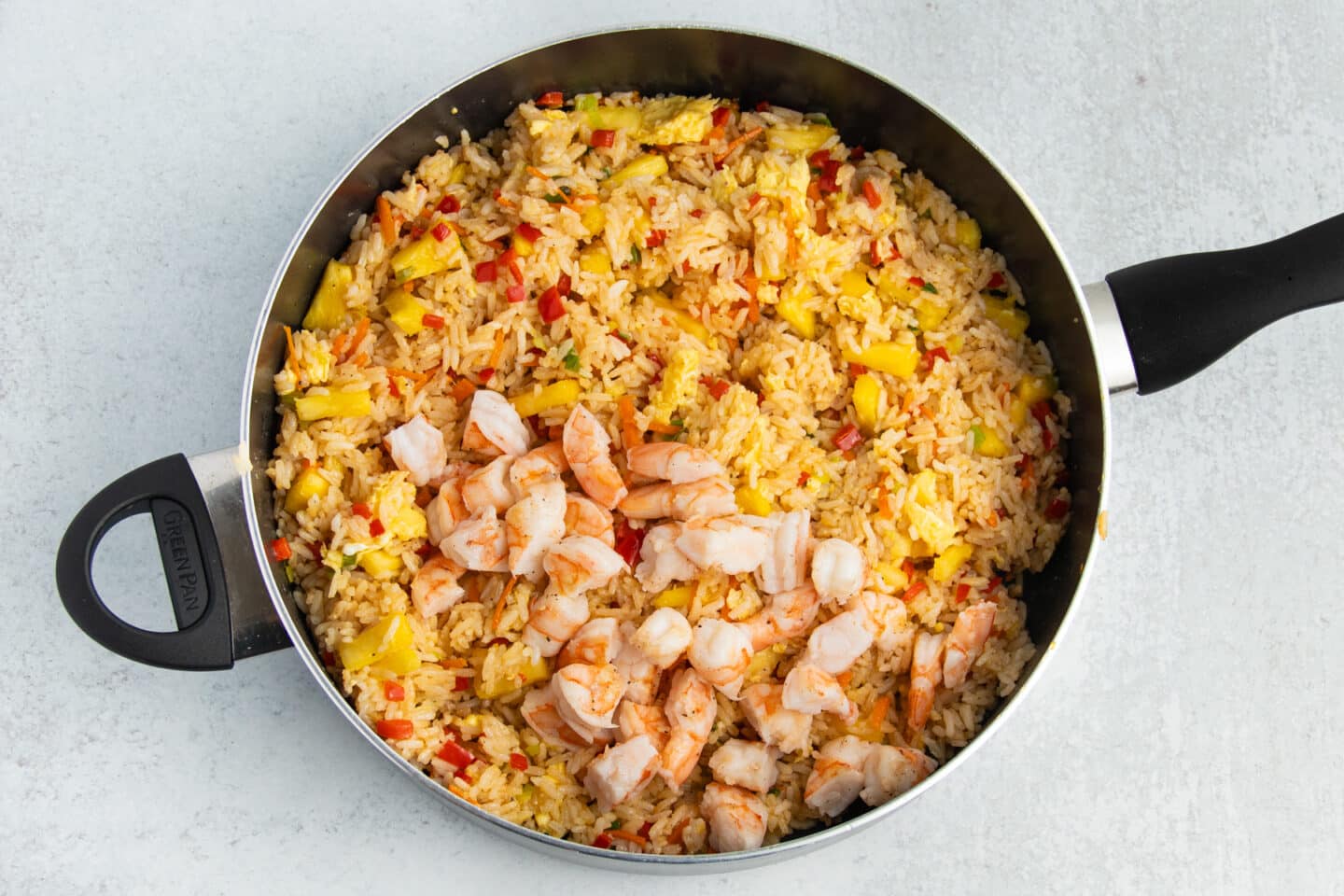 Mix in scrambled eggs and shrimp. Cook for 2 more minutes.
Try These Other Delicious Recipes
Tips And Frequently Asked Questions
Can I use frozen shrimp? Absolutely! Just make sure they're fully thawed first. You can place the frozen shrimp in the fridge covered overnight. Or, for a faster method, place the frozen shrimp in a sealed zip-top bag, then submerge the bag into cold water, and let it sit for about 15 to 20 minutes or until fully thawed. Cold water only, defrosting seafood or meat into warm or hot water isn't safe, and could produce harmful bacteria.
Leftover shrimp pineapple fried rice can be stored in an airtight container refrigerated for up to 3 days.
I repeat, the secret of a delicious fried rice is to use leftover or pre-cooked rice that has completely cooled down. But if you don't have any, you can absolutely still make this recipe. Keep in mind that freshly cooked rice is more moist and could get a tad mushy.
Try to cut the carrots and bell pepper close to the same thickness so they cook evenly.
Make sure the skillet is on medium to medium-low heat when adding the eggs. They'll scramble softer on lower heat.
Talking about the skillet, you'll need a large and ideally non-stick pan for this recipe.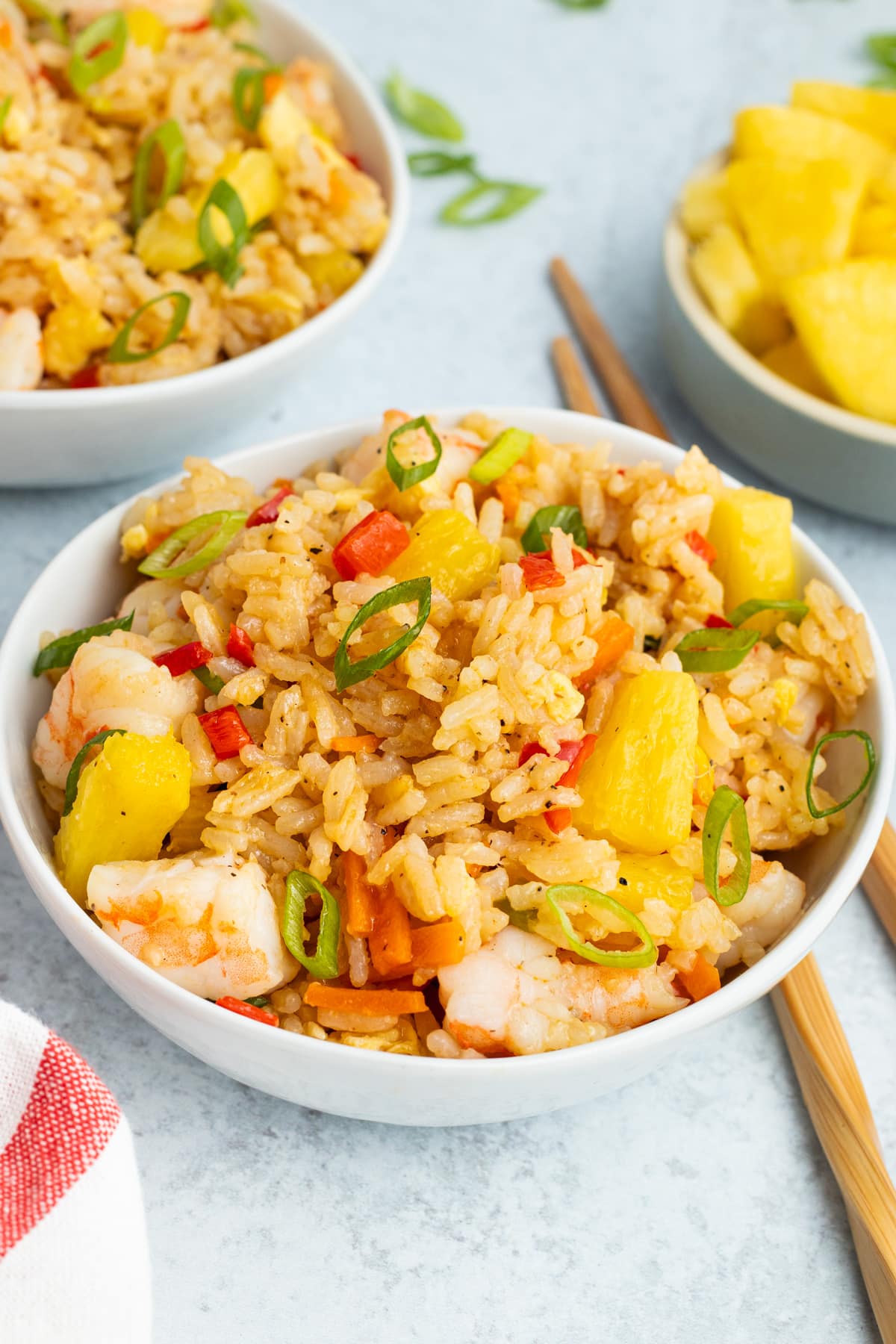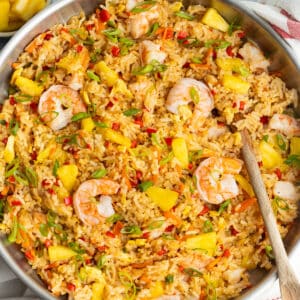 Shrimp Pineapple Fried Rice
Ready to eat in just 30 minutes, shrimp pineapple fried rice is incredibly flavorful with the perfect combination of sweet and savory. Filled with tender shrimp, sweet pineapple and veggies, it's such a fun one-pot meal the whole family will adore!
Ingredients
1

tablespoon

olive oil or any neutral oil

1

pound

shrimp

peeled, deveined, tail removed; about 20 large shrimp

1

tablespoon

sesame oil

1-2

julienne cut carrots

about ½ cup julienne cut

1

finely chopped red bell pepper

about ¾ cup finely chopped
salt to taste

5-6

green onions

about ⅓ cup chopped, divided in 2

4

cloves

garlic

minced

½

tablespoon

minced fresh ginger

or 1 teaspoon ground ginger

3

cups

cooked rice

fully cooled. White or brown

3

tablespoons

low-sodium soy sauce

1

cup

chopped pineapple

½

teaspoon

black pepper

more or less to taste

2

large eggs

beaten
Instructions
Make sure you have pre-cooked or leftover rice that is completely cooled down ready.

Heat up olive oil into skillet over medium-high heat. Once hot, swirl skillet to evenly coat with oil. Add shrimp to skillet in one single layer, cook for 1-2 minutes, then flip each shrimp with tongs, and continue cooking for 1 to 2 more minutes or until shrimp turn pink and are no longer grey. *cooking time will vary per size of shrimp.

Once cooked, remove shrimp from skillet with tongs, place on plate, let cool for a couple of minutes then chop into bite size pieces. Keep aside.

Add sesame oil to skillet, then add carrots and bell pepper. Season with pinch of salt and black pepper. Cook for 4-6 minutes stirring often with wooden spoon or until veggies are tender.

Reduce heat to medium, add chopped green onions, minced garlic and ginger and mix them in. Cook for about 1 minute.

Then add cold cook rice and stir it in.

Add soy sauce and pineapple to fried rice, and stir it in and continue cooking for 1 to 2 minutes.

Using wooden spoon or spatula, push fried rice to 1 side of skillet. Reduce heat to medium-low, spray empty side with cooking oil if needed, add beaten eggs to empty side, sprinkle with pinch of salt, and start scrambling them for 2 minutes or until no longer runny.

Mix scrambled eggs in with fried rice, add chopped shrimp back, combine everything and continue cooking stirring a few times for about 2-3 minutes. Remove from heat, adjust salt and black pepper if needed, garnish with chopped green onions, and serve. Enjoy!
Notes
Low-Sodium Soy Sauce: can be replaced with lite tamari or coconut aminos.
Storage: leftovers can be stored refrigerated in an airtight container for up to 3 days. 
*The nutritional values shown in this recipe are approximate for one suggested serving size using the ingredients listed but not including any optional items and may vary per actual preferred portion sizes.
Nutrition
Serving:
1
serving
|
Calories:
389
kcal
|
Carbohydrates:
38
g
|
Protein:
31
g
|
Fat:
9
g
|
Saturated Fat:
1.5
g
|
Polyunsaturated Fat:
2.1
g
|
Monounsaturated Fat:
4
g
|
Trans Fat:
0.01
g
|
Cholesterol:
224.4
mg
|
Sodium:
514.6
mg
|
Potassium:
630.4
mg
|
Fiber:
3
g
|
Sugar:
5.6
g
|
Vitamin A:
3773.1
IU
|
Vitamin C:
62.5
mg
|
Calcium:
130.3
mg
|
Iron:
2
mg
Share on Facebook
Share by Email