This potato cauliflower and leek soup is so comforting and packed with flavor. Adding cauliflower gives this classic potato leek soup combo extra creaminess without lots of butter or cream. Let me guide you on how to make this easy and delicious favorite soup.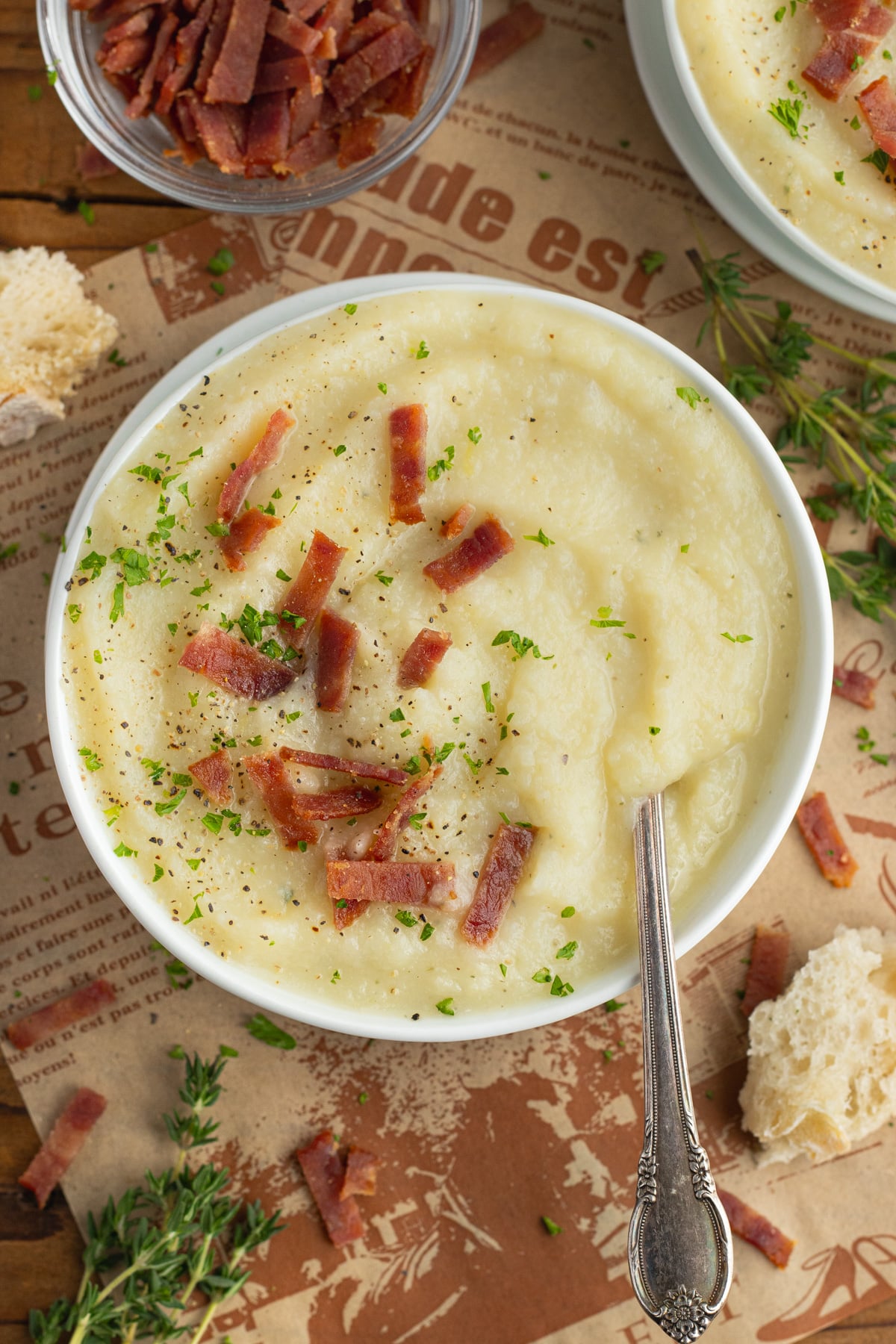 This post contains affiliate links. As an Amazon Associate, I earn from qualifying purchases at no extra cost to you. Please read my privacy policy for more details.
Why You'll Love This Recipe
This soup is so comforting without a ton of added butter or cream. Cauliflower has this natural creaminess to it that gives this potato leek soup recipe such a nice warm and cozy feeling. And we're only using whole ingredients and fresh herbs to keep it wholesome like this vegetable soup and butternut squash leek soup.
It's a nourishing soup filled with fiber, vitamins and minerals. While it is a higher carbohydrate thick soup, the potatoes makes it very satiating, and you'll feel full and satisfied with a small portion. For extra protein and texture, we add a little turkey bacon which is lean.
It's family-friendly! Everyone loves potatoes right, and the added leek and cauliflower is a great way to incorporate more nutritious vegetables into a comfort dish. This recipe is definitely a crowd-pleaser.
This soup is adaptable to a wide range of dietary restrictions or preferences. It's gluten-free, and can be made dairy-free by skipping or replacing the small amount of half and half. You can also keep it vegetarian by replacing the turkey bacon with a plant-based version.
Key Ingredients
Potatoes: I prefer russet, Yukon gold or red potatoes for this recipe, but you can really use anything you have on hand.
Leeks: only use the white and very light green part of the leeks, discarding the tough dark green top part. Make sure to wash your leeks well, dirt loves to sneak in the layers. One of the easiest way to clean leeks is by slicing them first, and rinsing them really well under cold water using a colander or salad spinner basket, moving them around with your hands to get rid of all the hidden soil. Dry them with the salad spinner or by setting them on top of paper towels or a clean kitchen towel.
Cauliflower: you won't need a whole head of cauliflower unless it's a small one. Use only about 3 cups of florets so it doesn't overpower the soup. Cauliflower is an excellent source of fiber, antioxidants, vitamins and it's low-carb. When blended, cauliflower gets super creamy giving this soup a great texture.
Garlic: it just makes everything better!
Broth: choose what you prefer, vegetable or chicken broth. You can always add a little more broth to get the consistency you like. This is a thick soup but can definitely be made thinner with more liquid.
Fresh thyme: I love fresh herbs over dried but if you can't find any, dried thyme will absolutely do the trick. Thyme is my herb of choice for soups, but you don't love thyme you can replace it with rosemary, oregano, parsley, Italian seasoning or even a little sage. Whichever you love!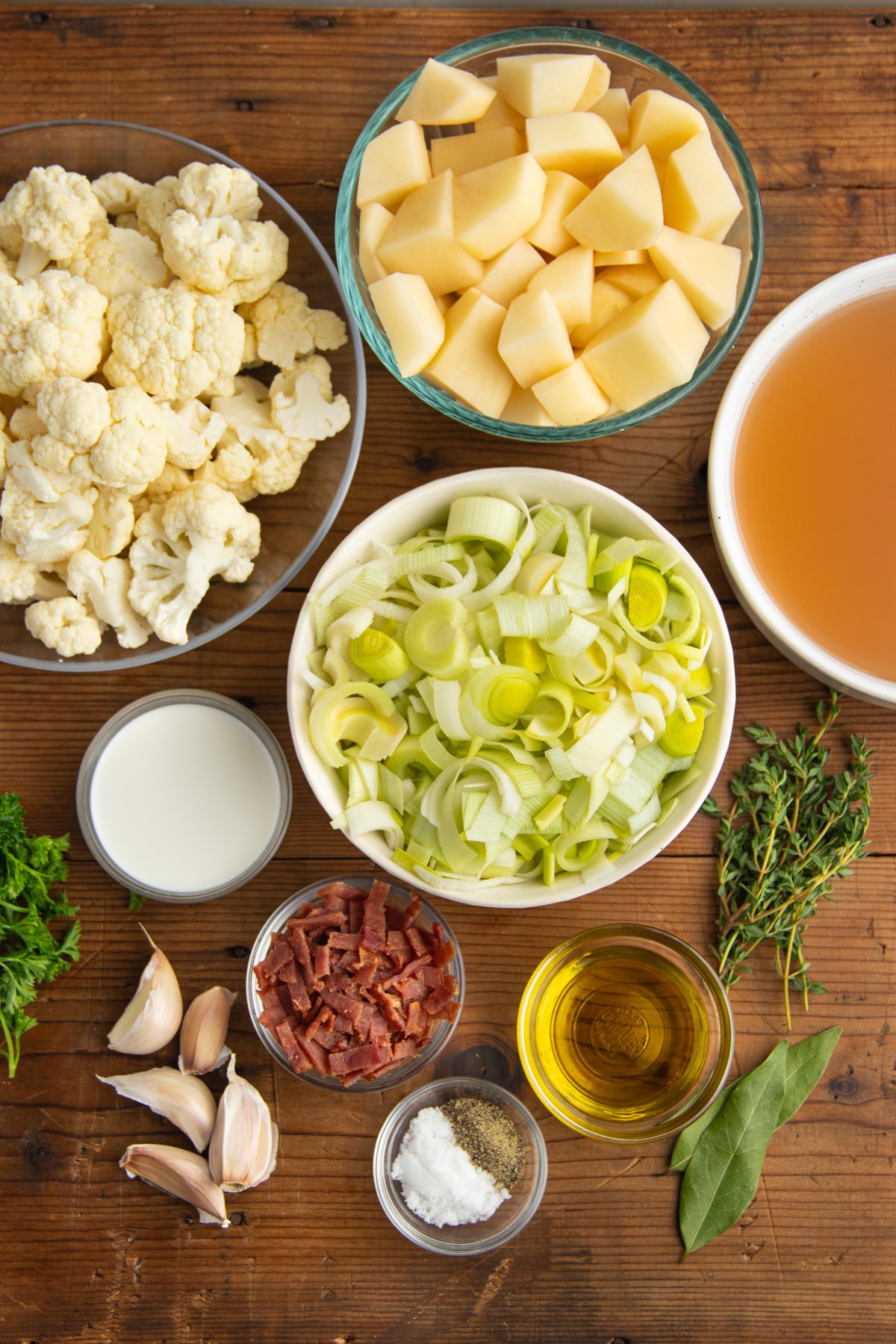 How To Make Potato Cauliflower Leek Soup
The very 1st step is to get your veggies prepped. Peel and chop the potatoes, chop and rinse the leeks and cauliflower florets. Mince the garlic and chop the fresh herbs.
If you don't have already cooked turkey bacon, follow the instruction on the package. I personally bake mine on a parchment paper lined baking sheet for 15 to 20 minutes or until extra crispy.
Then you'll cook the leeks with olive oil for at least 8 minutes, stirring them often and making sure they don't burn. This step develops the delicious sweet flavor of the leeks.
Next you'll add the garlic, potatoes, cauliflower, thyme and salt and pepper, mix it all cooking it for 2-3 minutes.
Add the broth and bay leaves, take it to a low boil, and let the soup simmer for 15 minutes covered, then remove the lid and continue cooking a little longer.
Once the veggies are tender, add the half and half and blend the soup using an immersion blender which makes it so easy without having to wash a whole blender. Adjust salt and pepper to taste if needed and serve.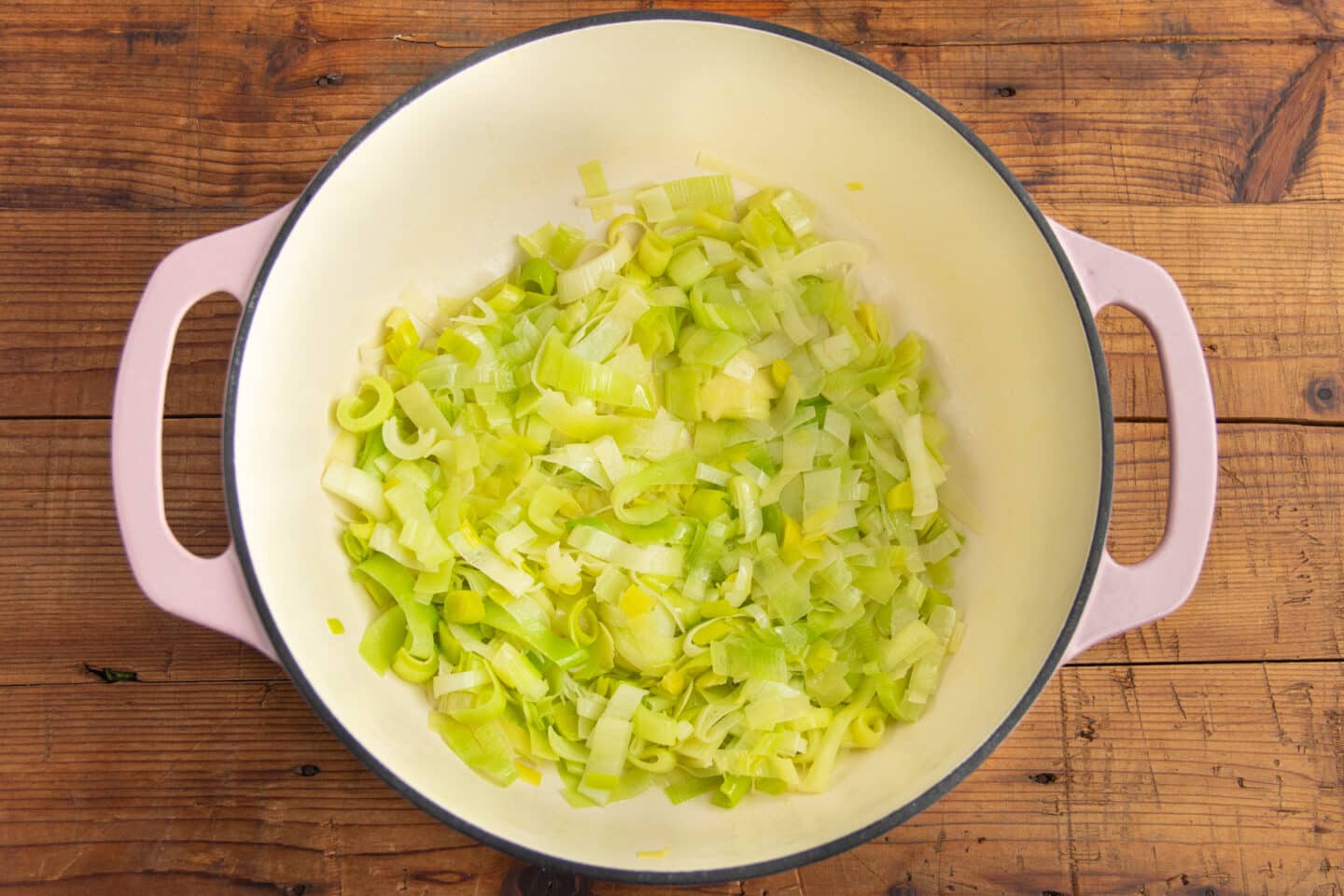 Cook the leeks for 8 minutes.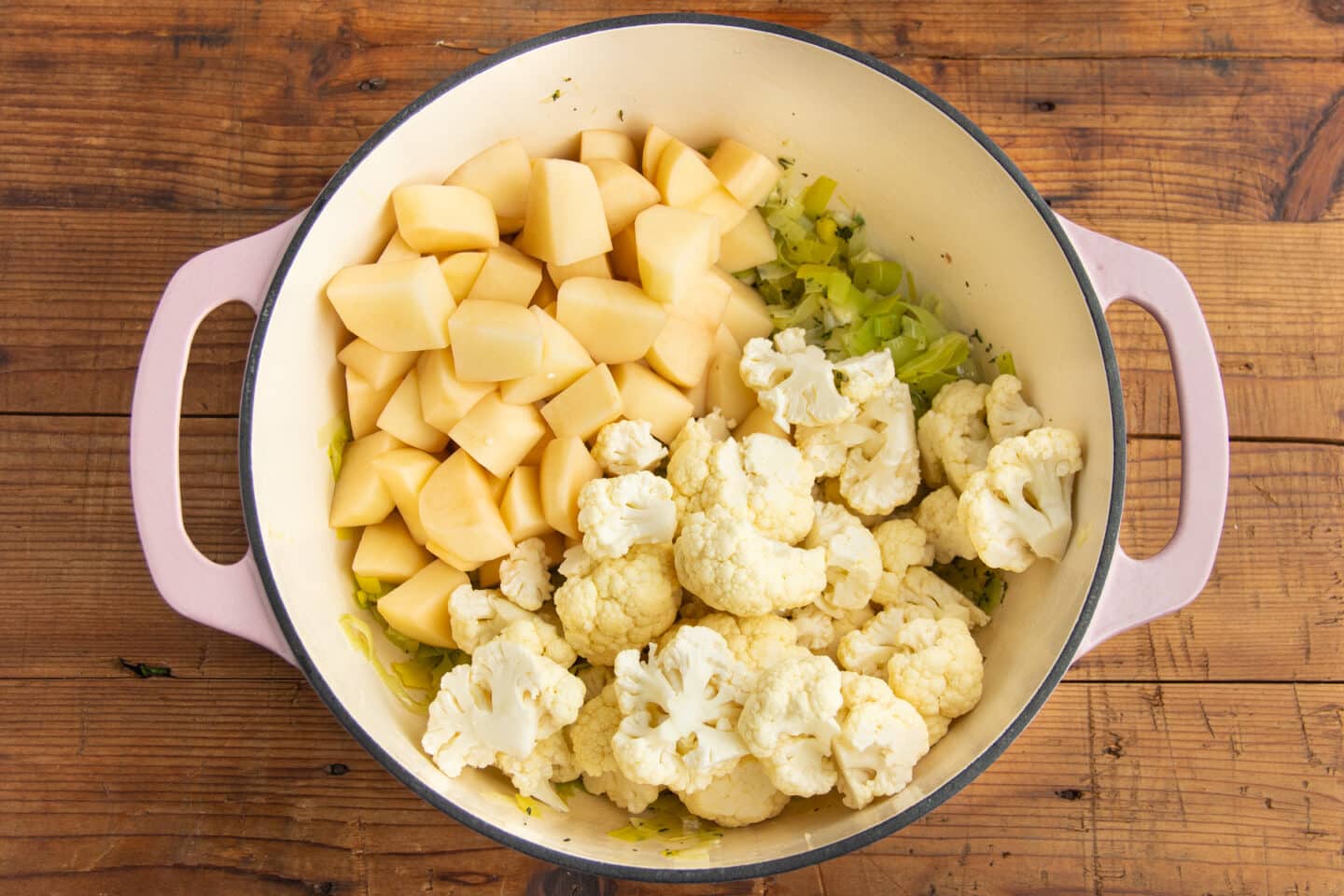 Then add potatoes, cauliflower, garlic and seasoning.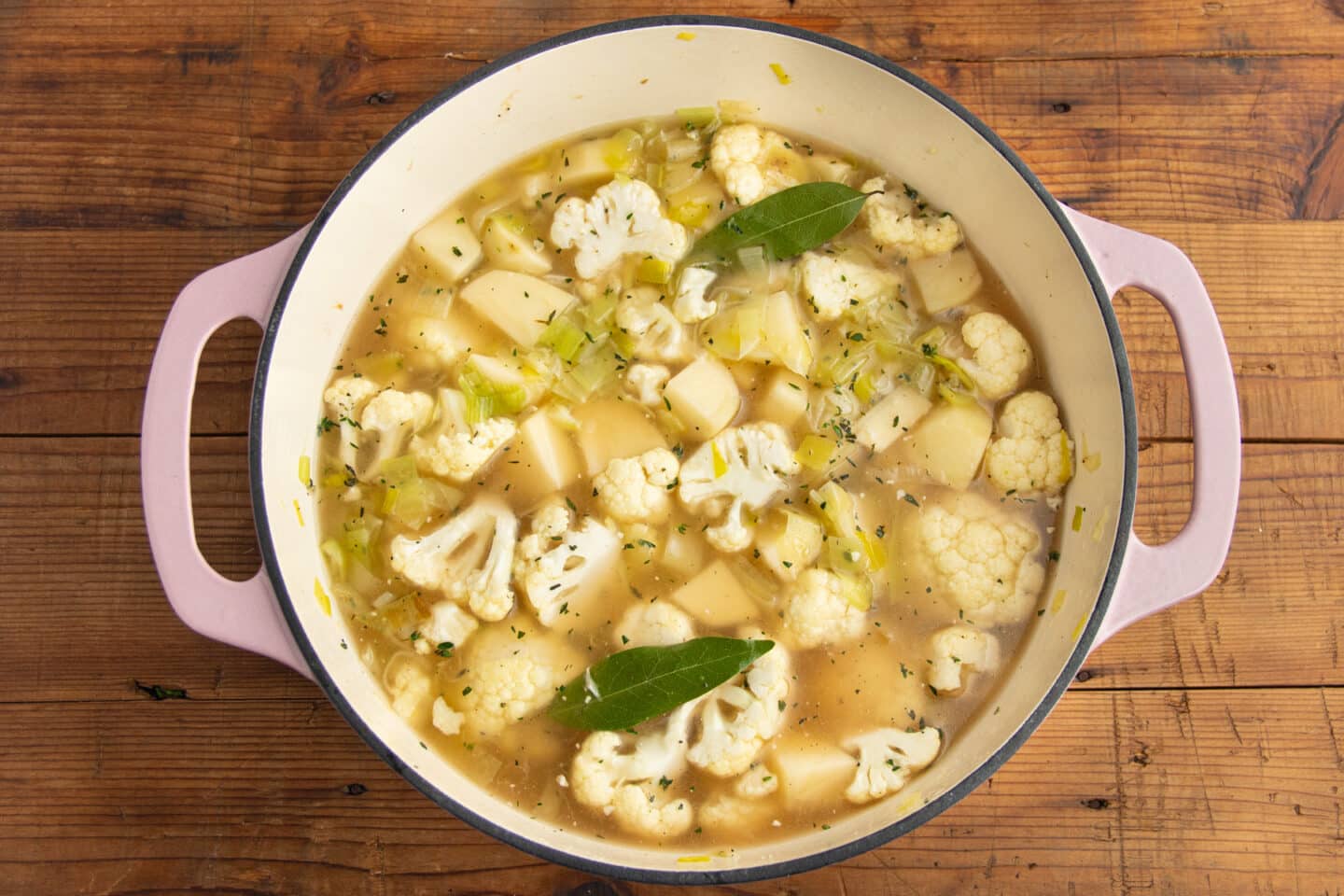 Add the broth, bring to a boil and simmer the soup covered 1st for 15 minutes, then uncovered to finish cooking.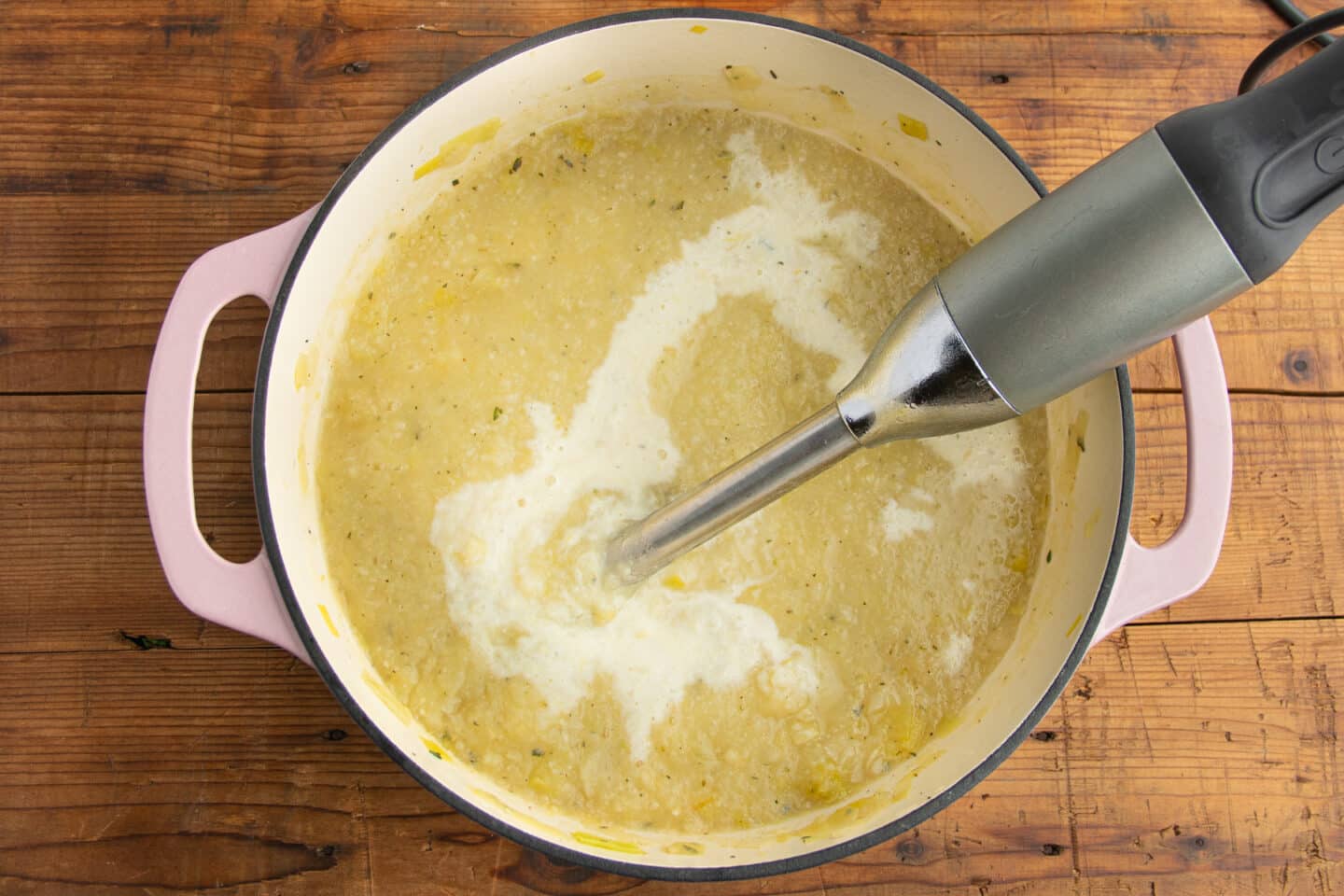 Add the half and half, then blend the soup until smooth or to your preferred consistency.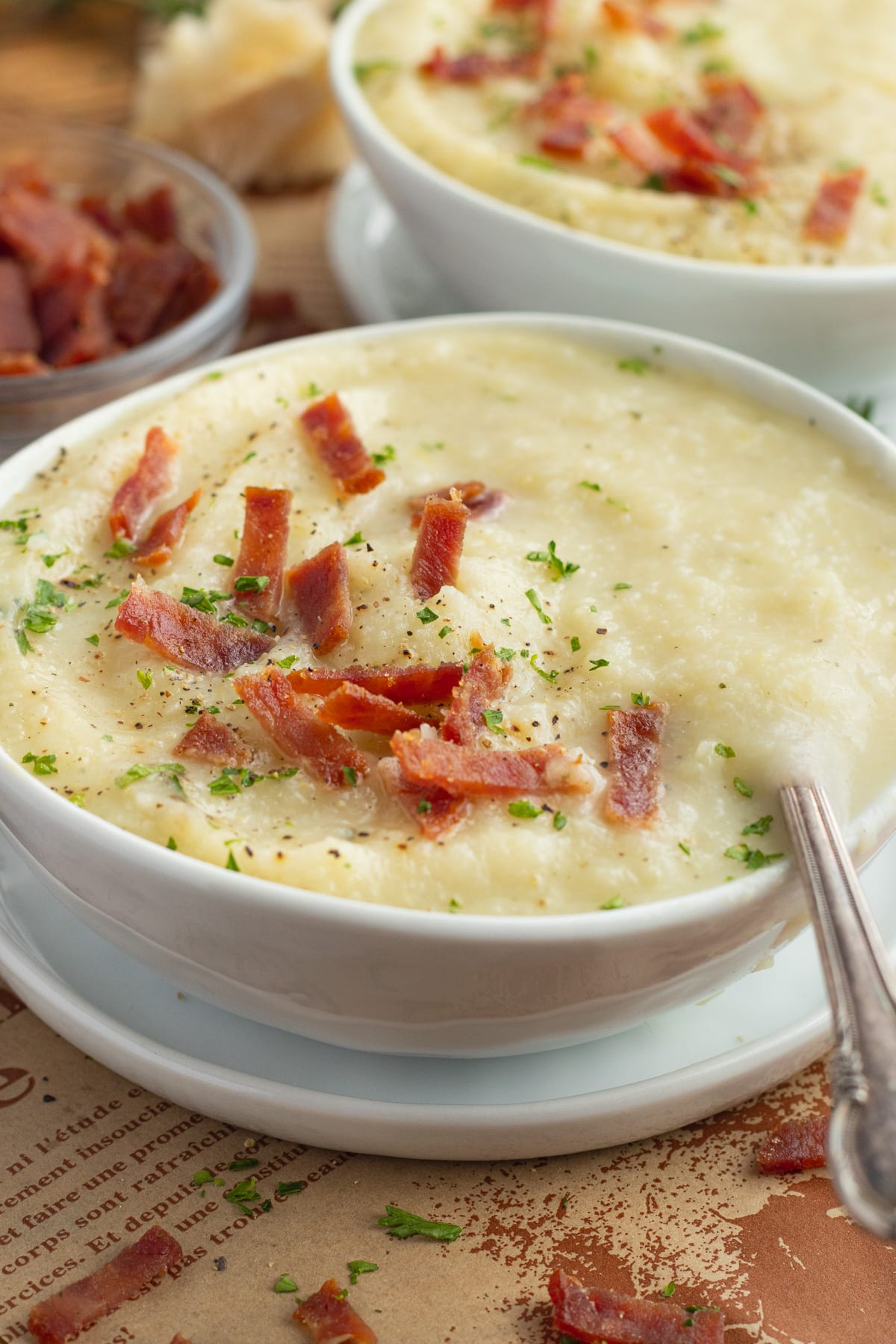 More Cozy Recipes To Try
Tips
Be careful not to burn the leeks! Turn the heat down a bit if necessary and stir a lot. Burned leeks can taste a little bitter so we want to avoid that.
Adjust the broth if you prefer a thinner or thicker potato cauliflower leek soup. You can also add a little more water instead.
Try to cube the potatoes about the same size so everything cooks evenly.
Store leftovers in an airtight container refrigerated for up to 4 days. They can also be frozen, make sure the soup is completely cooled before freezing.
Reheat leftovers on the stove until warmed thru or microwave for 2-3 minutes. Make sure to stir the soup every minute if you use the microwave to avoid it from being burning hot on top and not in the middle. It'll also help with the soup not "exploding" in the microwave.
If you like heat, you can spice up the soup with a little cayenne pepper, red pepper flakes, or a little hot sauce like sriracha right before serving.
FREQUENTLY ASKED QUESTIONS
I don't have an immersion hand blender, can I use a regular blender?
Absolutely! But be careful because the blender can get really hot. I'd recommend blending the soup in batches, and using a kitchen towel to protect your hands.
Can I prep my ingredients in advance?
Yes you can! But in order for your chopped potatoes to not turn brown, place them cut up in a bowl of water until you're ready to use them.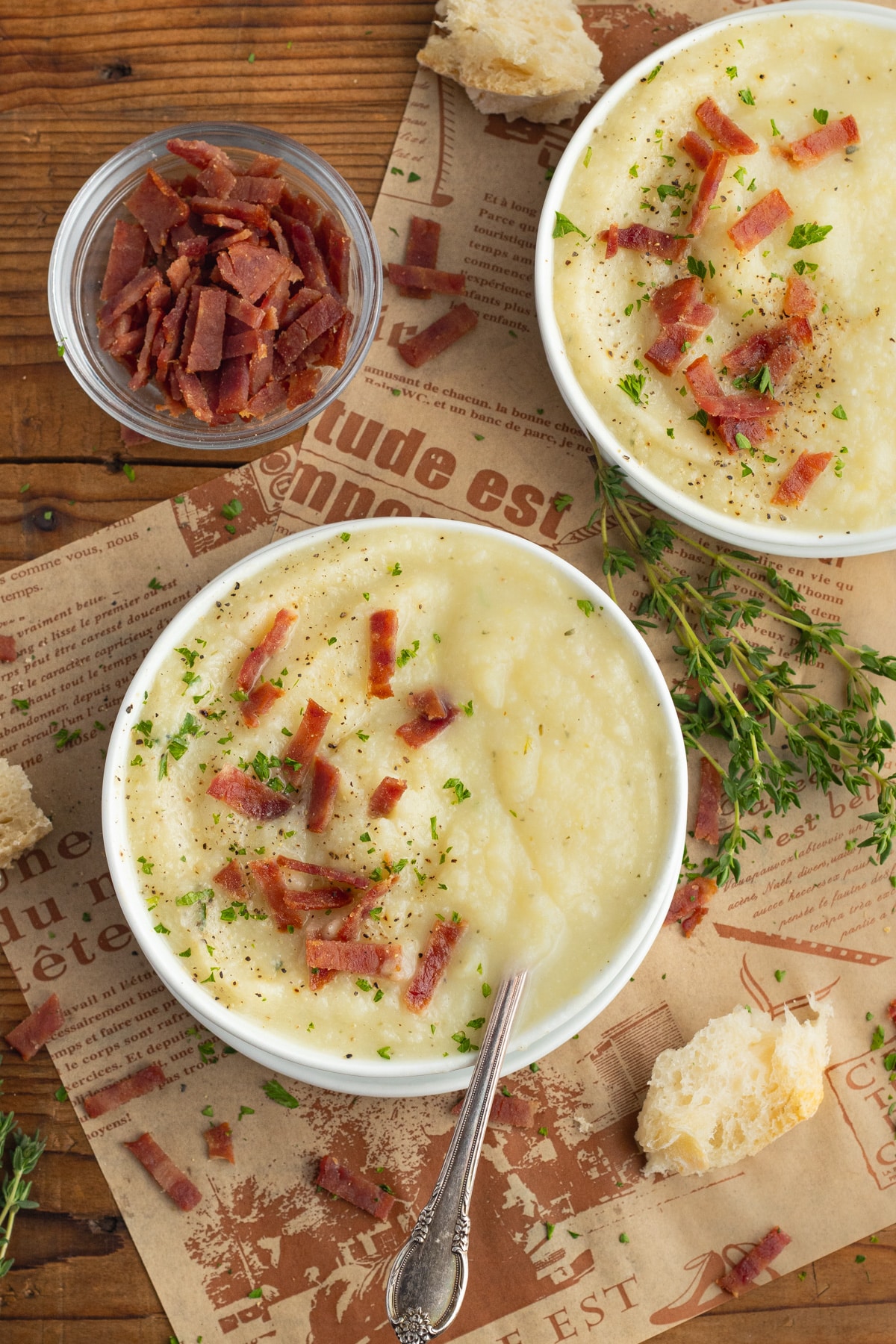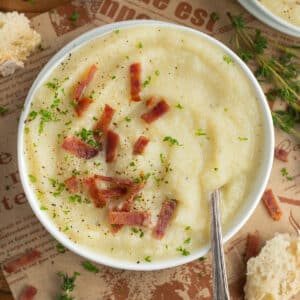 Potato Cauliflower and Leek Soup
This potato cauliflower and leek soup is so comforting and packed with flavor. Adding cauliflower gives this classic potato leek soup combo extra creaminess without lots of butter or cream. Let me guide you on how to make this easy and delicious favorite soup.
Ingredients
2

tablespoons

extra-virgin olive oil

or avocado oil

4

cups

chopped leeks

white part and light green part only, about 2 medium leeks

4-5

cloves

garlic

minced

4

cups

chopped potatoes

russet or Yukon Gold, peeled, about 2-3 potatoes

3

cups

cauliflower florets

about ½ medium cauliflower head

2

teaspoons

fresh chopped thyme

or 1 teaspoon dried thyme

1

teaspoon

salt more or less to taste

½

teaspoon

black pepper

more or less to taste

4

cups

broth

chicken or vegetable, more if needed

1

cup

water

1-2

bay leaves

3

tablespoons

half and half

¼

cup

chopped cooked turkey bacon

about 4 slices, optional

fresh chopped parsley

for garnish
Instructions
In a large pot, heat up olive oil over medium high heat. Once hot, add chopped leeks, reduced heat to medium, and cook stirring often for 8 minutes.

Then add minced garlic cloves, chopped potatoes, cauliflower florets, fresh chopped thyme and salt and back pepper. Stir everything in and continue cooking for 2 to 3 minutes, stirring constantly.

Add broth, water and bay leaves, turn heat up to medium high and bring to a low boil. Once boiling, reduce heat to medium low, add lid to pot and simmer for about 15 minutes, stirring occasionally. Then remove lid and continue cooking for 7-8 more minutes or until the potatoes are really tender when poked with tines of a fork.

Once soup is cooked, carefully remove bay leaves with a spoon, add half and half.  

Using an immersion blender, start blending the soup directly in pot, making circular and up and down motions, until you get to your preferred consistency. *see notes

Taste and adjust salt and pepper if needed. Serve warm with turkey bacon and parsley sprinkled on top, a little shredded cheese, a few croutons, baguette or any topping of choice. Enjoy!
Notes
If you don't have an immersion blender, you can use a regular blender. You'll need to blend the soup in batches, don't overcrowd it, and use a kitchen towel to open lid to protect your hand, as blender can get really hot.
Broth: add a little more broth (or water) if the soup feels too thick to your taste. Add the listed cup of water to the empty container of broth and shake it to get all of it.
Turkey Bacon: it's optional but it adds protein, and such a great flavor and texture to the soup. You can use regular bacon or meat-replacement bacon if you prefer too. To cook turkey bacon, follow package instructions, but usually it'll take about 15 to 20 minutes at 400 in the oven.
*The nutritional values shown in this recipe are approximate for one suggested serving size using the ingredients listed but not including any optional items and may vary per actual preferred portion sizes.
Nutrition
Serving:
1
serving
|
Calories:
368
kcal
|
Carbohydrates:
49.9
g
|
Protein:
14
g
|
Fat:
9.8
g
|
Saturated Fat:
1.8
g
|
Polyunsaturated Fat:
1.7
g
|
Monounsaturated Fat:
5.7
g
|
Cholesterol:
9
mg
|
Sodium:
351.4
mg
|
Potassium:
1228.2
mg
|
Fiber:
8
g
|
Sugar:
5.3
g
|
Vitamin A:
1578.3
IU
|
Vitamin C:
90.8
mg
|
Calcium:
128.8
mg
|
Iron:
4.7
mg
Share on Facebook
Share by Email